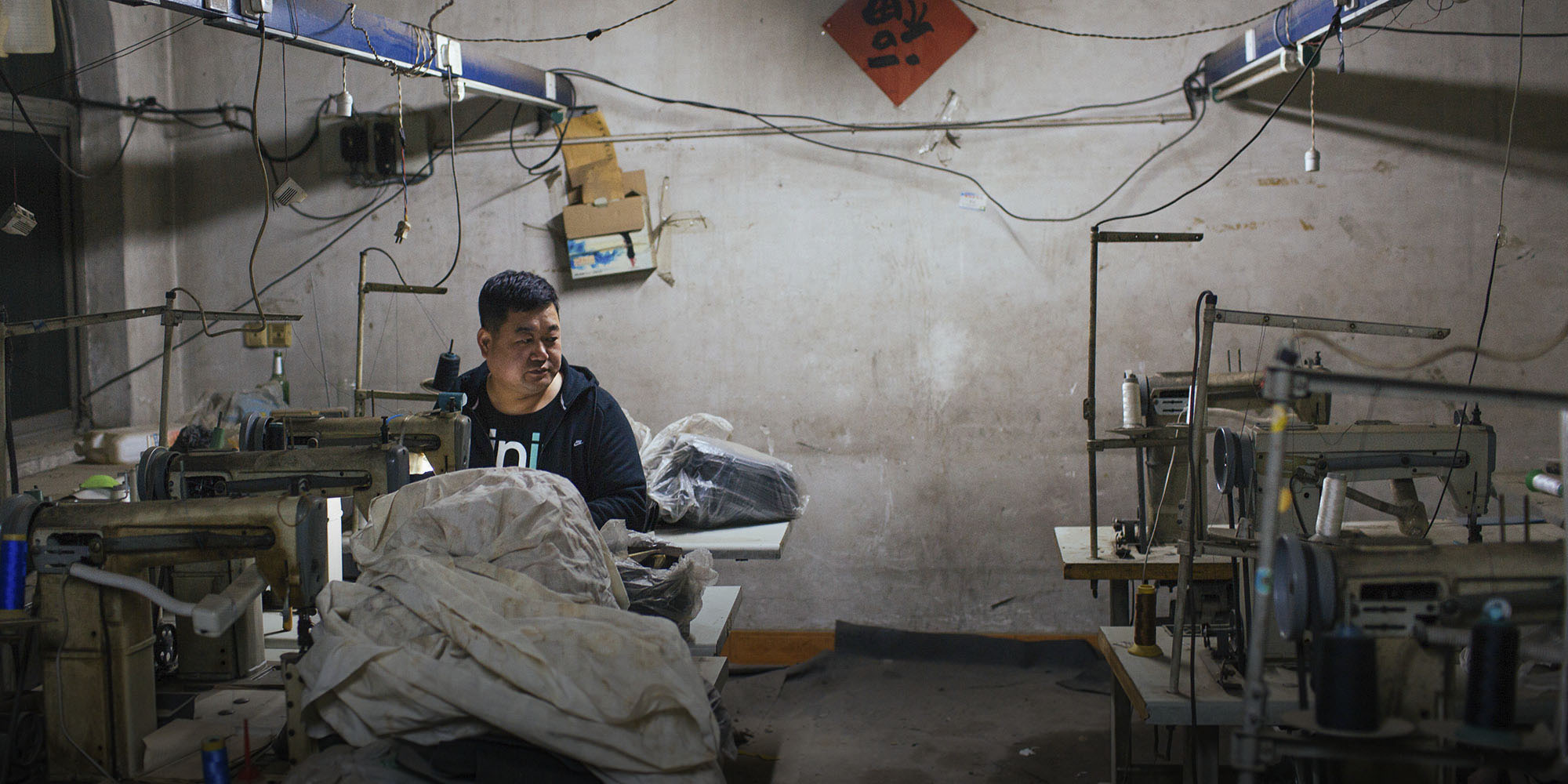 NEWS
Xiongan Brings High Risk, High Reward for Local Industry
Family-run businesses have seen their fortunes rise and fall over the years, giving them tempered expectations for the coming tide of urbanization.
HEBEI, North China — With the constant din of the leather-cutting machines all around him, Yu Hongjun often gets lost in thought in his house, which also doubles as a shoe workshop, in Santai Town, Anxin County — one of three counties earmarked for Xiongan New Area. His eyes fixed on a row of sewing machines, Yu told Sixth Tone: "This may be the end of my shoemaking career. We may not be able to keep up production in the future."
Ever since China's central government announced that Xiongan New Area — consisting of Xiong, Anxin, and Rongcheng counties in the northern province of Hebei — would be established as a "second capital" to reduce pressure on its expensive, overcrowded neighbor, Beijing, local residents have found it to be a place of both risk and opportunity.
Yu's family-run workshop in Santai became prosperous after Deng Xiaoping's reform and opening-up policies of the late 1970s, even receiving praise from the local government in the 1980s. However, many residents worry that this traditional way of life will face challenges when outside investment floods in on the tide of urbanization. "I feel really anxious, but hopefully we will get a concrete policy from higher authorities sometime soon," Yu told Sixth Tone, referring to official assurances that his business will be protected. "We are all at a loss right now and don't know what to do, or even what we can do." Yu predicts that once his family-run business is forced out of the picture, all of his machinery will go to waste.
According to Yu and other villagers, the rise of Santai's shoemaking industry was heralded by two retired workers from a sports shoe factory in Tianjin, Beijing's neighbor to the southeast. In 1976, the two men introduced their home county of Anxin to the manufacturing techniques they had honed at the shoe factory. Thanks to a ready supply of raw materials and relatively developed technology already present in Anxin County at the time, a handful of workers using two or three machines were able to produce around 2,000 pairs of shoes, which could then be delivered all over the world. Going from raw materials to finished products in the customers' hands took about three days.
Many families in Anxin built their fortunes according to this production model, but these now-well-established manufacturers have been finding success more difficult to come by these days. Yu, for example, recently sold his generator — a piece of industrial equipment that cost him 20,000 yuan ($2,900) a few years ago — for just 4,500 yuan. Other machines used in the shoemaking industry, such as sewing machines, will likely have to be sold off at below-market value as well.
Xiong County has found itself in a similar situation, as its family-run plastics processing factories can easily be built up elsewhere, diminishing the need for their continued presence in Xiongan New Area. This is a reality Zhao Xiaowei, the former owner of a plastics processing factory in Guzhuangtou Village, knows all too well.
Following the development of Xiong County's plastics industry in the 1980s, Zhao began his career making plastic bags. He would go out to neighboring areas to take orders, return to his factory to fill them, and then deliver the completed orders back to his customers. "It was hard, but the processing workshop did a lot to improve my living situation back then," Zhao recalled. "I was poor and only had a bike for making deliveries. I even had to go all the way to Beijing, about a hundred kilometers away from Guzhuangtou Village." But through his persistence, Zhao was able to secure a good income.
With the rise of automated production in the plastics industry and elsewhere, Zhao had to close his factory in 2000, and many of his competitors in Xiong County followed suit. Because of its comparatively low efficiency and failure to embrace new technologies, family-run processing businesses have gradually become obsolete. But coinciding with this decline has been the rise in tourism around Baiyang Lake, also in Xiong County, beginning around the year 2000. Presented with this unfamiliar but ripe opportunity, Zhao bought a speedboat and became a boatman for tourists.
"To me, this is not a long-term solution," Zhao said of his new job. The peak period for tourism on Baiyang Lake lasts for just two months, and more and more boatmen have taken to the lake, saturating the market and driving down prices. Moreover, large docks have been built by deep-pocketed companies, attracting the lion's share of tourists due to their flashier, higher quality of service. The combination of these factors has made it increasingly difficult for small-time boatmen like Zhao to keep their fingers in the pie. Faced with a declining revenue stream, Zhao quit his job in 2005 and became a rickshaw driver, which he remains to this day.
Zhao Xiaowei's son, Zhao Fan, graduated from Hebei University last year. He got a sales job in Beijing but resigned and moved back to Xiong County last year, after his father was diagnosed with blood clots in his brain. Now, the 23-year-old Zhao Fan works from home, running a shop that sells women's clothes on Taobao, China's largest online marketplace.
"The new plans [for Xiongan New Area] will definitely provide opportunities for young people like me," Zhao Fan said, "though of course there's no guarantee." He feels more pressure in his day-to-day life and wishes he could shoulder more of the financial burden for his family. He also feels pressure to marry, but to do this, Chinese custom dictates that he must first acquire a house, a car, and a substantial dowry — all of which are, for now at least, well out of reach.
Zhao Fan remembers playing around the old dock when his dad was still a boatman, but now that dock sits idle and dilapidated. "Like so many of my childhood memories, this one has been marred by change," Zhao Fan said. He remembers people coming to fish near the dock regularly; at the same spot today, a housing development casts a shadow over the water.
"The good news about Xiongan New Area is that it has brought great expectations for some people," Zhao Fan says. "But for locals like me, it's like walking into the unknown — where we will find either joy or sorrow."
Editors: Ding Yining and David Paulk.
Correction: A previous version of this story said that Xiong, Anxin, and Rongcheng counties are in Hubei province. They are in Hebei.
(Header image: Yu Hongjun, owner of a shoe factory, sits beside his machinery and equipment in Anxin County, Hebei province, April 10, 2017. Wu Huiyuan/Sixth Tone)