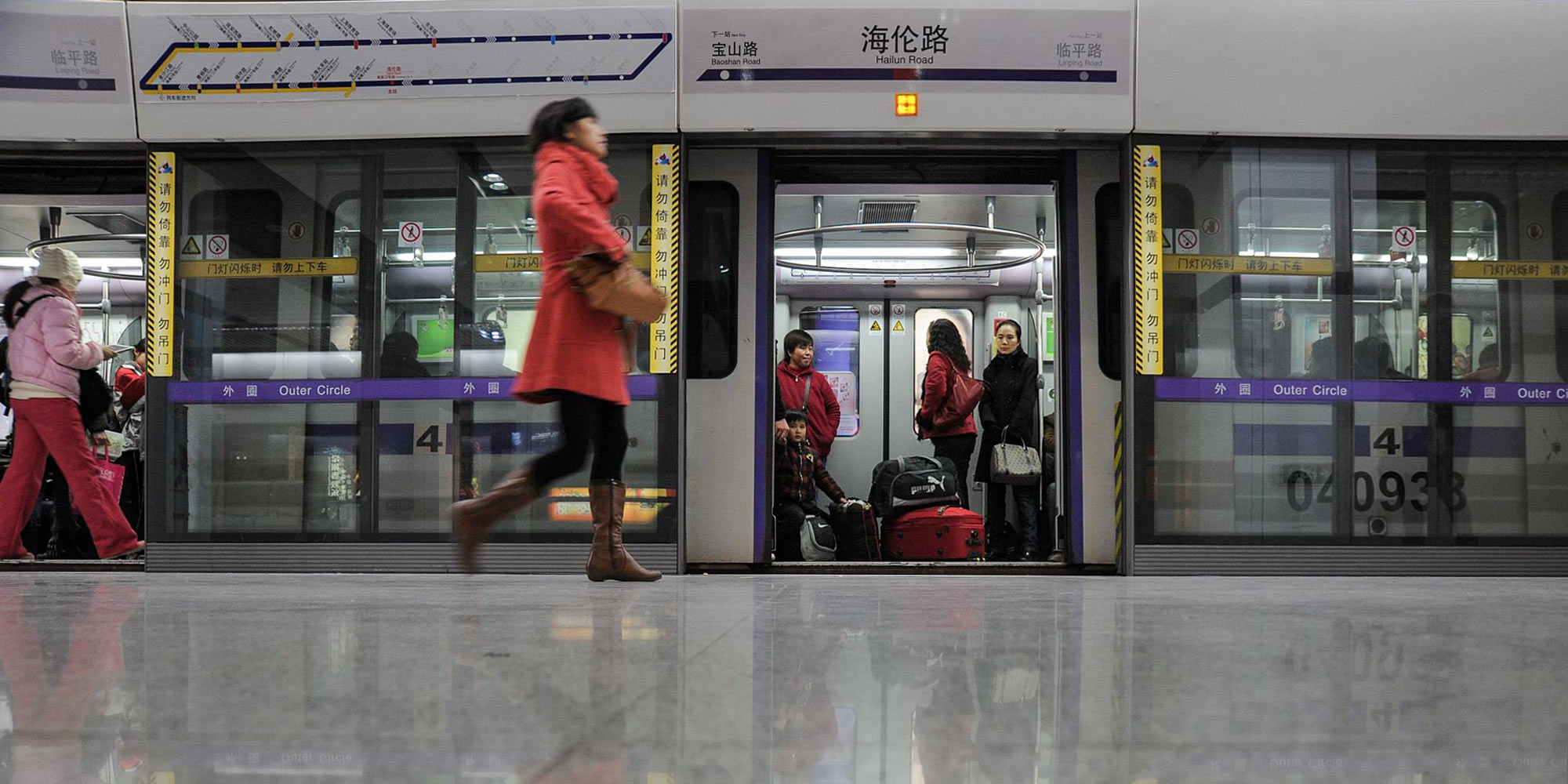 FEATURES
End of the Line for Subway Ad Against Sexual Harassment
One year later, Guangzhou feminist group still hasn't succeeded in putting up anti-harassment billboards.
In a crowded subway car full of cartoon animals, a cat cries out "No!" as it stretches out its paw to block a looming pig trotter. None of the animal characters are gendered, and only the text on the side clarifies the message: "Temptation is no excuse; stop the wandering hands."
The image is the fourth and final design for what could have been the first subway advertisement against sexual harassment in China. F Feminist, the Guangzhou-based advocacy group that initiated the campaign, had to water down the design after being told by the Guangzhou government that earlier versions were too violent and could cause public anxiety. But even the ambiguous animal cartoon was rejected.
Though F Feminist raised more than 40,000 yuan ($5,800) in donations to rent billboard space, after a year of design revisions and unsuccessful negotiations with the officials who control subway advertising in Guangzhou — the capital of southern China's Guangdong province — the group is close to giving up on the initiative.
"I saw the censorship coming," says Zhang Leilei, 24, a full-time activist at F Feminist. Civil society groups in China are accustomed to resistance from officials who see organized advocacy as a challenge to their authority. But even Zhang was surprised to see the campaign still at an impasse after a year. "I didn't expect it to be so strict!" she tells Sixth Tone.
Sexual harassment is a widespread issue on Chinese public transport. A 2015 survey conducted by China Youth Daily found that more than half of the 1,899 respondents, both male and female, had experienced harassment on the bus or subway. The most common type of harassment was unwanted physical contact — which made up more than a third of the cases — followed by verbal harassment, indecent exposure, and being filmed or photographed.
Yet despite the scale of the issue, few public resources are devoted to preventing sexual harassment in public spaces. On the contrary, victims are often blamed for dressing "provocatively" or acting "inappropriately."
In 2012, the company behind the Shanghai Metro even posted on its official Weibo microblog that female passengers should wear less revealing clothes, or else "it'd be strange if you didn't get harassed." Last April, a bus company in Zhengzhou, the capital of central China's Henan province, launched a women-only service, drawing criticism from some feminists that victims were yet again being held responsible for preventing harassment.
With little official attention paid to stopping perpetrators, Zhang and her fellow activists at F Feminist decided to create their own public awareness campaign by renting a subway billboard measuring 3 meters by 1.5 meters for a month. Their strategy was inspired by a similar campaign in February 2016 from Beijing feminist group Bcome, which had displayed a metro ad urging parents not to pressure their children into marriage.
F Feminist's original plan was simple: The group would fundraise through March; design the graphic and book the advertising space in April; and then see the historic billboard appear in Guangzhou's Kecun Station, at the intersection of Line 3 and Line 8, in May.
Everything went smoothly at first. F Feminist launched its crowdfunding campaign on March 8, International Women's Day 2016. One of the campaign organizers, Xiao Meili, also threw an offline fundraiser party. A 28-year-old art student at Columbia University in New York volunteered to design the billboard, and F Feminist held a competition to find the perfect slogan.
By late April, the group had its first billboard design, a bold and contemporary graphic: A woman's hand grabs a masculine arm by the wrist, her red-varnished nails digging into his gray skin. Three pop-art-style speech bubbles read "Stop!" — to show victims that they have support — while larger text proclaims the winning slogan, "Temptation is no excuse; stop the wandering hands."
Within 60 days, more than 1,200 people had donated over 40,000 yuan to F Feminist's campaign, covering the cost of the ad and some thank-you gifts for the donors.
One donor, 24-year-old Lilith Li, had often witnessed or experienced sexual harassment when she was an undergraduate student in Guangzhou. "I was with a friend on the subway. Out of nowhere, a guy came up and stood really, really close," Li tells Sixth Tone, recalling one incident. "He started to make physical contact with my friend."
Though several bystanders noticed the man's behavior, no one intervened, including Li herself. "There's nothing to do but walk away," says Li, who declined to provide her Chinese name for privacy reasons.
Most victims of sexual harassment agree: According to the China Youth Daily survey, though most victims experienced anger, disgust, fear, and shame, more than 59 percent chose to just walk away, not wanting to make a scene.
Li was happy to support F Feminist's campaign and donated close to 500 yuan — but she is yet to see the billboard she helped fund a year ago.
In theory, anyone can place an advertisement in a subway station. You simply pay an advertising agency to reserve the desired billboard spot, and then the agency designs or polishes your ad and submits it to the local industry and commerce bureau for approval.
"It usually takes a month to publish a commercial ad," says Zhang Li, an account manager at Jinshi Advertising, the renowned national ad agency that took on F Feminist as a client.
One complication caught F Feminist off guard. According to the advertising agency, noncommercial ads are subject to a much more convoluted review process, and it is almost impossible to gain approval without governmental affiliation. Beijing feminist group Bcome succeeded because its ad against marital pressure featured a hotline, which counts as promoting a brand or product, so F Feminist opted for the same commercial ad strategy.
In late April 2016, F Feminist submitted its first ad design to Jinshi Advertising with a deposit of nearly 13,000 yuan — 30 percent of the 38,888-yuan advertising fee. Weeks later, the Guangzhou Administration for Industry and Commerce rejected the application.
"The concern from the government is that the ad will disturb the public and cause anxiety," account manager Zhang Li told the group. Jinshi responded quickly, sending F Feminist a proposed revision that would make the ad less politically sensitive: Three clenched fists with the altered slogan "Temptation is no excuse; please commute civilly."
The Guangzhou group refused the proposed change. "The advertising company worked very hard to circumvent censorship," F Feminist's Zhang Leilei says, "but who can tell that it's an anti-harassment ad now?"
Zhang Leilei contacted designers and submitted several ad versions that softened the image with milder slogans or different colors, but in June, the industry and commerce bureau rejected all the proposals — including the "safe" version designed by the advertising agency. According to feedback from Jinshi, the bureau said that the clenched fists looked too "revolutionary," suggesting early socialist posters.
Negotiation continued until January 2017, when the group encountered a new obstacle: Now, officials were telling them through the advertising agency that depicting body parts at all was too sensitive for a commercial ad.
"You should consider changing the design altogether," the account manager advised Zhang Leilei. "Don't include any fists or body parts now, and soften the image."
By the time F Feminist requested an entirely new design, Wang Daqi, the designer of the first billboard, had already graduated from Columbia University. Now an art teacher with a non-compete agreement in the southern Chinese city of Shenzhen, Wang insisted on using a pseudonym when speaking to Sixth Tone.
After spending eight years in the U.S., Wang knew she would have to readjust to China's media and advertising environment. She anticipated there being changes to her design but says she was surprised that an anti-harassment ad would be subject to a full year of scrutiny when other subway advertisements are openly misogynistic.
Several Chinese subway ads in recent years have been called out for promoting objectifying and stereotyping images of women. In early 2016, online retailer Tmall released a series of ads targeting female consumers with slogans like "Men work hard so women can shop harder." That same year, a public service advertisement in the Guangzhou subway advised caution on escalators with the slogan "A real princess only runs down spiral staircases." The image showed a cartoon princess running up an escalator, with her high heel snapped off.
"There is a double standard in reviewing what's appropriate [advertising] in subway stations," says Zhang Leilei.
Wang decided to take the princess ad as inspiration for her revised billboard design. "I wanted to use their visual language and turn it around," Wang says. She scratched her initial work and replaced it with a subway zoo: a cat as the hero who calls out the harasser, a faceless pig who reaches out his wandering trotter, and other animals as the bystanders. Technically, the graphic shows no human body parts.
The final rejection came a year after F Feminist launched its campaign. According to Jinshi Advertising, the bureau approved the graphic but categorized it as public service advertising. That means F Feminist would most likely need to be affiliated with a government institution to publish the ad. At this point, even the ad agency had begun to give up hope, suggesting that F Feminist call off the deal to get the deposit back.
The Guangzhou Administration for Industry and Commerce was not available to comment on the case.
The ad agency also suggested that F Feminist might have better luck with TV commercials or bus stop billboards, or even the metro system in nearby Shenzhen. According to industry insiders, advertising approval rates vary from city to city, depending on the individual reviewers.
Activist Zhang Leilei has contacted several government-affiliated institutions, but none have agreed to sponsor F Feminist's advertising proposal. "Why can't a member of the public publish an ad about public safety?" Zhang asked in an article she posted online.
If F Feminist doesn't secure a government-affiliated partner soon, the group plans to start handing out fliers and placing online ads, which are subject to less scrutiny. The group will refund donations from the original campaign if requested but hopes to put the funding to effective use in other efforts.
"It's been a year full of this cycle of hope, disappointment, anxiety, and anger," Zhang Leilei wrote in March 2017, a year after F Feminist initiated the campaign. "We will keep on trying."
Editor: Qian Jinghua.
(Header image: A woman walks past a Line 4 metro train in Shanghai, Jan. 12, 2012. Niu Yixin/VCG)