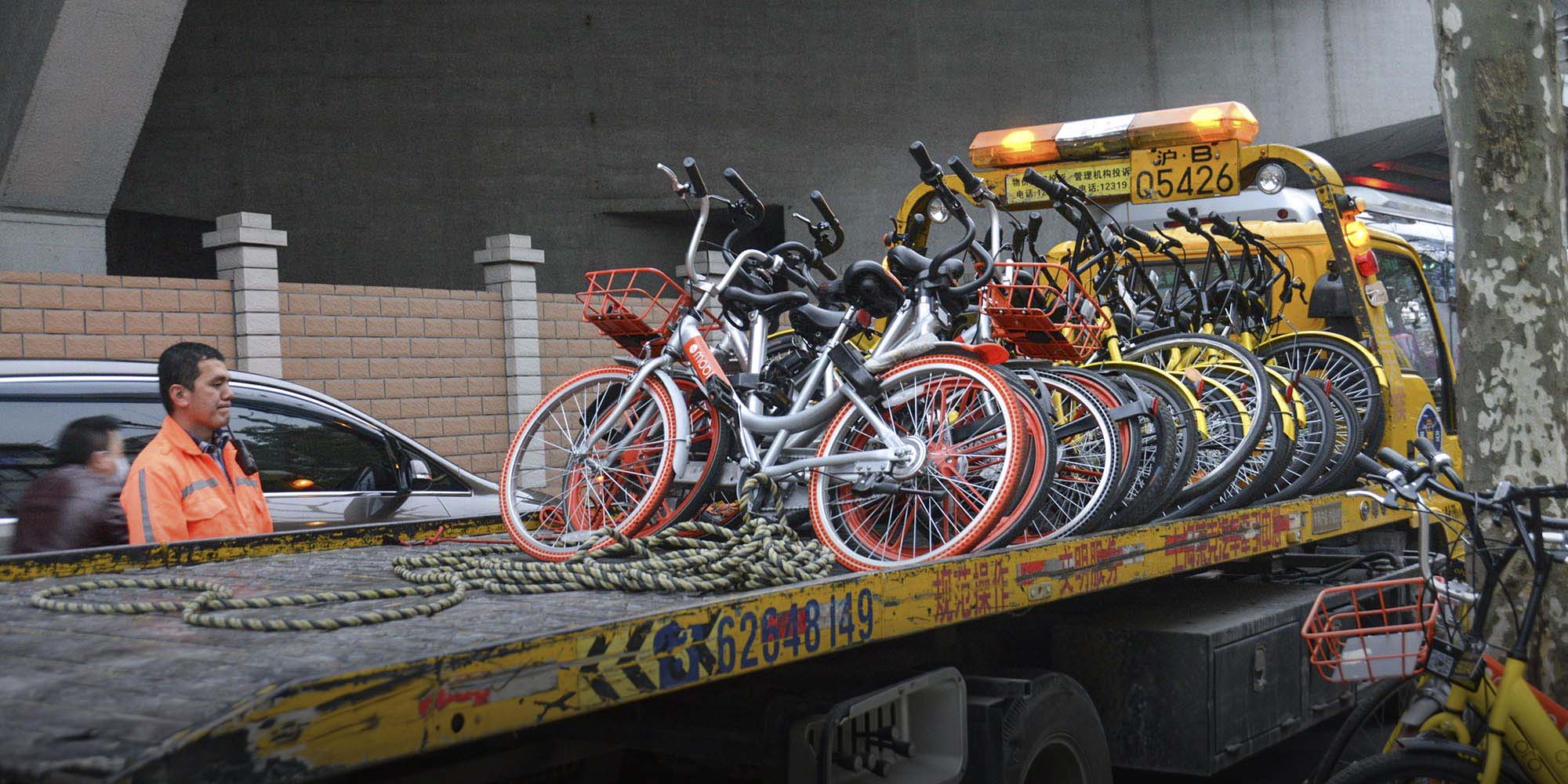 NEWS
National Credit System Puts Bike-Sharing Bandits in Crosshairs
Government develops new way to keep the wheels of information spinning.
A word of caution for the millions of shared-bike users in China: Bad biking behavior could damage your credit.
On Thursday, 10 shared-bike companies, including the market's biggest players, Ofo and Mobike, signed an information-sharing agreement with China's top economic planning agency, the National Development and Reform Commission (NDRC), and the State Information Center, its policy think tank affiliate.
For years, China has been ramping up a personal and credit information system to keep tabs on citizens. In 2014, Chinese authorities announced that the country would set up a social credit record system by 2020 to evaluate citizens and companies based on their social, political, commercial, and legal activities. The measure was aimed at promoting ethical behavior among Chinese nationals. In November, Shanghai also introduced an app that rates the reputations of companies, as well as individuals' "public credit data."
During a press conference on Thursday, Chen Hongwan, deputy director of the NDRC's financial department, said the new system would help address existing problems while encouraging bikers to behave.
"The introduction of the credit system aims to promote bike-sharing in a way that will lead people to use the service with honesty and civility," Chen told reporters at the press conference.
The agreement is specifically aimed at minimizing a growing number of problems, including vandalism and illegal parking, which have been a headache for city officials as the number of shared two-wheelers continues to multiply.
Though it's not entirely clear why the 10 bike-sharing companies opted to collectively sign the new deal, authorities say the companies will be able to share consumer credit information among themselves and have access to the government's database on the Credit China website — administered by the State Information Center — under the new system, allowing them to keep a closer eye on user behavior.
Some bike-sharing companies, including Ofo, already partner with Sesame Credit, the financial arm of e-commerce giant Alibaba that compiles people's credit history to give each user a score that can earn them certain privileges on the platform.
Mobike didn't immediately respond to a request for comment from Sixth Tone on Friday evening. However, a spokesperson for the company told attendees at Thursday's press conference that the national credit system is compatible with the company's proprietary customer information system. Ofo was not immediately available for comment.
With access to bikers' credit information, all companies that have signed the agreement now have another tool for rewarding consumers or punishing them for unsavory behavior.
For example, well-behaved shared-bike users could be exempted from paying deposits. Meanwhile, rule violators could see their credit scores drop or find themselves banned altogether from hopping on shared bicycles.
As the shared-bike trend continues to accelerate, cities across China have introduced measures to regulate bike companies and commuters. Last year, the southern city of Shenzhen announced that it would be the first city in China to add biking-related violations to people's credit records.
Apart from bike-sharing companies, the NDRC has similar information-sharing agreements in other sectors, including with financial institutions and internet companies. Currently, some 37 government departments, as well as all of China's provinces, implement the system.
Contributions: Lin Qiqing; editor: Colum Murphy.
(Header image: Shared bicycles that were improperly parked are taken away by a towing company in Shanghai, March 31, 2017. Xu Hede/IC)