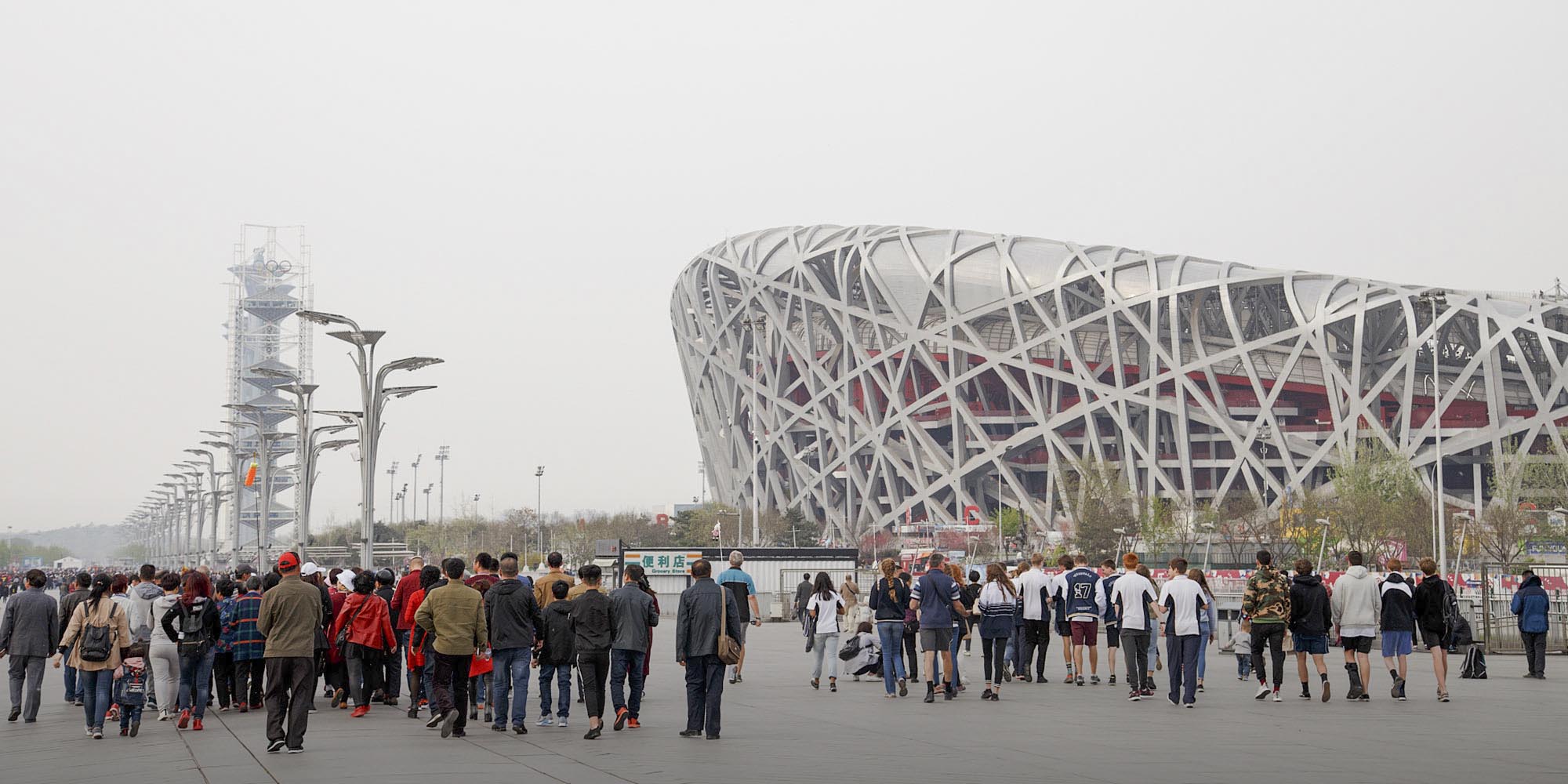 NEWS
Throngs of Elderly Rush to Beijing Stadium in Pursuit of Riches
Victims of an investment scam gather at Bird's Nest hoping to boost their nest eggs.
Crowds of seniors gathered at the Olympic stadium in Beijing beginning on Monday to chase rumors of a long-lost fortune. Rather than enjoying the view and snapping photos like typical tourists at the Bird's Nest stadium, they whispered furtively to one another while looking down at their phones, The Beijing News reported Wednesday.
Despite attempts by the Beijing police to dispel the rumor on its official Weibo microblog account two days prior — and loudspeakers in the stadium repeatedly announcing that the rumor was unfounded — the bounty hunters continued to gather. Disbelieving the authorities, they even converged outside after the stadium closed in the afternoon.
According to The Beijing News, the scam originated in a chat group on messaging app WeChat called "Benevolent Enrichment Society," which first appeared on April 21. The group administrators advertised that members could earn 50,000 yuan ($7,250) for every 10 yuan they paid in registration fees if they attended a 200,000-strong gathering at the stadium. People traveled from far and wide to participate, as the group administrators also claimed that the organization would pay for transport and accommodation.
The entire operation was funded by "unfreezing national assets" recovered from overseas, the group administrators said, and members were promised rewards for their small initial investment.
Such scams are a common form of fraud in China. On Tuesday, state news agency Xinhua reported that the Ministry of Public Security had busted 14 groups and detained 204 suspects involved in deceptive investment schemes since launching a crackdown in October. In February, two men in southwestern China's Yunnan province were given jail sentences for a pyramid scheme promising members a slice of the forgotten fortune supposedly originating from treasures hidden by the fleeing Nationalist party during the Chinese civil war.
When the victims of the scam arrived in Beijing, they found that there was no one to meet them with accommodations, food, or their travel fare. Instead, they filled up the hotels near the stadium. Hotel managers were elated, with one owner telling The Beijing News, "The hotel business has never been this good!"
A commentary published in Party newspaper People's Daily on Friday urged people to support, educate, and protect their elders against such scams. Writer Yi Yangang explained that older people were especially vulnerable to fraud not only because they often lacked the knowledge to judge deceptive schemes, but also because loneliness made them more susceptible to psychological persuasion.
Though most of those swindled were elderly, a few young faces stood out from the white-haired crowd. One young man with the surname Jin told the Beijing Morning Post that he had come at his father's insistence. "I was forced to come for his safety; I had to take leave from school," he said.
Yet other young people joined in spite of their parents' warnings. One man identified by his surname, Wang, said his parents believed the news was false when he forwarded it to them, but he still went to the stadium.
Around 2 p.m. on Monday afternoon, police cordoned off the park leading to the Olympic stadium. Though the administrators of the chat group continued to spread rumors, many of the group members began to vent their frustrations and skepticism — but those who questioned the scheme were quickly kicked out of the group.
Contributions: Qian Jinghua; editor: Qian Jinghua.
Header image: Tourists take photos in front of the Bird's Nest stadium in Beijing, April 10, 2017. Zhang Xue'en/VCG