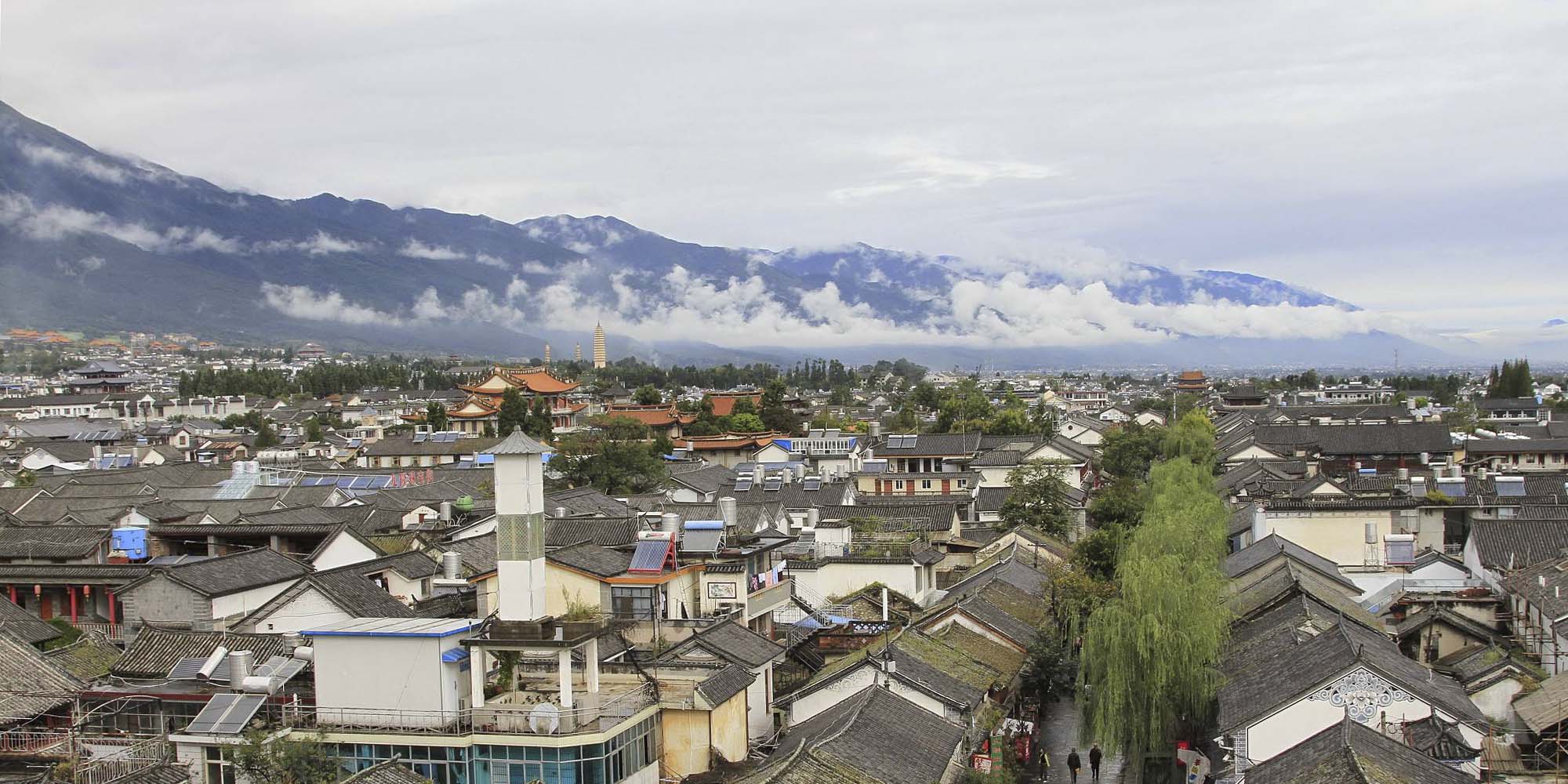 FEATURES
First-Wave Gentrifiers Say Dali Isn't What it Used to Be
Locals and migrants in Yunnan's hippie haven question the value of tourism as rents rise and pollution worsens.
YUNNAN, Southwest China — Flanked by mountains and lakes, Dali was for years an isolated and tranquil settlement. But the past two decades have seen the city and its surroundings grow into a veritable tourist magnet, pulling in millions of visitors eager to soak up its postcard-perfect scenery and vibrant local culture each year.
Infrastructure has expanded to accommodate the influx, and now the city faces a pollution crisis, threatening both its inhabitants' living conditions and its natural environment.
Property developers clamoring to capitalize on Dali's trajectory have contributed to another troubling reality for locals: a staggering increase in housing prices. As young middle-class urbanites from around the country have relocated to Dali in search of rural idyll, many residents and business owners have found themselves outpriced, with no choice but to leave Dali's Old Town and move to the city proper, located around a dozen kilometers away.
Photographer and Dali native Qiao Qi has witnessed the shift with his own eyes, most recently through the closure of an old bookstore on one of the Old Town's thoroughfares, Renmin Road. Ten years ago, rent for the Dolphin Ade Bookshop — a small establishment measuring just 20 square meters — stood at around 30,000 yuan (just over $4,300) a year, but by this year that figure had increased to 180,000 yuan. "It basically forced the bookstore to close," Qiao says, adding that the space's new tenants target unsuspecting tourists with knock-off jade, a ubiquitous commodity in tourist spots around the country.
It's a problem that is emblematic of the country's wider approach to developing tourism in rural areas, says Qiao, with local businesses either buckling under the pressure of skyrocketing rent or abandoning their traditional commodities and pandering to the generic tastes of the traveling masses. "Old towns are all the same," he says, before rattling off a list of famous tourist hot spots around the country, including Wuzhen in the east, Lijiang in the southwest, and Pingyao in the north.
Profiteers aside, it's a lose-lose situation, believes the 37-year-old. "The city suffers because its reputation will worsen, and the tourists suffer because they're scammed and tricked," he says. "They don't even gain a better understanding of the local culture for all their troubles. They won't experience our values here, the local people's way of living, or our natural surroundings."
Qiao has long believed that, given the high concentration of creative types in Dali, there should be a cultural space in which artists can work without worrying about cost. In 2014, looking for a space to exhibit his work, he stumbled upon an abandoned government-owned factory that used to produce bed linen. After his exhibition, Qiao renovated the space and began renting it from the government — which had no use for the space — at a negligible rate.
Qiao's Dali Bed Sheet Art District, as it is now known, offers studio space to budding artists at around 20 yuan a month per square meter. No such luck for an artist wishing to set up shop in an area of the Old Town with more human traffic, though. On bustling Fuxing Road, the average rent for a space between 30 and 40 square meters stands at around 41,600 yuan per month, or over 1,000 yuan per square meter. In downtown Beijing, by comparison, that figure is closer to 100 yuan per square meter, according to 2016 figures from property giant Lianjia.
Prices are being driven up by a legion of newcomers whose demographic is hard to generalize. "Some of them are chasing ideals, and some are looking for a lifestyle change," says Qiao. "Some are here to claim land, some to work in finance, some to scam others for money — there are all kinds of people. There's so much diversity that conflicting views are inevitable."
But for experimental musician Wu Huanqing, who has lived in Dali since 2003, commercialization hasn't only meant conflict. Since he arrived, Wu has found the region's development a blessing for young musicians seeking avenues for their craft.
The 48-year-old from Chongqing in southwestern China arrived in Dali during the outbreak of SARS and was struck by how cut off from the outside world the city seemed. After witnessing health checks over the course of his journey, Wu was half expecting to be quarantined upon arrival, but he was surprised to find that nobody in Dali seemed particularly bothered by the health scare that had gripped eastern Asia. "It seemed like a different country altogether," he says in Jielu, a music space that he co-runs in the Old Town.
"In the beginning, Dali felt like a place where the legacies of the Tang and Song dynasties lingered, where middle-aged men chased literary interests, and where the locals were carefree and harbored no ill wishes," Wu recalls. "Back then, you could still sit by the road, chatting idly and soaking up the sunshine. If anyone new came to town and stayed a few days, you could get to know them completely."
But within a decade after arriving, Wu experienced Dali's rapid transformation into a flourishing, bustling tourist hot spot. While he maintains that profit should not be the driving force behind music-making, Wu is grateful for the new stages for musical talent that the city's development has provided. "You have to recognize that five or six years ago, it was really difficult for ordinary young musicians to find respectable work," he says.
Metropolitan urbanity and authentic local culture needn't be considered at odds, says Wu, recalling a memorable sight that has played on his mind for many years. In 2007, Chongsheng Temple — a Buddhist monastery just north of the Old City — was renovated, and the local government invited more than 100 monks from the region to attend a reopening ceremony.
The organizers had arranged for a fleet of cars to transport the monks, making for "a ridiculous scene," Wu remembers. But one group of monks traveled by foot. "You might not be used to seeing monks in sedans, but don't look past the humble monks walking on the road," says Wu. "The old can coexist with the new, just as ostentation and modesty coexist."
Dali's vibrant and multifarious music scene may stoke Wu's faith in the potential for mediation between modernity and tradition, but friction is evident in other places. Painter and coffee shop owner Rong Jie, originally from eastern China's Shandong province, has witnessed firsthand the way that new property-hungry migrants to Dali have dismissed the traditional construction methods of local workers.
Shortly after arriving in Dali 17 years ago, the 41-year-old opened Renmin Road's first bar, which became a watering hole for the city's burgeoning bohemian circles. In 2012, Rong closed up shop and turned her attention to renovating a decrepit house built in the ethnic Bai style and turning it into a café.
Other nonlocals around her complained frequently about Dali's construction laborers, saying that they were lazy, had a terrible sense of time, produced inferior work, and overcharged for their services. But Rong believes that problems only arise when workers are contracted for modern building projects that are foreign to the local style. "If they're building houses traditional to the Bai people, then there's nothing wrong with their workmanship," she says. "It's actually quite skilled, or else their own homes would have crumbled long ago."
Rong says that local laborers are clearly making an effort to learn work methods different from their own — which cannot necessarily be said of new arrivals to Dali: "When we come here, we should also try to understand, respect, and learn the local ecosystem," she says. True to her word, Rong chose to stay faithful to the region's traditional architecture style when she rebuilt her café.
But like the musician Wu, Rong does not shy away from the fact that her arrival — just like those of the thousands of other migrants and the millions more tourists who descend on Dali each year — has changed the city.
"It doesn't matter if Dali has changed because of us," says Rong, who — after 17 years there — considers herself half local, half outsider. "We are still a part of Dali, and we should continue to love this place."
Contributions: Cheng Huanhuan; translator: Katherine Tse; editor: Owen Churchill.
A Chinese version of this article first appeared in Sixth Tone's sister publication, The Paper.
(Header image: A view of Dali Old Town and the Cang Mountains in Yunnan province, Oct. 6, 2010. VCG)