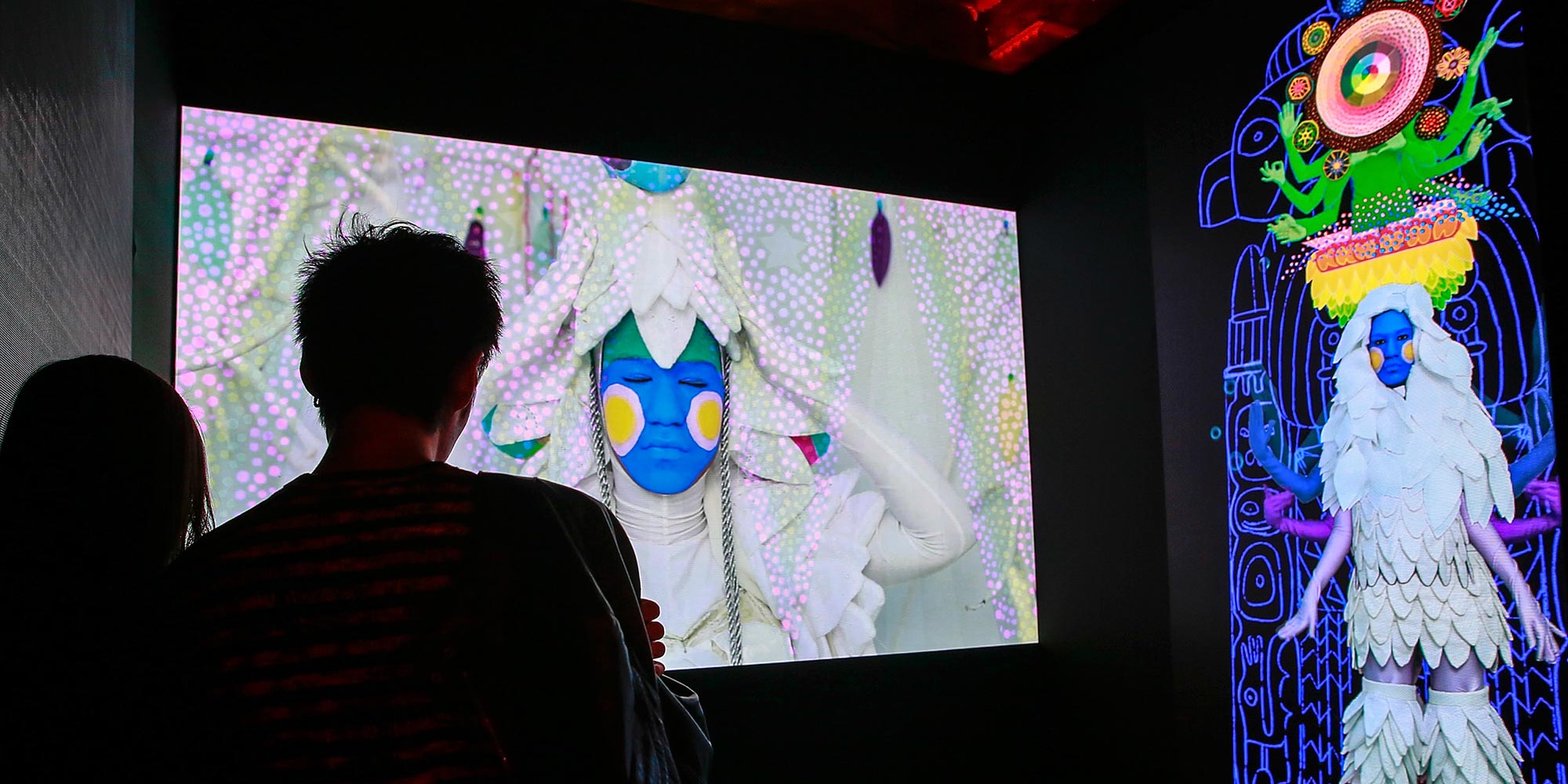 VOICES & OPINION
How a Shanghai Exhibition Wrestled With Our Digital Future
A recent city-center art show exposed the fading relevance of brick-and-mortar display.
Over the first weekend in April, the No Commission art fair drew patrons to the Shanghai Exhibition Center, a Russian baroque-style palace in the center of the city. Inside, organizers set up nine large black cubicles, covered up every last inch of elegant décor, served rum, and played videos off the internet for three days straight.
In one clip, a grotesque orb of snake skin, coral reef, and human hair — wearing gloves — hovered quietly. Inside another cubicle across the chandeliered marble hall, a web browser perpetually played a YouTube video of Lionel Richie's 1984 hit "Hello," with a single sentence, written in WordArt, rotating underneath: "When cigarettes fall in love with matches, they get burned."
The show was run by The Dean Collection, an art collective founded by New York music producer Swizz Beatz. It displayed works by a selection of new media artists, members of a broad genre of contemporary art in which technique, subject matter, and exposure are mainly construed in the digital realm.
No Commission's exhibition of artists who work and connect with primarily online audiences lent the event a somewhat disingenuous, albeit glamorous, atmosphere. Ironically, the collective's takeover of the Exhibition Center felt like a goodbye celebration for art as a physical medium and its replacement with a new, less considerate, world of digital art. Almost every piece on display had been sourced, created, and made available online some time ago. The exception were six paintings hung as an afterthought by the door to the "party room," where a DJ threw out club bangers in front of a screen that mimicked those inside the artists' exhibition cubicles.
Shanghai was the perfect place for such an odd occasion. This crowded city is home to a vast number of live-streaming platforms in a country that probably houses more vloggers than anywhere else in the world. Miao Ying, the Shanghai native who presented her Lionel Richie homage as a sort of unrequited serenade to love songs whose videos are blocked in China, said earlier this year that she "resides on the internet" and only fleetingly visits the physical world. Her work centers around the endless possibilities of the vast online universe — a noble pursuit, I thought to myself as I wormed through a rum-drunk crowd clustered outside a tiny stall blaring out random lines from Lionel Richie songs.
Next door, visitors strolled into another space playing a 10-minute looping video by Beijing-based Tian Xiaolei, in which pixilated businessmen marched, fought, grew extra limbs, and laughed in hollow unison to Mozart's "Requiem." The video, "Song of Joy," was inspired equally by his experience climbing Beijing's corporate ladder as by Kali, the multi-armed, weapon-wielding, tongue-lolling Hindu goddess of time, destruction, creation, and power. The art piece's childlike opera of graphic symbols and mawkish emotional outpouring inspired a feeling somewhere between soaring rapture and abject doom. The one unifying element was the piece's technical construction. Created without any attempt to look lifelike, "Song of Joy" was surrealism without attention to detail. In another scene in the video, lotus flowers with Ferraris for petals spun into an infinite abyss. It looked like nothing but a riotous copy-and-paste of graphic elements.
The video has been freely available on Tian's Vimeo account since it was made back in 2011; it was among several pieces at the show that were excavated from some far-flung corner of the web. By displaying at such a glamorous event, however, Tian pointed out that his work will be shared through social media to a degree that is not common for someone who usually demands the online art community to trawl through cyberspace in order to access his art.
"I think it's showing off. They want others to see their lives," Tian said of the event's selfie-snapping guests with drinks cocked luxuriantly at chin level. But while human narcissism indeed unfurls most fully in the physical world, aspects of the personality trait can be found online: We attach deep ego to our social media handles, chat avatars, and journalistic bylines. We are coming to invest self-worth in our digital traces in a significant time, place, or conversation.
Representing online works in real life changes how we, as patrons, experience them. In this case, the grandiose surroundings of the exhibition made the pieces feel imposing and less intimate. While the role of art is frequently construed as mere decoration, audiovisual art in particular problematizes this outlook more than any other medium. Like flowers at a garden party, it quickly becomes just another part of the scenery.
The small black cubicles and high-resolution screens at No Commission turned this phenomenon on its head, instead making each piece dominate the space it occupied. When thousands of LEDs sear images onto your uncomfortable retinas, it leaves a deeper impression: The excess of light stimuli has a trippy effect that, under some circumstances, lends itself to a feeling of epiphany. When presented without narrative, as in No Commission's random looped videos, it feels reckless. No wonder people loitered at the door instead of entering the fray.
For Xu Wenkai, an internet artist based in Shanghai, the irony of displaying digital works in a palatial gallery merely highlights his work's modern import. Xu, who professionally goes by his Weibo microblog handle "aaajiao," projected different internet browsers on three of the four walls inside his designated cube, each of which scrolled through account pages on Facebook, Twitter, or Weibo. Blocks of text and images had been obscured by colored boxes. It was a jarring revelation of how our eyes treat information and are left frustrated by an unresponsive online landscape, one in which we are normally so pampered with constant updates.
"Emails, GIFs, online images — we think they're objects now," Xu said. "The online and the physical are the same for this generation. You show something online — the screen will be small. In the physical space, the screen will be big. It's just a difference of size. The meaning and feeling are the same."
Anyone who approached the show looking for a roadmap of digital art trends in the next few years will have left unfulfilled. The event was more a "best hits" of the 2010s so far, and it indicated that greater confusion, rather than cohesion, lies ahead. It was comforting that the event was hosted by Swizz Beatz, whose career as a DJ and producer took off in the 1990s and then matured at a time when online access to music through piracy and then licensed downloading incurred the painful yet ultimately fruitful transition to new platforms for sharing and selling music. While some artists lost out financially, and many consumers mourned the moribund charm of record stores, the switchover has, in many ways, led to more diverse, higher-quality music.
The past year has laid bare the troubling power of a populist internet, a tool with the capacity to circumvent geography and circumstance and the people who facilitate those gateways. As the spread of information becomes abruptly personal and decentralized, the digital sphere remains transformative — but only after adopting disruption as an essential part of the process. The inevitability of experimentation demands that this behemoth-like communicative framework be fully unearthed. No Commission displayed this desire the only way we currently know how: by setting up a physical space, playing music, pouring alcohol, and inviting people. It's not a bad fallback plan, but the reality is that the process of exhibiting digital art will require a reworking of physical exhibition spaces before we can properly observe it.
(Header image: Visitors enjoy a video performance art by Saya Wooffolk at the No Commission Art Fair in Shanghai, April 7, 2017. Courtesy of the organizer)