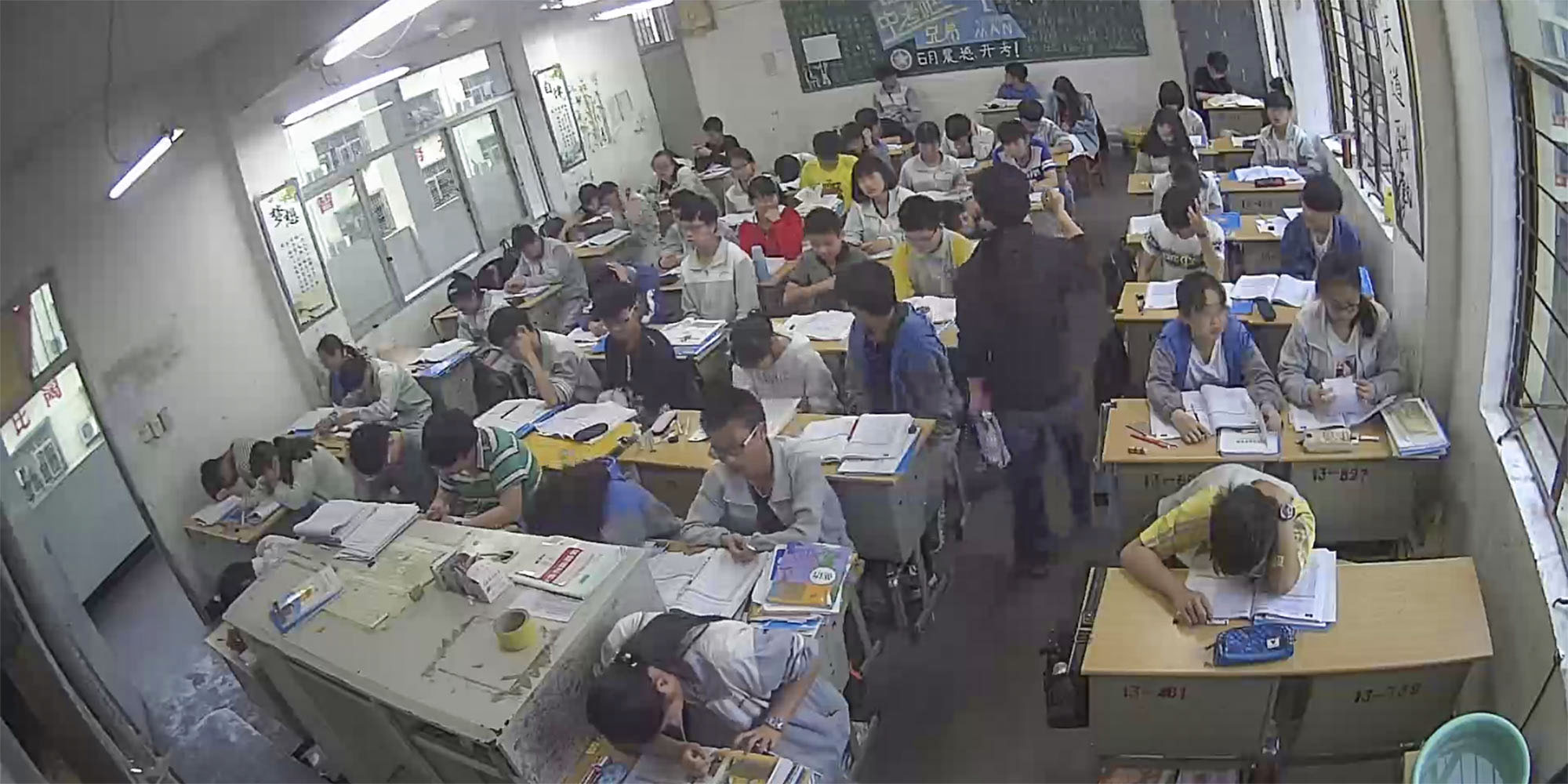 NEWS
Live-Streamed Dorms and Classrooms Raise Privacy Concerns
Schools put classes online for parents to follow, but everyone else can drop in, too.
Around 60 students, squeezed in their classroom behind stacks of books, are listening to their teacher with varying levels of attention. It would be a typical scene at a Chinese high school were it not for the camera that's live-streaming this classroom to the world.
Viewers need not miss any details: One student sitting near the wall is taking a nap, hunched over on his desk. Another student whispers a message to her neighbor, and the two giggle. Someone sitting by the window yawns. "Study assiduously and tirelessly," reads a red banner at the back of the classroom.
On Waterdrop Livestream — or Shuidi Zhibo, an online live-streaming platform — hundreds of channels from schools across China can be viewed at all hours of the day, from kindergarteners napping to high school students participating in class. "Live-streaming is intended to help us understand our kids, not as evidence of punishment!" a channel broadcasting a high school classroom says in its introduction.
A teacher surnamed Sun at Tianhong Baby Kindergarten in Beijing told Sixth Tone that they started the live-streaming program when the kindergarten opened in 2016. "We wanted to show the positive energy of our school," said Sun, adding that news about kindergarten teachers abusing children has made parents nervous. "[Parents] want to watch their child's every move."
According to Sun, teachers behave more carefully under the watchful eyes of the cameras. "Teacher, please do not let Ye bite his fingernails," reads a message in the comment section of a kindergarten's live stream that refers to one of the children in the classroom.
Observant net users also like to help out the teachers. "Someone is playing on their cellphone," one vigilant viewer noted after spying an absentminded middle school student during class. "I have been monitoring for two hours," wrote another user.
While the streams might help put parents at ease, some worry if they infringe on the students' privacy. Zhao Bo, a lawyer at Henan Linge Law Firm in central China's Henan province, told Sixth Tone that live-streaming broadcasters need to reach an agreement with the students, or they risk violating their rights not to be shown on camera.
Wu Hua, a professor of education at Zhejiang University in eastern China, told Sixth Tone that "[live-streaming] can be used for certain public events, but it should not be a normal behavior in classrooms."
Many net users commenting on the trend of classroom broadcasts have also expressed skepticism. "Who wants to live on a surveillance camera?" wrote one net user. "It's like 'The Truman Show,'" wrote another.
Editor: Kevin Schoenmakers.

(Header image: A screenshot from a live stream of a middle school classroom in Taizhou, Zhejiang province, broadcast on Shuidi's live-streaming platform, April 25, 2017.)