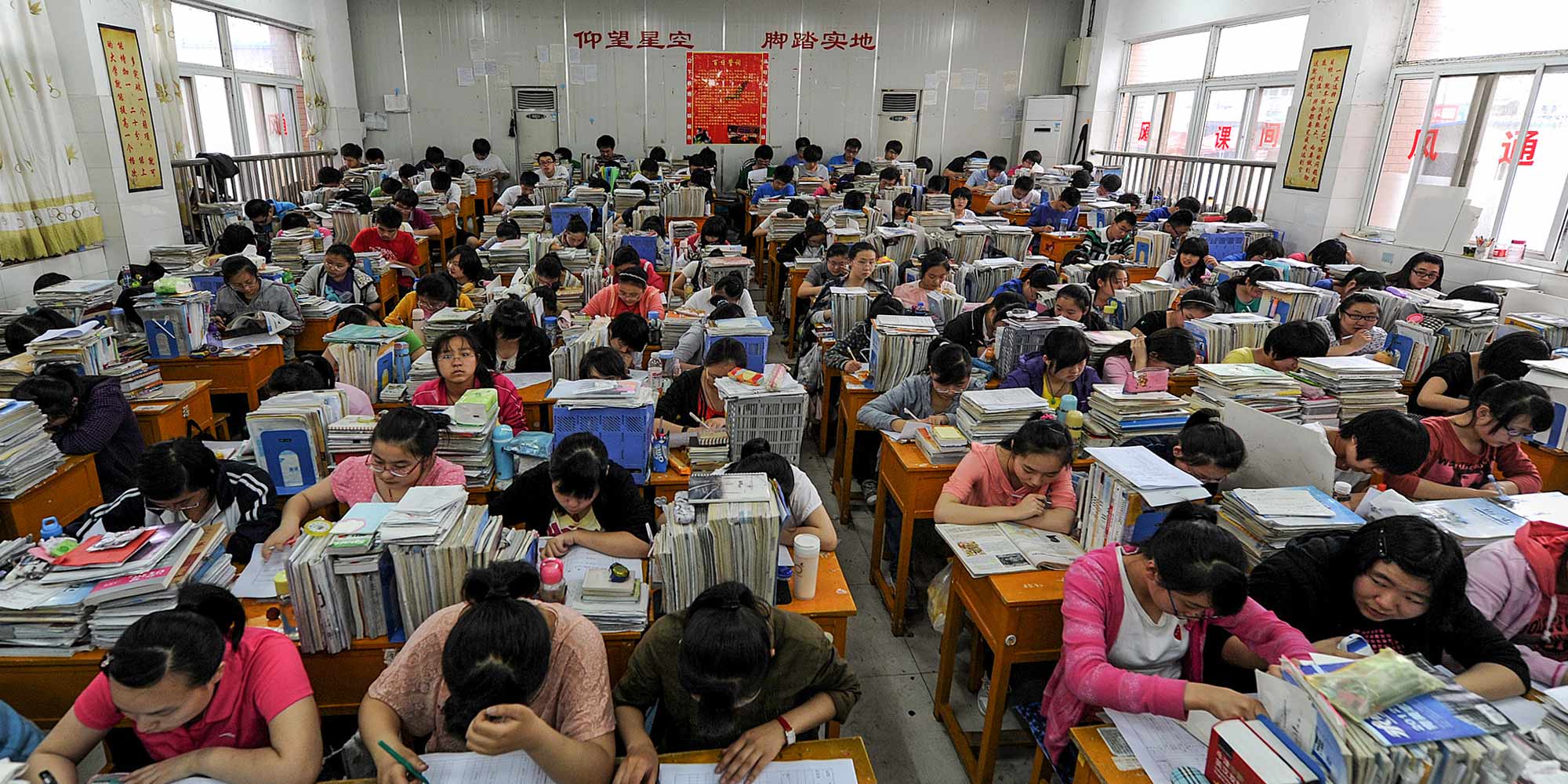 NEWS
China's Most Crowded School Has 113 Children Per Classroom
Closures of village schools have concentrated students in county seats, where faculty and facilities aren't always sufficient.
As a student in China, it's easy to feel like just a face in the crowd.
Oversized classes are still a common phenomenon, according to a study conducted by 21st Century Education Research Institute published Tuesday. The most overcrowded conditions among the schools sampled in the study were found at a primary school in central China's populous Henan province that averaged 113 pupils per classroom.
The problem is not limited to primary schools. In Zhumadian, a city in Henan, the researchers found one middle school where the average class size is 109 students, and 3,730 classes throughout the city with more than 65 students. Across 27 provinces, the average size of high school classes exceeded 45 students — the national standard — and in 12 provinces, the average was higher than 55 students.
"The fundamental cause is education disparity," Xiong Bingqi, vice president of 21st Century Education Research Institute, told Sixth Tone. "Since education resources tend to go to urban areas, many rural students move to county seats or city schools for a better education. However, as more students flock in, many schools have to expand their classes because there aren't enough teachers and classrooms."
Despite government efforts to bring down class sizes, the problem hasn't gone away, Xiong said. In a document published by the State Council, China's cabinet, in July 2016, the national government said it intended to eliminate "supersized" classes — those containing more than 66 students — by 2018, and to eliminate "large" classes of more than 56 by 2020.
The oversized classes are a result of urbanization and previous rural education policies. In order to improve education for rural students, many local governments closed village schools or combined them into larger facilities in order to consolidate resources. From 2001 to 2009, more than 278,000 schools were shuttered nationwide, cutting the number of village schools by more than half. As a result, many rural students now go to schools in county seats, which more often face oversized classes than schools in cities, the study found.
Disparity also exists between economically advanced eastern coastal areas and poorer provinces in central and western China, where overcrowded classes are more common, according to the study. "The number of students is decreasing in the east, where there are more educational resources," Xiong said. "They can afford to have smaller-sized classes." He added that many local governments in central and western regions focus their funding on key schools that can attract top students.
Xiong believes that oversized classes affect the overall quality of an education, as students in larger classes have fewer chances to speak up and teachers may feel reluctant to encourage classroom discussion.
Overcrowding is also a safety concern. Last month, a stampede in which one child died and 20 were injured occurred at a primary school in Henan. Reactions to the incident focused on the jam-packed classes at the school. With more than 1,700 students and just 23 classrooms, the average class size at the school was 74 students.
Editor: Kevin Schoenmakers.
(Header image: Students in a crowded classroom at a high school in Lu'an, Anhui province, June 2, 2012. Wu Fang/VCG)