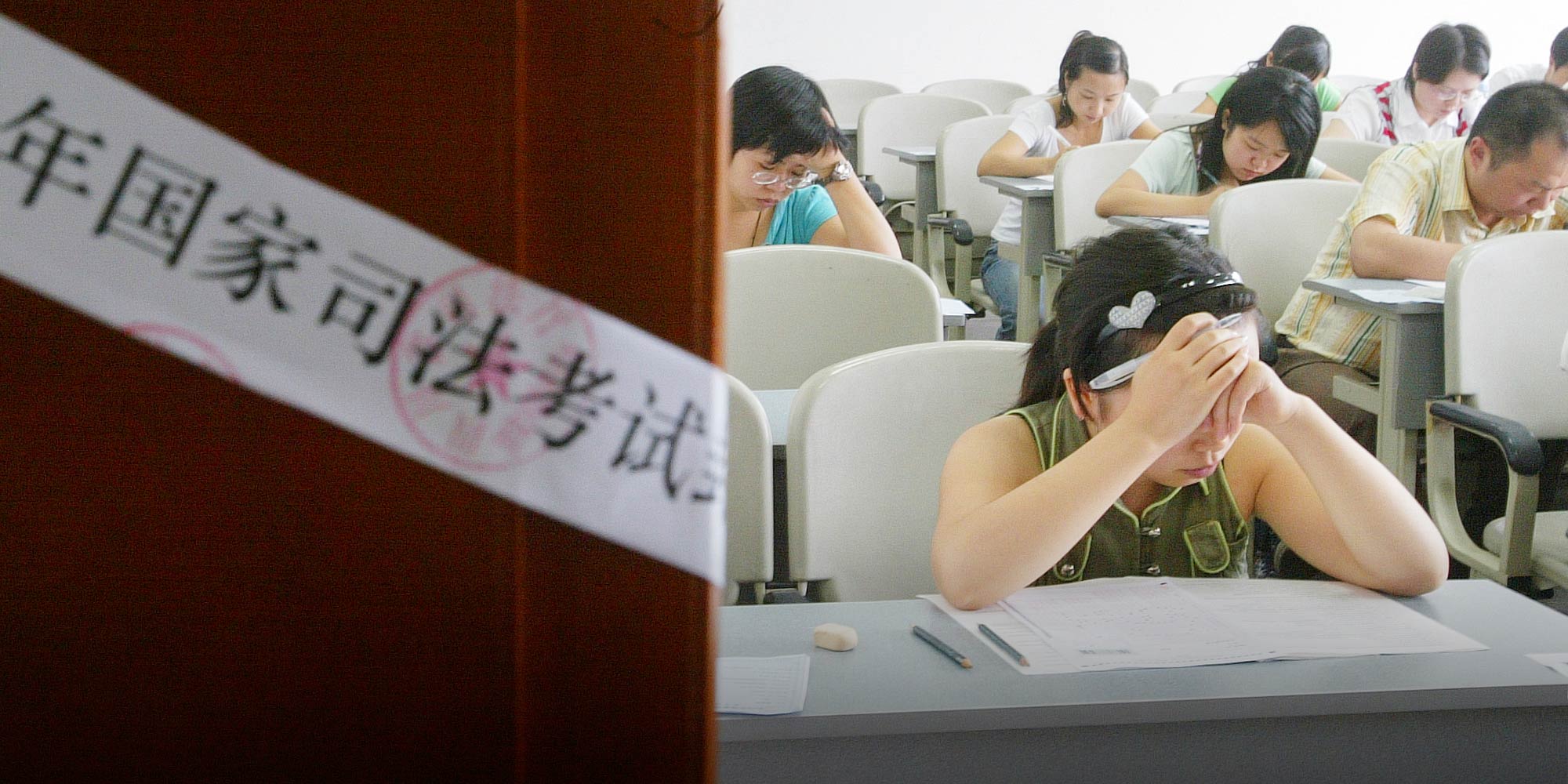 FEATURES
Legal Eagles' Wings Tied by New Bar Exam Rules
Beginning next year, aspiring lawyers and judges must have undergraduate degrees in law.
Chen Chaowu has long dreamed of becoming a lawyer, and later this year, the university English major will have a chance to realize this goal when he sits the National Judicial Examination, the prerequisite for pursuing a legal career in China. 
For years, candidates were not required to have an undergraduate degree in law to take the exam — but that's about to change. Beginning next year, new rules will restrict access to the test to those with law degrees from full-time university education or three years of work experience in certain legal institutions, barring candidates like Chen who did not attend law school from the gateway to a career in law.
China's National Judicial Examination is conducted by the Ministry of Justice every September, with content covering almost all areas of Chinese law, as well as subjects like the structure of the judiciary, legal ethics, and international law. Those who pass can go on to apply for a lawyer's license or pursue a position in the judiciary. 
The new rules are in line with the latest push for judicial reforms announced in 2012, motivated in part by the number of high-profile miscarriages of justice. The changes aim to strengthen the authority of the law and standardize the way people enter the law profession, according to a white paper released by the press office of the State Council, China's cabinet, in 2012.
Chen — who will graduate in June with an English degree and a minor in law from southern China's Shenzhen University — recalls first hearing of moves to change the exam rules around when he began studying for the test in 2015. "At first, the news [about the change] didn't bother me," Chen told Sixth Tone. "I believed I had prepared well for that year's exam."
But Chen didn't pass when he took the test in 2016, and it dawned on him that if he failed again in 2017, he would no longer be eligible. Chen said he considers the new rules "unfair." "If we are interested in law and can prove ourselves by passing the exam, why can't we work in the legal field?" he asked.
When it was originally introduced in 2002, the National Judicial Examination raised the bar for judges, lawyers, and prosecutors. The current pass rate for the exam is relatively low, at around 10 percent of the half a million people who sit the exam each year on average.
The new exam rules aim to continue increasing the caliber of legal professionals in China, according to Rachel Stern, an assistant professor of law and political science at the University of California, Berkeley, who has written about the evolution of the so-called Chinese bar exam. "There was a big jump in legal knowledge and professionalism after the unified judicial exam was introduced just after the turn of the century," Stern told Sixth Tone in an email interview. "This is another effort to continue to ratchet up quality."
The exam has gone through other changes in recent years: Political content was introduced in 2007, including questions about socialist rule of law and the role of the Party, according to Stern. Though definitive details about the new exam are still scarce, the political component is expected to further expand in the current round of changes.
The recent trends in modifications to the exam "illustrate the leadership's interest in cultivating a core of legal professionals who are both deeply knowledgeable about the law and politically reliable," Stern added.  
Some legal practitioners recognize the strengths offered by law career hopefuls like Chen, who don't have law degrees. "Their advantage is that they have other educational backgrounds, which can help them see issues in a broader sense," an employee at the people's procuratorate of eastern China's Zhejiang province surnamed Zhang told Sixth Tone.
Zhang acknowledged, however, that when he encounters people who passed the National Judicial Examination without attending law school, "I can tell that there are some gaps in professional knowledge between us," he said. "What they lack, even after obtaining the legal certification, is work experience and a deep understanding of law."
The upcoming change to the National Judicial Examination rules will affect more than those who want to pursue legal careers, as the exam qualification is also popular among people seeking to land lucrative jobs in the finance industry, at investment banks or securities firms.
Liu Yun works in sales for a financial institution. The 26-year-old earns a base salary of 3,000 yuan ($435) per month but can make around 20,000 yuan in a good month if bonuses are included. With a National Judicial Exam certification, Liu could move to a more stable, better-paid job in research. "I failed the exam last year, and now I have to take my last chance," Liu told Sixth Tone. 
Meanwhile, Chen has formulated a backup plan in case this year's exam doesn't go the way he hopes. "If I fail, the other option is to spend three years obtaining a master's degree in law to qualify for the exam," he said. "That means my dream will be postponed for three years." 
Contributions: Colum Murphy; editor: Jessica Levine.
(Header image: Candidates take the National Judicial Examination in Sichuan province, Sept. 10, 2008. VCG)