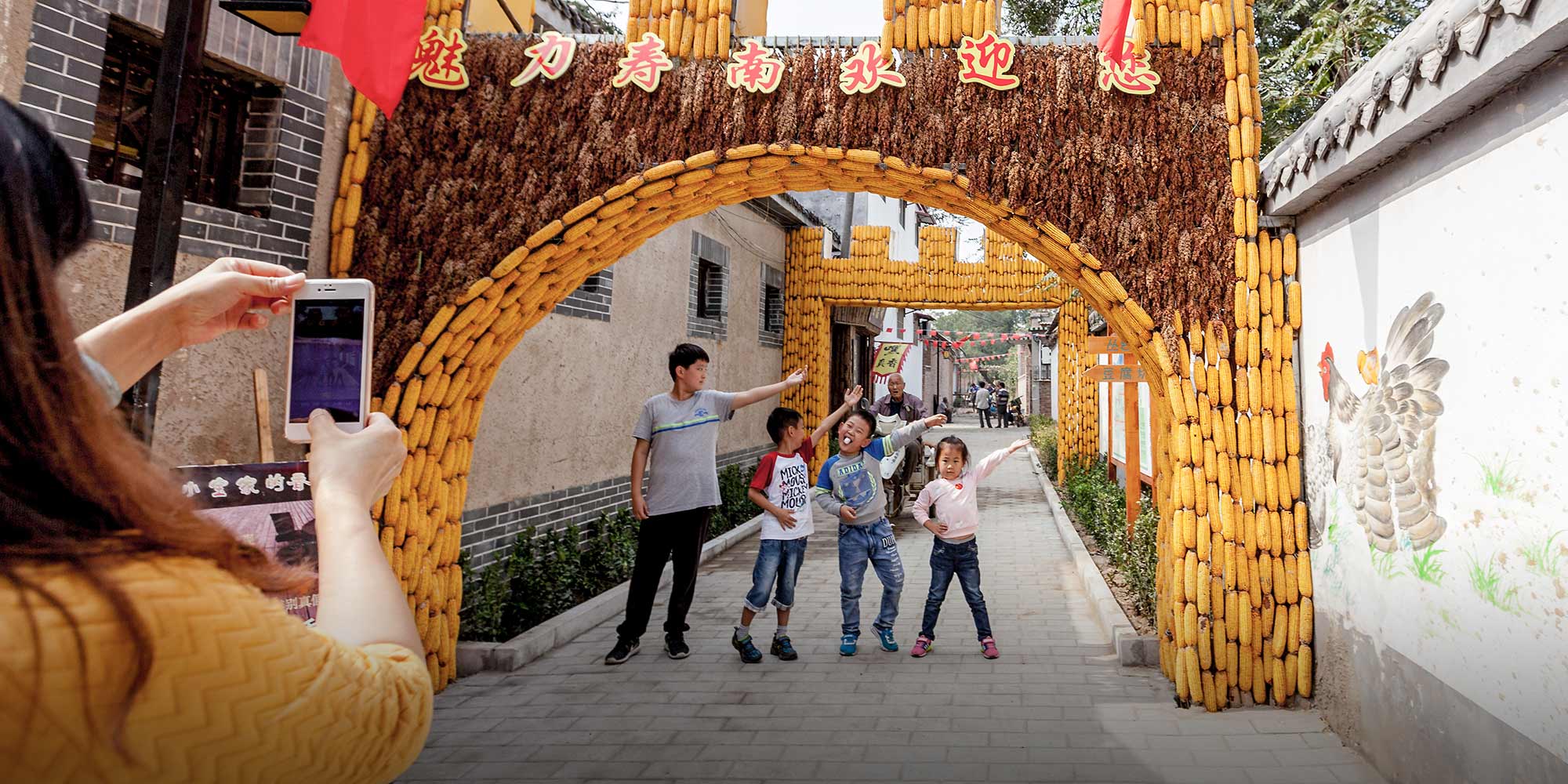 VOICES & OPINION
How Feature Towns Reduce Rural Life to a Gimmick
Villages regenerated to showcase 'unique features' are becoming unlivable, inauthentic, and increasingly profit-oriented.
Today, the new buzzword in Chinese urban planning and real estate development is "feature town," or tese xiaozhen. Since early last year, the central government has been rolling out a new policy that aims to stimulate localized economic development by drawing up a list of such towns. Located mainly in rural areas, the plans promise to narrow the wealth gap between the cities and the countryside while also improving local living standards.
In practical terms, the initiative calls on provinces to submit development plans for selected towns in return for state funding. The money is then spent on upgrading infrastructure, developing specialized industries, and commercializing local natural resources and cultural heritage.
In the last four decades or so, millions of Chinese have migrated from rural areas to cities, drawing wealth into urban areas while leaving the countryside dramatically worse-off. This is where feature towns come in: They signal the government's attempts to promote industrial innovation and increase the attractiveness of small towns, so that they can compete with China's booming metropolises. The plan aims to establish around 1,000 feature towns before 2020.
Feature towns are based around a "one town, one industry" model, according to which each area specializes in one core business. Designed to increase economic vitality, the policy aims to create new jobs and encourage rural residents to stay in small, newly thriving towns. In broader terms, the plans fit with the rhetoric espoused by the central government that China must come to terms with an economic "new normal" characterized by more moderate and stable growth. According to Shen Chi of the National Development and Reform Commission, creating the conditions for small towns to compete economically is key to continued development.
What are the actual features of feature towns? Most sources mention a range of keywords, claiming that feature towns should aim to be beautiful, charming, distinctive, diverse, dynamic, harmonious, livable, vibrant — and similarly positive descriptors. They should become competitive via industrial upgrading and creating new platforms of innovation to develop the economy. Away from industry, further specialization in education, science, and technology have been mooted. At the same time, this measure will purportedly boost traditional culture, as well as the leisure and tourism business.
The policy requires feature towns to "respect local topography" and "protect the natural ecological environment." In reality, however, creating a strong brand image and attracting investment takes precedence over green concerns. Eastern China's Zhejiang province is home to some particularly remarkable examples. Yue City, situated near Shaoxing, specializes in local rice wine. Luqiao, in the coastal city of Taizhou, churns out Volvos. Qingyuan County produces nothing but mushrooms. There are towns specializing in the production of makeup, chocolate, even drones. While most are located in suburban or rural areas, others are self-contained quarters of established cities.
In fact, this form of local specialization is nothing new. The state-sponsored "one town, one industry" concept has been around for at least as long as the danwei system, which under Communist rule divided citizens into work units based on the connections between individual communities with one field of expertise. Indeed, the countryside of eastern China's Zhejiang and Jiangsu provinces has been dotted with countless single-industry towns for decades.
Official media characterize the ideal feature town as small in size with a pedestrian-friendly environment. High-rise buildings are to be avoided, and the whole town should exist in harmony with the local landscape and ecology. To me, this has parallels with the new urbanism movement of the 1980s — a movement that saw prominent architects like Andrés Duany, Elizabeth Plater-Zyberk, and Peter Calthorpe turn away from established forms of urbanism. The difference with China's feature towns, however, is that they put aside concerns about architectural expression or quality of life in pursuit of economic functionality. The picturesque, idealized images churned out by local propaganda efforts are, by and large, only a reality for tourists and the privileged few; the general populace rarely resides in such an idyllic environment.
Feature towns display a preference for historicizing the local area through the construction of new buildings in ancient-looking styles. These buildings may have little to do with local architectural history or the surrounding landscape, but they demonstrate the official desire to bring in as many tourists as possible. In my opinion, the building of such pastiches proves that feature towns' economic considerations have won the day over spatial or architectural considerations. A colleague of mine noted how, like shopping malls, feature towns seem dropped unceremoniously onto the landscape, alien entities lost in time and space.
Like other fashionable terms in architecture at the moment — "eco-cities" and "smart cities" also spring to mind here — feature towns can be interpreted in various ways. In China, their key feature has been to attract new investment. This is, of course, a fair goal, but in many cases the additional income it generates for local people comes at an ecological cost.
So far, it seems that feature towns mainly cater to residents who are financially well-off, who can afford to live in a lush and green — if ultimately artificial — environment, and who can surround themselves with the conveniences of modern life while living within striking distance of nearby urban centers. While the economic theory behind feature towns is sound, questions remain as to whether their development will relieve pressure on China's congested big cities. Instead of truly utilizing local culture and resources, some feature towns merely expand existing urbanization out toward rural areas. Without studying the needs of individual locations and ecosystems, feature towns will remain forever isolated as commercial gimmicks, churning out chocolate, mushrooms, and makeup for hordes of tourists.
Editors: Yang Xiaozhou and Matthew Walsh.
(Header image: Tourists take photos at a feature town in Guantao county, Hebei province, Oct. 2, 2016. VCG)