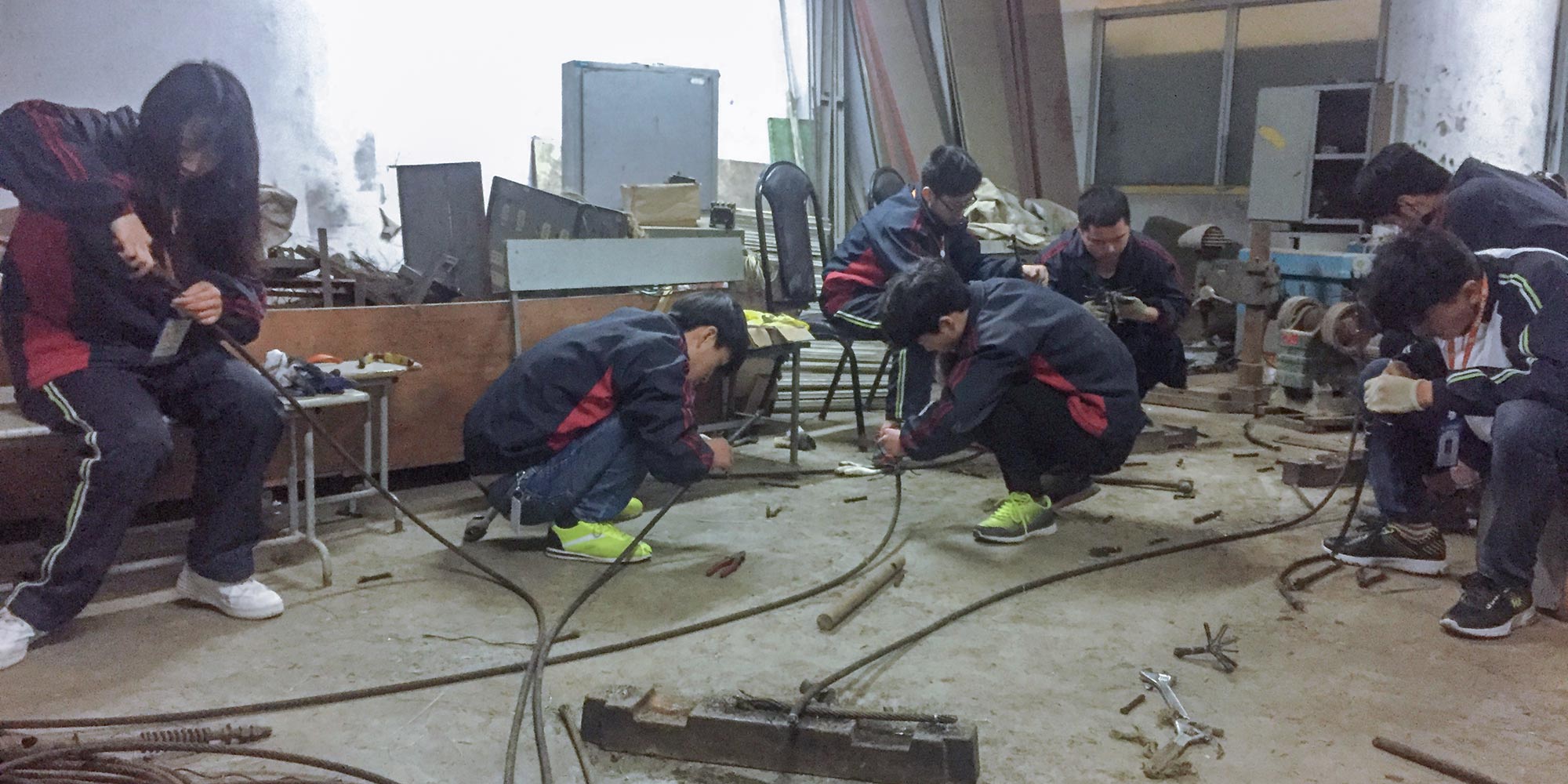 FEATURES
Shanghai's Vocational Schools Open Doors for Rural Students
Charity teaches rural teens the elevator maintenance trade, but some find their prospective futures a letdown.
SHANGHAI — With her dimples, ponytail, and blue denim jacket, 19-year-old Li Xiumao stands out among her older, mostly male colleagues at the elevator repair company where she works. But she's proud of her job and where it has taken her: "I'm not afraid of being laughed at. It is true that if I didn't have this opportunity, I would never in my life have come to Shanghai," she tells Sixth Tone. 
Li left her village in the southwestern province of Sichuan more than three years ago when she was recruited by the Shanghai Smiles Foundation, an education charity that offers rural teenagers like Li the opportunity to study in Shanghai. The foundation — privately funded by corporate sponsors and individual donations — partners with vocational schools and companies in the city to give students like Li job skills and a pathway into a steady, if unglamorous, career.
Though much international media coverage of China's education system focuses on the intense competition for university places, a sizeable share of the population will never attend high school. Compulsory education finishes at the end of middle school — around age 15 — after which many rural teenagers leave school to help run their families' farms or look for work in the city. 
An alternative to traditional high schools, vocational schools teach students a trade with market demand. China's 10,900 vocational high schools — accounting for around 40 percent of all high schools in the nation — provide about 70 percent of the incoming labor force for industries like manufacturing, high-speed railways, and e-commerce logistics, according to a report by Party newspaper People's Daily.
Yet these schools' tuition fees can be prohibitively expensive for poor rural families, and efforts to promote vocational training as a solution to rural poverty don't address the root causes of the issue. Meanwhile, vocational schools in urban areas are considered a last resort for students who haven't done well academically. Even within vocational schools themselves, majors that lead to office positions — such as marketing or sales — are more popular, while manual labor roles are looked down upon.
"The [elevator maintenance] major has a shortage of students, but in Shanghai, no one wants to study it because they think it's a migrant worker's job. [So] we recruit these teenagers from Sichuan and Yunnan," explains Lin Minghui, the deputy principal of Shanghai Real Estate School, where Li studies.
Since the Shanghai Smiles initiative began in 2012, the foundation has recruited 350 students from poverty-stricken areas, mostly in Sichuan and neighboring Yunnan province. After graduation, the students can secure jobs at companies that partner with the charity — some of which also help fund the initiative. The companies need the labor, the schools need more students to fill courses, and the students need the employment opportunities.
Li joined the initiative in 2014. She still remembers the day she left her family to take the long-distance bus to the nearest city and then board a plane to Shanghai. At just 15 years old, she couldn't stop crying as she contemplated her strange new life. When her grandmother passed away unexpectedly during Li's first year in the city, Li was devastated to be so far from home.
Three years later, Li has become something of a poster girl for the Shanghai Smiles project. She has won municipal and national elevator maintenance competitions, usually as the sole female entrant, and often gives media interviews about the foundation's work. Whereas many of her classmates have taken positions in smaller cities, Li has been promised a full-time job in the Shanghai elevator company where she's currently interning. 
Yet Li has her worries, too. There are hardly any young women in the elevator repair industry, so most of her colleagues are decades older than she is. She has few friends in the city and little opportunity to socialize. Even though the elevator company's employee accommodations are located near the city center, Li can rarely afford to enjoy Shanghai's restaurants, shopping malls, or nightlife. Her intern wage is 2,000 yuan ($290) a month and could rise to around 4,000 yuan when she becomes a full-time employee — still less than the city's average monthly salary of 6,504 yuan in 2016.
"I don't know how long I can stay in Shanghai. I always miss my home," Li says. Yet she feels a burst of joy when she remembers her delight upon first seeing in person the city sights she had only glimpsed on television. When she returns to her hometown, her former neighbors look at her with admiration and ask her to tell them about Shanghai. Many of them have never left the province.
"There is currently still a gap between the cities and the poor mountain areas in terms of education," says Huang Yan, chairman of the Shanghai Smiles Foundation. Even with the government's substantial poverty alleviation efforts, Huang believes it will take decades to close this gap. According to a report by Beijing Normal University, only 50 percent of students in poorer areas enroll in academic high schools, compared to more than 97 percent in China's affluent eastern provinces.
Vocational schools are touted as a means of addressing countryside poverty. "Developing vocational education does not only meet the goal of developing industries and talents, but also benefits poverty alleviation in rural China," Yang Jin, head of the vocational and technical education center at China's Ministry of Education, told the People's Daily.
However, there is no guarantee that graduates will return to help develop their rural hometowns rather than seeking jobs in cities. As such, charities like Shanghai Smiles offer an immediate solution but also contribute to China's one-way mass migration from rural areas to urban centers.
Though the foundation has helped fund primary schools in impoverished regions, higher education remains centralized in cities. And the roots of inequality go beyond finance: Complex educational regulations combined with the shortage of experienced teaching staff and the lack of opportunities for corporate partnerships in the countryside make it easier to bring students to the city than take opportunities to rural areas. And even so, China's strict hukou — or household registration — system can serve as an additional barrier for rural students seeking better-quality education in the city.
Regional divisions are apparent even among the students at Shanghai Real Estate School. At a jump rope competition that the school held last month, students clustered together in distinctive cliques: Local Shanghai teens — mostly dropouts from traditional schools — sported foreign-brand sneakers for the boys and loud makeup and jewelry for the girls. They talked and laughed boisterously next to the quiet, darker-complexioned migrants from Yunnan and northwestern China's Qinghai province.
For many of these rural students, the Shanghai Smiles project is the only alternative to an unstable future as migrant workers. Seventeen-year-old Pu Yan and 18-year-old Li Mei didn't pass their high school entrance examinations, and their families didn't have the money to enroll them in local vocational schools.
The two friends left their Yi minority village in Yunnan — characterized by its colorful ethnic clothing and sour, spicy cuisine — for Shanghai, but the young women haven't taken to either city life or their elevator maintenance training. "We wanted to return home and find jobs there, but our families urged us to finish the courses," Li Mei tells Sixth Tone.
Yet some vocational school students do bring the skills they learn in the city back to the countryside. Eighteen-year-old Deng Luping hails from a Yao ethnic minority village with 60 households in Yunnan province; after roads connecting his village to the rest of the county are built this year, it will still take four hours by car to reach the county seat.
Growing up, Deng remembers Shanghai as a television image of the famous Bund clock tower; now, the city is his reality. He enjoys his studies but isn't eager to snag a job at an elevator repair company after graduation. Instead, he plans to help his father expand the family's tea leaf business to the online marketplace. 
If he had stayed in his village, Deng says, he might never have learned about the power of the web or heard of internet tycoons like Alibaba's Jack Ma and Tencent's Pony Ma, who have become his professional heroes. "We didn't even have enough — or good-quality — computers at my school before," he says. "I didn't know about any of this before I came to Shanghai."
Editors: Qian Jinghua and Jessica Levine.
(Header image: Students majoring in elevator maintenance work on their skills during a class in Shanghai, March 21, 2017. Fu Danni/Sixth Tone)