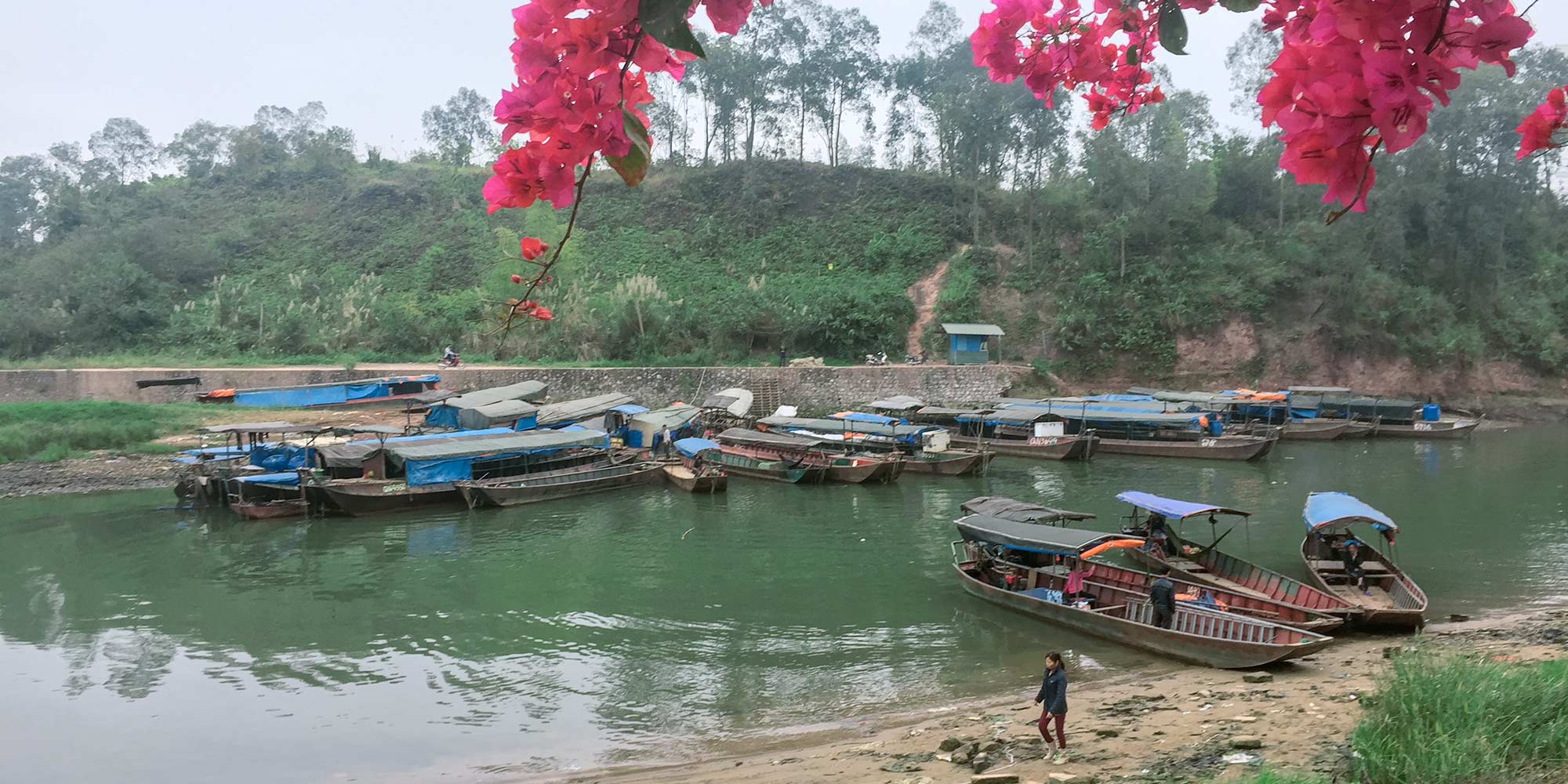 FEATURES
'Operation Broken Arm' Turns Smugglers' Den into Ghost Town
Local businesses in China-Vietnam border city anxious after government crackdown clears out illegal traders.
GUANGXI, South China — Yan's plan was simple: borrow money, buy a van, and transport smuggled goods inland from the Vietnamese border. And it worked, until just two months into his new career, when police came by his house to seize the van.
Yan, 25, had become one of the thousands of people swept up by "Operation Broken Arm," a local government initiative to rid the porous border between China and Vietnam of smuggling. Young men like Yan — all of whom requested to be identified only by their surnames due to their past involvement in illegal activities — have been forced out of their old jobs as drivers, boatmen, and lookouts for smuggling operations.
The smugglers operated in and around Dongxing, a border city near the coast of the South China Sea. There, all that divides China and Vietnam is the 10-meter-wide Beilun River, and both of its banks are dotted with ramshackle docks. Crude iron-hulled boats move up, down, and across the river. But activity on the river, as well as in the city, has dropped considerably since Broken Arm kicked off in May 2016.
An official in Dongxing's anti-smuggling department surnamed Shi says that the operation was meant to make large-scale smuggling in the city "history." Dongxing has tried to combat smuggling for years, Shi says, but the "roundabout" ways of the past have proven ineffective. Broken Arm has taken a more organized, head-on approach — and has produced results.
Data from the anti-smuggling department shows that in 2016, city authorities investigated 2,264 cases of illegal smuggling, involving goods — most commonly frozen food, sugar, corn, cigarettes, and liquor — worth 132 million yuan (around $19.2 million) in total.
Nearly 1,000 people have been arrested on smuggling charges, and more than 4,000 vehicles, including Yan's van, have been confiscated. The number of iron-hulled boats commonly used to bring smuggled goods across the border has been reduced from its peak of about 6,000 a few years ago to some 880 boats today; the drop is partly due to confiscations, and partly because many former boat operators have simply given up. A 1.15-kilometer-long, 4-meter-tall fence is being erected along the riverbank to further deter smuggling operations.
Beyond the numbers, the campaign has changed Dongxing completely. The streets are no longer abuzz with a constant stream of vans and trucks. Formerly known as "a city that never sleeps," Dongxing is now unusually calm at night. Interviewees say that the city of Mong Cai, on the Vietnamese side of the river, is also much quieter than before.
Dongxing's outlying regions are vast — 540 square kilometers in total — and straddle the border with Vietnam for 39 kilometers. The city was a hotbed for smuggling, and the lively border trade — the legal variety was worth $3.09 billion in 2016 — attracted many people from surrounding areas to the city over the years. But after the crackdown, Yan says he and his friends have noticed that Dongxing has emptied out. "Half the people are gone," he says. The population drain has made residents who run businesses such as restaurants, hotels, and real estate agencies all equally apprehensive, as they wonder: What does the future hold?
Many Dongxing residents, however, welcome the peace and quiet that Broken Arm has brought. Jiang was born and raised in Dongxing and now owns a business that sells mutton in the city. He supports the government's smuggling crackdown: "Everyone is happy to see legitimate jobs and a legitimate economy," he says. Jiang complains that in the past, smuggling vehicles drove like crazy, didn't follow traffic rules, and always had their high beams on, scaring everyone in their path. "Driving at night, the last thing you wanted was to encounter a smuggler's car," he says.
Jiang thinks the short-term pains caused by the crackdown will be worth it in the long run. He compares the campaign to the anti-vice efforts in Dongguan, in neighboring Guangdong province. The city was famous for its sex industry that once employed hundreds of thousands of people, until the government cracked down in 2014 and closed thousands of businesses. Similarly, there will be a period of challenges for many Dongxing residents in the wake of the smuggling crackdown, but as long as the government finds other forms of employment for these people, Jiang predicts, everything should work out.
A Dongxing tour guide surnamed Chen says that the city's glory days lasted from 2000 to 2014, when smugglers were making money hand over fist. Starting in 2014, state broadcaster CCTV aired several exposés on Dongxing's chaotic smuggling economy. Elsewhere along the China-Vietnam border, CCTV's undercover cameras revealed how some 15,000 pigs were illegally trucked into China every day — as well as the corruption that enabled the practice. After these broadcasts, Chen recalls, "things noticeably tightened up."
Most Dongxing residents now say smuggling has become nearly impossible. Yan used to transport smuggled goods to the provincial capital, Nanning, and earned several hundred yuan per trip. Two of his friends, brothers surnamed Cheng, operated an iron-hulled boat before the crackdown, making an easy 5,000 to 6,000 yuan per person each month — up to a third more than Guangxi's average income. The older Cheng now sells vegetables, while his brother hasn't been able to find work. Another friend of Yan's, also surnamed Chen but of no relation to the tour guide, comes from a village near Dongxing. He used to work as a lookout for a smuggling operation, earning 100 or 200 yuan per night. He says that among his peers, he is the least affected by the crackdown, since his family still has sugar cane fields they can rely on.
Whereas some Dongxing residents fear for their businesses that were directly or indirectly supported by illegal trade, the city government is more than pleased with the effects of Broken Arm.
Wei, deputy head of the Dongxing Municipal Party Committee's publicity department, says that while many people have left the city, it is an exaggeration to say that "half the people are gone." Compared with Dongxing's roughly 300,000 permanent residents, only several tens of thousands of people have moved away, Wei estimates. Smugglers pay no taxes and do little to help the local government, he says, adding that the city's main industries — trade and tourism — won't be negatively affected.
According to the local government, the crackdown has even coincided with a faster-than-usual increase in legal trade. In 2016, small trade imports and exports increased by a third to a total of $1.23 billion, while the intercity trade volume increased by 102.9 percent to $1.77 billion.
Shi, the anti-smuggling department employee, is confident about the city's future. "It's not realistic to think that Dongxing won't be able to go on without smuggling," he says. "The city will come back to life."
After eight months without his van, Yan was allowed to pick up the vehicle in February. He had to pay a 5,000-yuan fine and had 12 points deducted from his driver's license, meaning that he must retake his driving test. Yan, who dropped out of school when he was young, hasn't yet found new work to support his family, including a 5-year-old son. Using his parents' money for gas, Yan sometimes takes his van on aimless drives around the city. Last month, he took a detour through Dongxing's richest area. As he passed row after row of custom-built mansions, he sighed and said, "Smuggling made a lot of people in Dongxing very rich."
A Chinese version of this article first appeared in Sixth Tone's sister publication, The Paper.
Translator: Rachel Critelli; editors: Kevin Schoenmakers and Yin Yijun.
(Header image: Boats are moored along the Beilun River in Dongxing, Guangxi Zhuang Autonomous Region, March 3, 2017. Chen Xuhou/Sixth Tone)