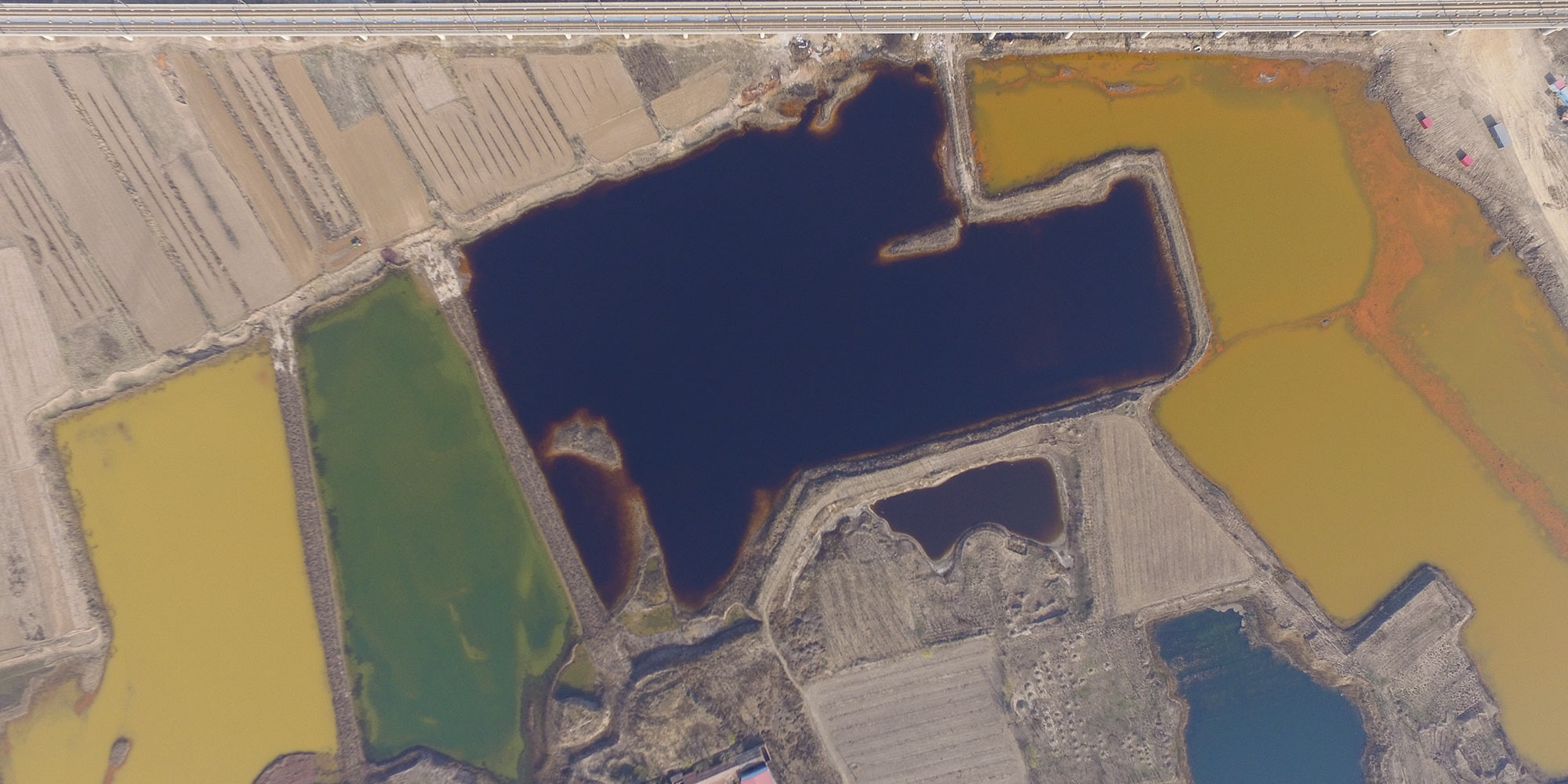 NEWS
Large Pits of Polluted Water Found in Rural Northern China
Central and local government authorities have promised further treatment of the sites.
Volunteers from a nongovernmental organization recently discovered three huge bodies of dark-brown polluted water in northern China. Several local officials have since been suspended.
On Tuesday afternoon, Chongqing Liangjiang Voluntary Development Service Center published an article about their findings on its public account on messaging app WeChat that has since been removed. They included two areas of in total 200,000 square meters in Hebei province's Dacheng County, as well as another location in a village near Tianjin of about 150,000 square meters, or about 20 soccer fields.
Kong Lingyu, one of the volunteers, told Sixth Tone that they found the polluted water in Hebei during their investigation of the Hutuo River, which flows through Dacheng, on March 21. "When we went there, there was a body of water in the nearby field that looked strange," she said. There was a warning sign put near one of the pits that said: "This sewage pit is currently being treated. Approach and use at your own risk." The message was signed by the local government, and dated May 2015.
Villagers working in nearby fields had no idea what the pits were, Kong said. The volunteers also found three piles of red waste residue. According to local residents, the piles had been discarded there sometime in late 2015, and the putrid smell they gave off meant that few people would open their windows, even during the summer.
Kong's colleague, Xiang Chun, discovered the sewage pit near Tianjin when he saw an oddly colored body of water from the train. A rudimentary acidity test of the waste found there showed that the water was very strongly acidic, with a pH value of 1.
"We were curious where the sewage water and waste residue came from, and how long they had been there, but we couldn't get any information at the scene," Kong said. She instead wrote a report to the environmental protection authorities, and asked them to investigate.
On Wednesday, after the NGO's article had been republished on many Chinese websites, the Ministry of Environmental Protection (MEP) announced that it would establish a joint investigation team with Hebei authorities. Also on Wednesday, the Dacheng County government said in a statement on its website that the sewage pits were previously used by a brick factory and a chemical fertilizer plant. But, it said, the severe pollution was caused by two villagers, a man and his nephew from nearby Wangcun Village who had previously been arrested.
The statement said that the county government had previously hired two companies to treat the pits, but that they did not succeed in completely cleaning up the sites. This year, the two locations are listed as "key projects" for which 38 million yuan ($5.5 million) had been earmarked, it said.
The city government of Langfang, which administers Dacheng, on Thursday evening posted a statement on its social media account saying several officials, including two people in charge of environmental protection for the county, had been suspended from their duties pending an investigation.
According to a report by Party newspaper People's Daily, the sewage pit discovered near Tianjin is one of many such sites, which were caused by industrial waste that in the past had not been discharged properly. The government added that that pit was treated in 2014, but that the problem reoccurred in 2016. A new round of treatment is planned to be completed before the end of July, the article said.
Improperly discarded industrial waste is a frequently returning problem. In 2014, similarly large areas of pollution from waste water were discovered in the deserts of Inner Mongolia and Ningxia autonomous regions in northwestern China. The MEP later punished 42 companies for not adhering to environmental standards. Last year, soil pollution from chemical companies was suspected to have caused illnesses in hundreds of children at a school in eastern China.
Contributions: Wang Yiwei; editor: Kevin Schoenmakers.
(Header image: An aerial view of the polluted land in Jinghai County, Tianjin, March 28, 2017. Courtesy of Chongqing Liangjiang Voluntary Development Service Center)