Duan Wenhao is quick to blame himself for the alcoholism that used to afflict his son, Duan Linyin. Overburdened with work, he neglected Linyin, and didn't have enough time to teach him strong values. Consequently, although Linyin grew up to be a friendly and well-adjusted young man with a passion for ancient Chinese literature, he turned to alcohol following a messy breakup, and was addicted to the drug by his early 20s.
But when it comes to Linyin's untimely death at the age of 28, Duan blames a military-style rehabilitation camp in Hunan province, run by a man called Yi Shengqi. Under the supervision of Yi Shengqi, Linyin died at the Chongshang Youth Quality Education Training Academy, on Father's Day in June.
The circumstances of Linyin's death are still disputed, but Duan has his own theory. "I believe he was beaten to death," he tells Sixth Tone. The academy's management maintains that Linyin's death on June 19, his third day at the camp, was the result of a cocktail of a preexisting medical condition associated with alcoholism, a fall down a flight of stairs, and another fall from the bed in his dormitory. The Paper, Sixth Tone's sister publication, has investigated these claims, speaking to representatives of the academy and police, as well as the victim's parents.
Duan Linyin poses for a photo during a trip. Courtesy of Duan Wenhao
Linyin suffered from alcoholism, but other than that, his parents describe him as a good son: sociable and happy to help around the house, with a love for the work of Chinese poets like Li Bai and Tao Yuanming. By 2013, Linyin's alcoholism forced Duan and his wife to look for help. They came across an alcohol rehabilitation training academy in Hunan online. On Baidu, China's premier search engine, Duan recalls that "the first few pages of results all recommended training academies in Hunan province."
After two stints there, Linyin relapsed a second time, leading his father to seek out the services of another institution. It was then that he learned of Yi Shengqi's Chongshang Youth Quality Education Training Academy in Ningxiang County.
When Yi and several instructors arrived at the family home in southwestern China's Guizhou province to escort Linyin to the camp, he resisted, hiding himself away in the corner of the family home's courtyard."If you make me go to Hunan, I'll kill myself right here," Duan remembers his son saying. Linyin had been beaten at the first rehab center, a fact that Duan does not deny he was aware of. "I just wanted him to fix his alcoholism, that's all," he says.
"Most of those schools are militant in their management style," Duan says. "I knew that they beat and kicked students." Aware of the prospect of his son being treated violently, he offered to pay premium fees to the academy, on the understanding that they would accede to his two demands: "One: do not beat him. Two: do not let him drink."
With that, Linyin was whisked away. "Take care of yourself, Dad, I'm leaving now," Duan, tearing up, recalls his son saying. That was on the evening of June 16. Two days later, on Father's Day, Duan's phone rang. His son, Yi told him, was dead.
Shock, grief, and self-blame followed. But once Duan and his wife arrived in Ningxiang, their sadness quickly gave way to anger and suspicion.
At the morgue, they found their son's body covered in about a dozen bruises. Duan claims that a friend who works as a doctor he showed his son's body to also questioned whether the bruises could have come from a fall. Duan immediately concluded that the training camp had ignored his demands that no corporal punishment be used with Linyin.
Yi, however, showed The Paper an addendum to the academy's agreement with the Duan family dated June 16. "In view of Duan Linyin's history of alcohol abuse, which has left him in poor general health and with alcoholic hepatitis, the academy is authorized to take appropriate measures to enforce Duan Linyin's teetotalism while he is enrolled at the academy. The Duan family agrees to and supports the educational methods and techniques of the academy."
But despite having been given this authority, Yi says, the instructors — made up of ex-soldiers and college graduates — did not use "any strong measures," even when Linyin violated the no-alcohol restrictions at the camp.
A partial autopsy by Ningxiang County Hospital found two reasons for Duan Linyin's death: multiple soft tissue injuries — which are generally not fatal — and hepatic encephalopathy, beside which was scribbled a question mark. Hepatic encephalopathy is a condition where toxins released by liver failure cause loss of normal brain function.
Although hepatic encephalopathy does not generally lead to a patient's death, the preliminary autopsy ruled out the possibility of homicide. Based on the autopsy and an on-the-spot investigation by police, Batang Town police chief Xu Qiang says that they also ruled out a homicide. Police did agree to review the case brought by the parents, he says, but decided not to follow up based on the findings of the preliminary autopsy and police inquiry.
While the family was trying to get police to investigate, they grew increasingly suspicious of the cause of death.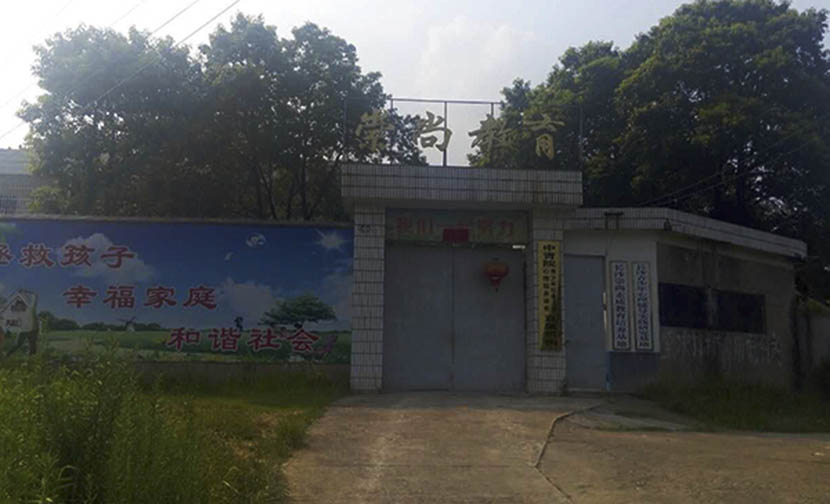 The front gate of the Chongshang Youth Quality Education Training Academy, Ningxiang, Hunan province, June 2016. Jiang Gewei/Sixth Tone
The camp initially denied them access to Linyin's room. Only after several appeals to the police and the local government was Linyin's mother allowed to pick up her son's belongings, four days after his death. His blanket and pillow had been removed from his bed, but there were still blood stains on the mattress.
The first fall, they had been told, was down the stairs. The next day, Linyin fell out of his bed. That's when he started spitting blood — the explanation Yi gave The Paper for the blood stains found on his bed. A phone conversation on June 17, which Yi secretly recorded and submitted as evidence to the police, tells a different story. In the recording, Yi tells Duan that his son fell down the stairs, and then started spitting blood. He asks whether anything like this has happened before. Duan replies that the same thing happened to his son two days before he went to the academy, but never previously, and recommends that Linyin be given a couple of days off.
Duan asked for a full autopsy. He needed closure. Initially, Duan and his wife were at odds over a full autopsy, as their family belongs to the the Dong ethnic minority whose tradition dictates that a body be buried intact. After a lot of back and forth, they decided against it. On June 24, the family signed a compensation agreement with the academy for a one-off payment of 260,000 yuan (around $39,000).
Then, two mortuary staff told Duan that Linyin's neck was broken. In a surveillance video reviewed by The Paper, mortuary staff are seen moving the body. The torso and limbs are stiff from rigor mortis, save for the neck, which can be seen moving freely as the body is moved.
The deeper Duan dug, the more questions he had. He is disappointed with police, whom he claims hindered a full autopsy, and had no interest in investigating the case.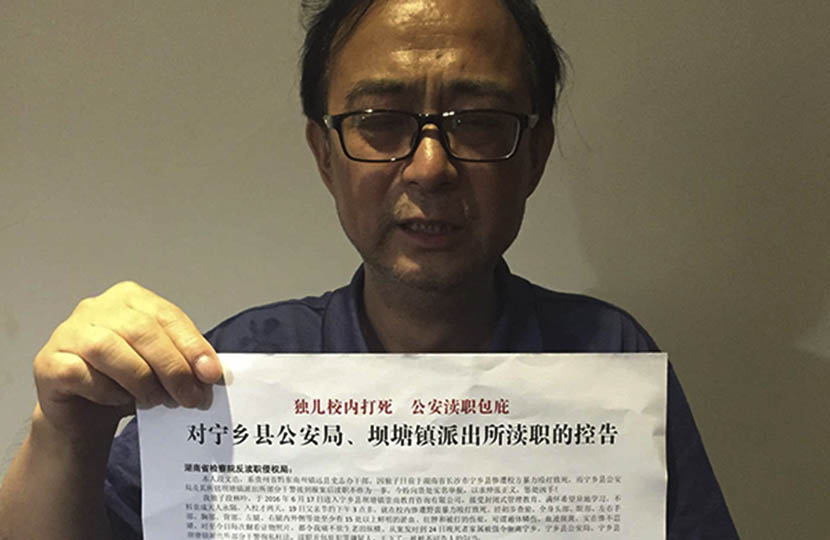 Duan Wenhao holds a paper on which is written his charge against local police, Changsha, Hunan province, June 25, 2016. Jiang Gewei/Sixth Tone
On June 25, Linyin was laid to rest in Zhenyuan County. His parents, however, haven't found peace. A full autopsy is still the family's only chance to find closure.
Duan has written several letters to authorities to lodge complaints, which eventually led to Linyin's body being exhumed for a full autopsy on July 29. He tells Sixth Tone that if the autopsy finds that his son was not beaten to death, then he will accept the verdict and cease his campaign. If, however, it finds that Linyin's death was caused by physical abuse, then he will "demand with upmost resolution that the persons responsible are identified and brought to justice according to the law."
There exists a third possible outcome, however. With the passing of more than a month since Linyin's death, his body may well be in a state where the cause of death is no longer determinable. If this is the case, Duan says he will hold the police accountable, whom he blames for not carrying out a full autopsy timely enough.
"I know that we may well have missed the opportune moment to examine the body," Duan says. "But I'm determined to hold on to the last thread of hope."
A Chinese version of this article first appeared on The Paper, a sister publication of Sixth Tone.
(Header image: Fuse/Corbis-RF/VCG)