Several hospitals in the southern city of Guangzhou are suspected of illegally recommending powdered beverage products instead of special medical milk formula for newborns with special nutritional needs, once again raising food safety concerns among parents, financial outlet Caixin reported Thursday.
One father told Caixin that a doctor at the Guangzhou Women and Children's Medical Center had recommended Min Er Shu No. 2 nutritional powder — marketed as a "solid drink," or powdered beverage — after examining his daughter. According to the news report, the parents of 60 infants said they had been recommended the solid beverage at several hospitals in the city for periods ranging from one week to six months.
Several public hospitals in Guangzhou are allegedly involved in the case, according to Caixin. Parents said the doctors had recommended the beverage for treating allergies, and some complained of slow growth and vitamin D deficiency in their children after consuming the beverage.
Infants allergic to milk protein are usually prescribed the special medical milk powder, which should only be used with a doctor's supervision. There are currently six kinds of infant formula approved for special medical use by the State Administration for Market Regulation: those for lactose intolerance, food protein allergies, and amino acid metabolism disorder, among others.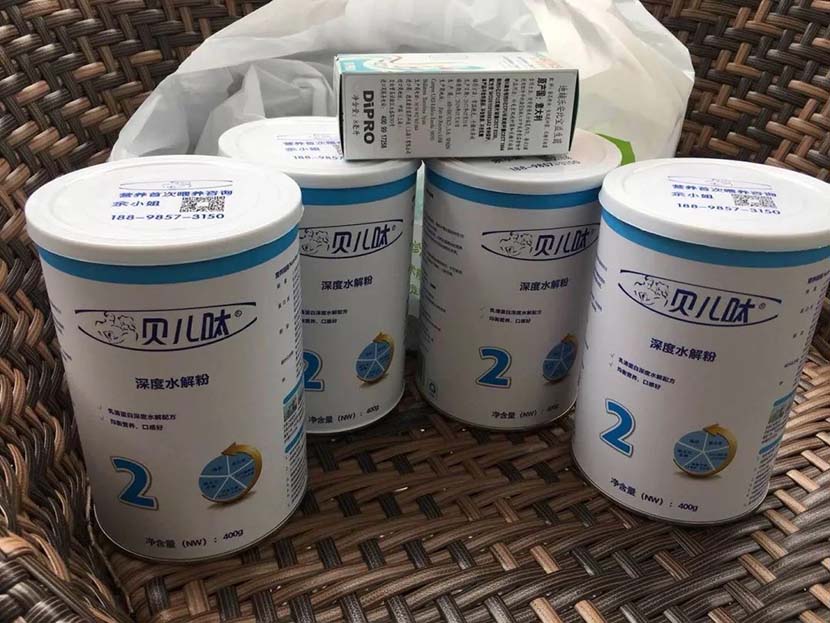 Bei Er Tai powdered beverage products. From @每日经济新闻 on Weibo
Concerns over the beverage products in Guangzhou come just over two weeks after a similar scandal made headlines in China. On May 13, five children in the central Hunan province were reportedly diagnosed with rickets after consuming a powdered beverage product, a protein mix that parents said staff at a baby product store had told them was a milk formula substitute for their dairy-allergic babies.
That same day, the Guangdong provincial market supervision and administration bureau cautioned parents that many of the solid beverages on the market weren't suitable for infants. Many unauthorized brands don't meet the nutritional needs for certain infants, despite promoting themselves as "deep hydrolyzed protein formula powder," "amino acid nutrition powder," and "lactose-free nutrition formula powder."
Three days later, a parent shared a social media post claiming a doctor from the Third Affiliated Hospital of Guangzhou Medical University had recommended the "Bei Er Tai special medical milk powder," a product that turned out to be fake. The hospital said it would investigate the case the following day.
On May 22, the Guangdong provincial health commission said the investigation was ongoing, and Caixin reported that officials are trying to determine if there has been any false advertising or bribery.
As of May 13, there were 48 formula products for special medical purposes registered and approved by the State Administration of Market Supervision. The two products involved in the Guangzhou case — Bei Er Tai and Min Er Shu No. 2 — were not among the list.
Guan Boyi, a supervisor at Guangzhou Teyifute Industry Co. Ltd., the manufacturer of the two products at the center of the current case, denied there were any agreements between the company and doctors to prescribe the products in question.
"We don't know why the hospitals recommended our products, as we just make solid drinks, which are different from the special medical milk powder," Guan told Caixin, adding that the company hadn't received any notice from the government about the investigation.
The Bei Er Tai series of products, meanwhile, has been pulled from the market.
Contributions: Luo Meihan; editor: Bibek Bhandari.
(Header image: Imazins/People Visual)