Last week, Wuhan Zoo finally reopened to the public, three months after it was closed due to the city's COVID-19 outbreak.
Zoos — along with their animal residents — have been quiet victims of the ongoing pandemic. In late March, a large number of animals in an indoor zoo in the central city of Changsha starved to death, an outcome one employee blamed on the zoo's indebted owner and the economic losses caused by COVID-19.
The problem isn't limited to China. In April, the Neumünster Zoo in northern Germany announced that, if it runs out of funds for animal feed, or if it cannot source enough, "animals housed in the zoo will be euthanized." They even drew up a list of which of its more than 700 animals would be put down.
Wuhan Zoo was lucky to avoid a similar fate. On Feb. 1, a little over a week after the city went into lockdown, zoo management appealed to the public to donate fresh feed for the park's waterfowl. "To keep our loveable animals alive, we desperately require donations of seafood such as small freshwater fish, loaches, capelin, small yellow croakers, and shrimp skin," its statement read.
Thankfully, caring residents and businesses were quick to respond, and the zoo's population successfully weathered the brunt of the storm. The zoo has even welcomed new family members over the past three months. Two baby elks and a pony were born during the closure; five black swan eggs hatched; and its ducks, red-crowned cranes, bar-headed geese, and peacocks are all busy guarding their eggs.
These births are a testament to the tenacity and beauty of life, and a bit of good news in otherwise dire times.
Wuhan Zoo's animals were able to find safety in the original epicenter of the pandemic mainly because it's a public institution. Public zoos have suffered less during the current global health crisis thanks to government funding, while private zoos must rely on their own cash flow and prayers for state-subsidy relief. That may be possible for larger institutions, but many smaller zoos have been forced to permanently shut down.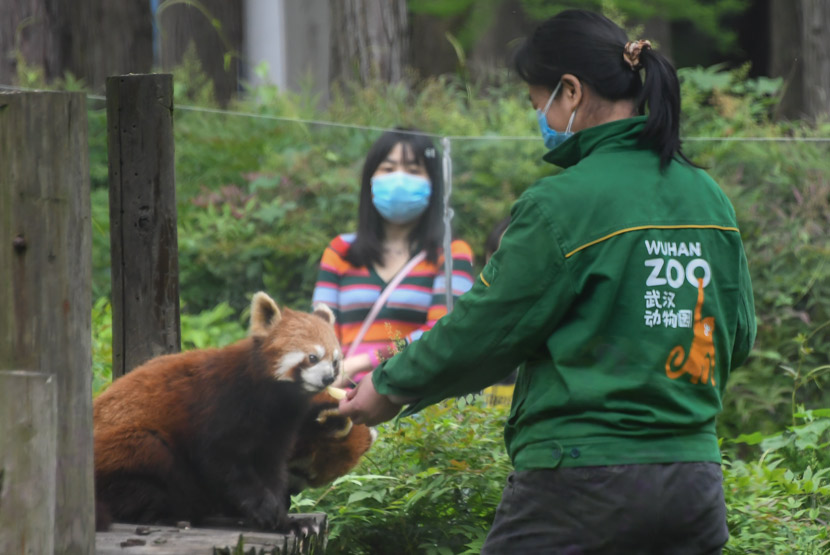 A visitor watches a red panda feeding at Wuhan Zoo, Hubei province, April  22, 2020. Cheng Min/Xinhua
Even public zoos aren't immune to plummeting ticket sales. At least one zoo in northern China has slashed employees' salaries to make it through the pandemic, though fortunately its animals have not been affected.
That could change as zoos start to reopen to the public, however. Following the Bronx Zoo's announcement on April 5 that a Malayan tiger named Nadia had contracted COVID-19, it seems increasingly likely that animals can contract the coronavirus from humans. Seven other large cats in the park — four tigers and three African lions — have since tested positive, and studies suggest that domestic cats and ferrets are also susceptible.
So far, it seems the complications of COVID-19 are not life-threatening for felines. What has conservationists really worried are the great apes, including orangutans, gorillas, chimpanzees, and bonobos. There is currently no research on the risks posed by COVID-19 to these species, mainly because no one dares conduct it: The ethical and economic costs of these experiments would be unacceptably high.
However, basic biology tells us it's very likely that transmission is possible. In 2018, scientists conducting a review of academic research discovered 31 suspected cases of human-to-ape transmission of infectious disease between 1964 and 2012, including influenza and Ebola. These cases, which were not limited to any one species and included both apes in captivity and in the wild, led the study's authors to conclude that human-to-ape transmission posed a "growing threat" to primate conservation.
There is thus a real risk that great apes held in zoos could be infected with the coronavirus. Furthermore, many conservationists worry that human activity will cause COVID-19 to spread to ape populations in the wild, bringing disaster to already endangered species.
China's zoos are reinforcing their disease prevention measures, including by setting limits on the number of daily visitors, as well as requiring visitors to wear masks and have their temperatures taken. The Chinese Association of Zoological Gardens issued a document telling its members to close indoor venues to the public and stop visitors from feeding animals. Not all institutions are complying with these recommendations, however: Jinan Wildlife Park in eastern China still allows visitors to feed animals for an extra fee, for example.
Wuhan Zoo provides an example of a more responsible reopening. Currently, it has set a limit of 15,000 visitors at any time. All outdoor animal venues in the park are open, but its four indoor areas are temporarily closed. Visitors must wear masks and maintain a distance of more than 1 meter from one another at all times.
Such precautions may become the new normal for China's zoos during the next year or two. But I hope that, in addition to taking extra safety measures, the pandemic will push us to rethink the relationship between humans and animals. With few exceptions, we should interfere as little as possible with animals' wild habitats and put their safety and well-being above all else.
Translator: Lewis Wright; editors: Wu Haiyun and Kilian O'Donnell.
(Header image: A zookeeper feeds a hippo at Wuhan Zoo, Hubei province, April  22, 2020. Cai Yang/Xinhua)