When the end of the one-child policy was announced on Oct. 29, 2015, much of China celebrated. But the news didn't seem to bring one of the policy's staunchest opponents, 68-year-old Liang Zhongtang, any joy.
Now retired, Liang was the innovator of a little-known two-child experiment in Yicheng, a small county in Shanxi, a coal-rich province in northern China, in the 1980s, right around the time the one-child policy was being implemented. Liang believes the new two-child policy doesn't go far enough: He would rather see all mandatory family planning policies abolished.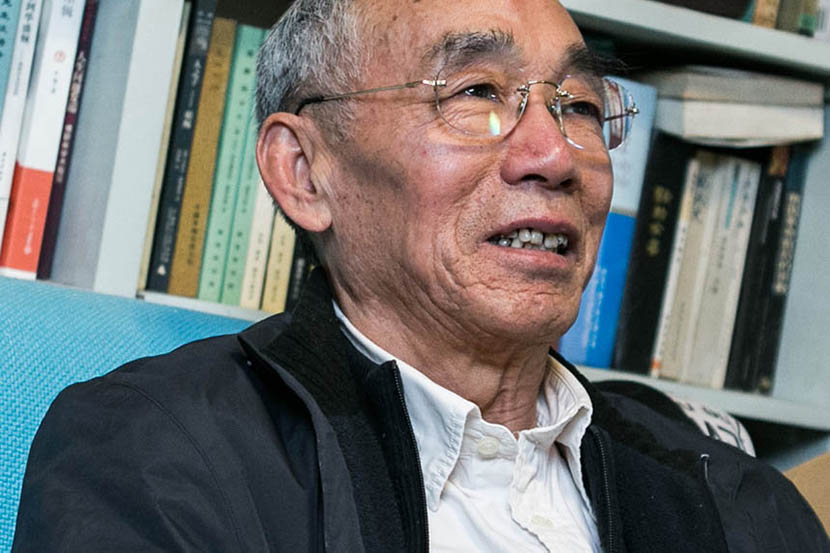 Liang Zhongtang during an interview with Sixth Tone at his home in Shanghai, Jan. 11, 2016. Jia Yanan/Sixth Tone
China's family planning policy was written into the constitution in 1978. The policy was intended to slow down the growth of China's population to a more manageable rate. Breach of the policy was often punished with fines.
Liang's experiment began in July 1985, when he was director of the institute of population at the Shanxi Academy of Social Sciences, and it was backed by both the National Health and Family Planning Commission and local county leaders.
According to Liang's plan, a married woman in Yicheng County was allowed to have her second child after she turned 30 only if she had had her first baby after 24.
Liang supported the idea of population control, but as a farmer's son, he knew the one-child policy would be hard to enforce in the countryside, where people believed that if a family had more children, they would have a greater chance at affluence, as well as better support in old age. Liang also worried about an aging population and hoped his experiment would prove an effective workaround.
Liang's journey to becoming an expert on demography was accidental. He was born in rural Shanxi province in 1948. By 1952, he says, many social sciences including demography and sociology had been removed from university syllabuses, as China had begun following the example of the Soviet Union, pushing Marxism as the primary social science.
Liang had childhood dreams of being a philosopher, but he didn't get to attend university. When he graduated from high school in 1966, the Cultural Revolution began, and amid the societal upheaval university entrance exams were scrapped in favor of a recommendation system.
Liang spent two years being swept along in the Cultural Revolution, then joined the navy, where he stayed for five years. After that came stints as a teacher and as a deputy party secretary of a commune.
But Liang had always wanted to get back to his number-one love: Marxism. Liang wanted to teach the subject at the Shanxi Provincial Party School, where promising cadres went to study. In 1978, word reached the provincial party school's president and Liang was hired — his high school diploma and professed self-study of Marxism were enough to qualify him for a job at the school.
However, soon after Liang arrived at the school in 1978, he was assigned to teach courses on the necessity of family planning policy to local government officials. Begrudgingly, he accepted the new position.
Then in 1979, Liang was invited to speak at the Second National Demography Symposium in Chengdu, Sichuan province, representing his employer, the Shanxi party school. The symposium was organized ostensibly to discuss the implementation of the new law.
At the meeting, Liang set forth his concerns about an aging population in China. During the speech, he proposed his two-child policy as a way to combat these issues. But his proposal fell on deaf ears — no one at the symposium expressed either support for or opposition to his idea.
As 1980 came and went, local authorities began to implement the one-child policy more strictly on a nationwide scale as it became mandatory policy.
Meanwhile, Liang's belief in a two-child policy never abated. During spring festival in 1984, he sent a report to Hu Yaobang, then the general secretary of the Central Committee of the Communist Party of China (CPC), restating his proposal of the two-child policy. His report was later backed by Zhang Xiaotong of the National Health and Family Planning Commission, and demographer Ma Yingtong.
Although Liang says Hu was in favor of considering the proposal, months passed and no action was taken. In the spring of 1985, Liang wrote a letter to Hu Qili and Hao Jianxiu, staff members of the Secretariat of the CPC Central Committee. Finally, someone seemed willing to pay attention, and the experiment in Yicheng County came to fruition later that year.
In 1988, Liang was appointed deputy party secretary of Yicheng County, giving him the power to help the local family planning staff coordinate with the county leaders.
Following Yicheng's example, nearly 60 other places throughout China rolled out the two-child experiment on a trial basis. In 1988, the state loosened the policy, allowing rural couples to have a second child if their first was a girl — a response to a preference for male children in rural China. This allowed up to 50 percent of rural couples to have two children. As a result, many of the two-child experiments became obsolete and died out. By 1991, Yicheng County was the only place left with a two-child policy.
According to census reports from 1982 to 2000, the population in Yicheng grew 20.7 percent, compared with a national average of 25.5 percent and a provincial average of 28.4. To Liang, this shows his experiment and the one-child policy were equally effective at limiting population growth.
Liang felt that the work he was able to do and the power he had in Yicheng were limited to administrative decisions. Deflated, he began to spend more time reading, researching, and studying economics in Taiyuan, the capital of Shanxi province.
"The experiment had no significant effect on the population," Liang says. He believes the lower birthrate in Yicheng indicates that demographic trends tend to be influenced by more than just policy. "Looser policy doesn't necessarily mean people will have more children," he says.
Reflecting back on his 30-year mission to revamp family planning policy, he sounds discouraged.
To Liang, it's clear why his experiment was ignored: "If you're not a policymaker, it's hard to make a difference."
(Header image: A mother holds the hands of her children at Taiyuan railway station, Shanxi province, Feb. 1, 2016. IC)