During the day, Zhou Hanjie sits behind a desk at a bank. On nights and weekends, he dons his whistle, cleats, and an all-black referee's uniform to officiate the world's most popular game between amateur teams.
With a president known for his infatuation with soccer, and an increasing amount of state and club capital pouring into the sport, China has charged itself with becoming a soccer superpower by 2050, with an increasing focus on cultivating young, homegrown talent. But 27-year-old Zhou fell in love with the beautiful game when he was already a teenager — too late, he says, to develop the natural touch to play at a high level. "I can't be a professional player, so being a referee is another way to participate," he says from the sidelines of a soccer field in downtown Shanghai.
On a recent Monday night, and Zhou has been charged with officiating a game between two amateur teams, one formed largely of British expats, the other of Spaniards. It's a hot-blooded match between players hailing from two countries that boast impressive soccer pedigrees, and a test of Zhou's nerve, judgement, and loyalty to the adage that a good referee is one who lets the game flow.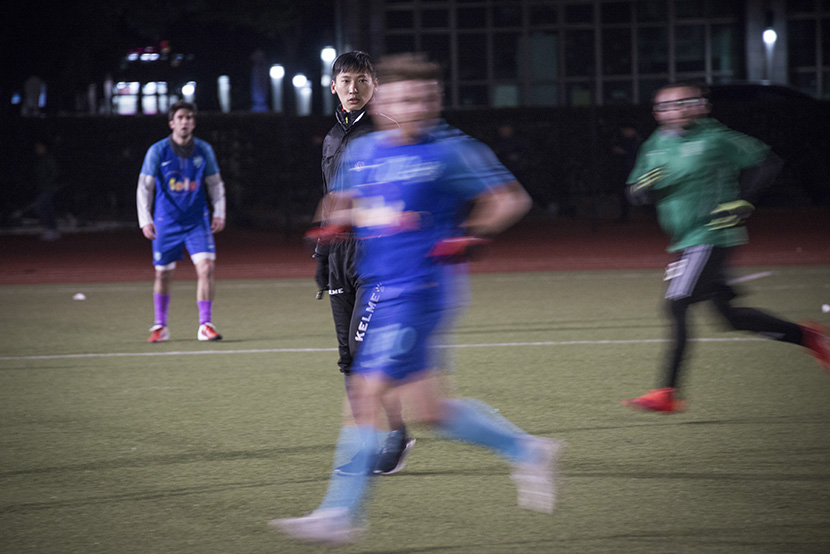 Zhou Hanjie referees a match between two amateur soccer teams in Shanghai, Feb. 6, 2017. Beatrice Di Caro/Sixth Tone
At one point, a defender snuffs out a breakaway opportunity at the goal, sending the attacker to the ground, where he clutches his ankle, expecting a foul call. Zhou doesn't reach for his whistle. Another player barks at him, entreating him to call a foul, but Zhou, his hands behind his back, lets them play on.
"A good game definitely needs a good referee to keep it under control," Zhou says. Even off the field, he carries the authoritative air of an official, his hands clasped behind his back and his feet shoulder width apart as he holds court on the finer points of his passion. "Good refereeing could gradually facilitate the development of Chinese soccer."
If China has its way, the coming years will see an increasing number of domestic players making use of more than 60,000 new soccer fields scheduled to be built by 2020, as the government seeks to develop the country into a viable contender on the world circuit.
It is a feat that will require covering a lot of ground. In 2002 — the last time they qualified for the World Cup — the men's national team scored no goals and won no games, exiting the tournament at the group stage. The women's team, though, has done notably better, reaching the quarterfinals four times, semifinals once, and finals once over the last seven Women's World Cups.
As for soccer facilities, China is still woefully behind the leaders in the field. Even if the government realizes its goal of building another 60,000 soccer fields by 2020, taking the total to over 70,000, there will still be close to 20,000 people for every one field. By comparison, England has almost 47,000 football fields, according to data collated by sports charity the Football Foundation — equivalent to fewer than 1,200 people for every field.
The lack of soccer facilities, despite the 2014 inclusion of soccer into the state education curriculum, means that many of China's younger generation, like Zhou, have missed out on the kind of early exposure to the game that a country with a more established soccer heritage would enjoy.
Carlos Tevez (#32) of Shanghai Greenland Shenhua F.C. dribbles the ball during a high-stakes match against Brisbane Roar F.C. at Hongkou Football Stadium in Shanghai, Feb. 8, 2017. VCG
As the country embarks on its slow journey toward soccer supremacy, clubs have looked further afield to stop the gaps. Magnates from China have bought out storied European clubs like Italian giants AC Milan and Inter Milan, while Chinese clubs have thrown money at the signing of European and South American superstars. Currently, 4 of the 10 most highly paid players in the world play for the Chinese Super League, while Argentinian Carlos Tevez recently made headlines with his reported $89 million signing by Shanghai club Greenland Shenhua F.C.
But attracting foreign talent is little more than a quick fix, believes Mikael Martins, a player agent and team translator for Shijiazhuang Ever Bright F.C., a club in central China's Hebei province that was recently relegated from the Chinese Super League to China League One.
A number of foreign referees officiate in China's various leagues, and Mark Clattenberg, a veteran English Premier League official, has publicly voiced interest in inking a contract with the Chinese Super League.
"They're tackling the problem by the head, not the roots," Martins, from Brazil, tells Sixth Tone. "They bring someone here, and they offer a huge amount of money. They should focus on forming their own referees."
But there are promising signs that the cultivation of young, domestic talent, be it player talent or referee talent, is not being neglected. 2016 Chinese Super League champions Guangzhou Evergrande F.C., in southern China's Guangdong province, established a $185 million soccer academy — the biggest such facility in the world — to develop the country's most promising youngsters. This sort of high-intensity youth training facility mimics those incorporated by world-class programs such as F.C. Barcelona's La Masia, which cultivated greats such as Lionel Messi.
Given China's population of 1.3 billion people, many believe that it's only a matter of time before a superstar is born and exposed to the game. "It's just a numbers game at this point, if you think about it," says Kevin Dougherty, a Shanghai-based referee who has officiated games at the national level for the past decade.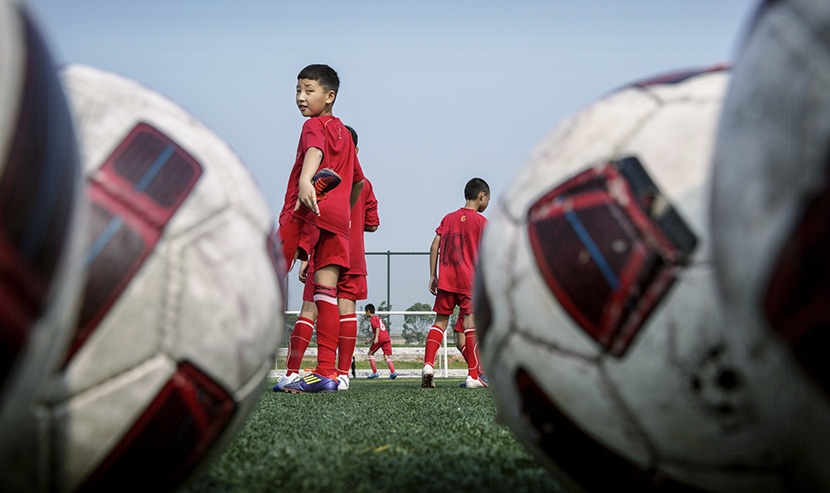 A young boy stretches while waiting his turn to play during a training session at the Evergrande International Football School near Qingyuan, Guangdong province, June 14, 2014. Kevin Frayer/Getty Images/VCG
Until then, Zhou is making up for lost time by officiating on weekdays after work. He is a certified Level 1 referee, one ranking below the national level and two below the international level. Younger than most of Shanghai's amateur referees, many of whom are former players who have turned to refereeing to stay involved, Zhou is amassing experience with an eye on progressing one day to the Chinese Super League.
"In 10 years, I might be able to become a nationally accredited referee and show my face on TV," Zhou says. But his hopes extend beyond himself: He's holding out for the Chinese team making an impact on the international circuit. "I hope there is an increase in the level [of play]," he says. "I hope to see the national team in the World Cup, bravely battling it out."
With contributions from Yin Yijun.
(Header image: Residents play soccer for after-work exercise in Beijing's central business district, Oct. 16, 2012. Mai Tian/VCG)