While most of the country was on a weeklong holiday to celebrate Chinese New Year, Shanghai Disney Resort saw a peak in visitor numbers — and also in scalpers who cashed in on the long lines.
The Shanghai International Tourism and Resorts Zone, where the Disney park is located, was visited more than 580,000 times during the Spring Festival holiday, Sixth Tone's sister publication The Paper reported Thursday.
To mitigate the long lines, the park offers so-called Fast Passes for its most popular rides that can be picked up for free and presented at a later time in exchange for a trip to the front of the line. But there is a limited number of passes available for each ride, and during the holiday week, visitors found they were already gone early in the day.
"It's impossible for regular visitors to get a Fast Pass for Soaring Over the Horizon," a woman surnamed Zhang told Sixth Tone, referring to the park's most popular ride. "I saw several scalpers holding a lot of tickets," the Shanghai native said. "All the Fast Passes were gone within 10 minutes."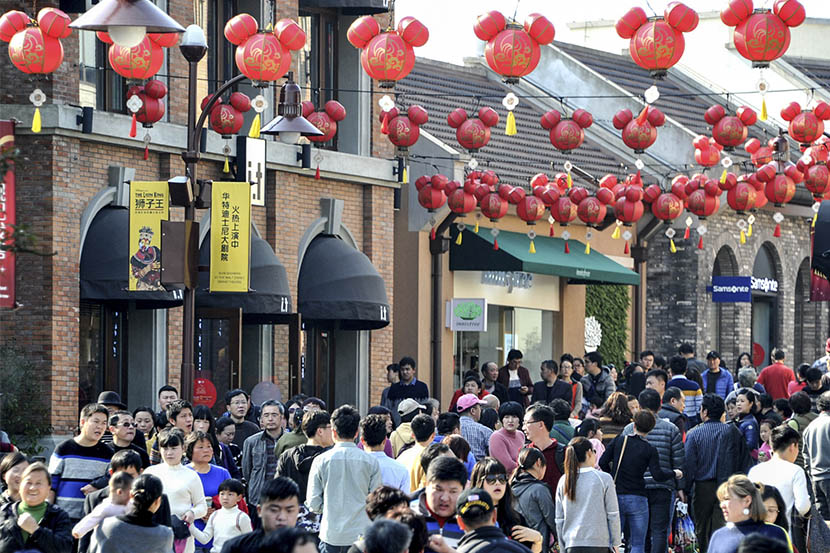 Crowds of tourists visit the Shanghai Disney Resort on the second day of the lunar new year, Jan. 29, 2017. Zhong Yang/IC
A woman surnamed Liu, who traveled to Shanghai from Dalian, a city in northeastern China's Dalian province, told Sixth Tone she was also approached by scalpers during her visit to the Disney park. "We should have bought Fast Passes for Soaring Over the Horizon from scalpers," she said. "We met one in the morning, and he said he could give us the Fast Passes for 200 yuan [$29] each."
Liu didn't accept the deal then, nor did she accept the same offer later in the day at double the price. "I waited for more than four hours outside Soaring Over the Horizon, which I really regret" she said. When Liu visited Shanghai Disney on Tuesday, she was one of over 100,000 tourists at the park.
The Disney scalpers were creative in their moneymaking schemes. During Liu's four-hour wait in line, a middle-aged woman appealed to those passing by, saying that for 100 yuan per person, she could take them to the front of the line, where a spot was being held. "Lining up on behalf of others is the most disgusting thing," Liu said. "The line didn't move at all because there were so many people cutting."
Long lines could be found throughout the park, and everywhere scalpers were making the most of these opportunities. One net user complained on microblog platform Weibo that at one of the park's eateries, a scalper was selling turkey legs for 120 yuan each. "My goodness! It really made my blood boil," he wrote.
Alli Ward, who visited the resort on Thursday, told Sixth Tone that she saw scalpers selling everything from merchandise to entry tickets. Ward, an Australian who lives in Shanghai, said she was surprised staff were not making an effort to deter the scalpers. "There were scalpers walking up and down the queues at the park entry in clear view of security, and yet they weren't addressed," she said. "It's definitely a negative aspect of going to Shanghai Disney."
Shen Qing, a representative for the tourist zone's police department, told Sixth Tone that authorities do try to stop the scalpers. "We have plainclothes officers to crack down on their business," she said.
A Shanghai Disney Resort spokesperson told Sixth Tone that the park works closely with local authorities on matters of security but added, "We do not share details about our security measures because it would compromise their effectiveness."
Even before the park opened it became a target of scalpers. When tickets went on sale two months before the resort was ready to receive its first visitors, they sold out quickly and could soon be found online for double the price.
Some scalpers even had satisfied customers. One net user wrote on Weibo that she and her three fellow travelers had spent 3,000 yuan on Fast Passes during a recent visit. "Money can be earned, but time cannot be wasted," she wrote. "Though expensive, overall, we had a great time."
(Header image: Tourists stand outside the Shanghai Disney Resort, Jan. 29, 2017. Zhong Yang/IC)