At a temporary rescue shelter in Beijie, residents who have been evacuated from Su Village, which was half-buried by a landslide on Wednesday, await news of their loved ones and homes.
A local government news briefing on Thursday morning reported that 27 people have been confirmed missing in the village near Lishui City, in eastern China's Zhejiang province, after heavy rains caused by Typhoon Megi caused homes to be buried under a deluge of earth.
Zhang Sulian, 53, was working in the nearby city of Jinhua when she heard about the landslide. She told Sixth Tone that she couldn't initially get in touch with her husband, who was back at home. She later found out that he had run out of the house when the first rocks started tumbling down the mountain.
Su, in Zhejiang's hilly interior, is a winding array of houses built along a river that cuts the village in two. "Upper Su" lies next to the slopes of a small mountain; "Lower Su" is right across the water. The houses that were covered in the landslide, including Zhang's, were mostly in Upper Su.
A few hours after the landslide, which happened at around 5 in the afternoon, the military brought Zhang's husband and other villagers to the nearby town of Beijie. There they are now huddled up in an impromptu shelter in a performing arts center. Zhang herself arrived later that evening, but the couple's anxiety for the future gave them a sleepless night.
Beijie itself has become home to a small army of rescue workers from inside and outside Zhejiang. Schools are closed and have been turned into temporary bases. Trucks and cars with military license plates line the streets.
Landslides are a common occurrence in Su Village, Lower Su resident Wang Xiaoqin, 45, told Sixth Tone. Usually it's just a few rocks rolling down the mountain and nobody gets hurt.
The local resident said that's why few people heeded the warning when village officials told residents at noon on Wednesday that there was the possibility of a landslide, and that they should move away.
Wang's house is undamaged, but the river that runs through the village has been diverted by the landslide, and the rising water level has put the whole village at risk of flooding.
As in many rural villages in China, most of Su's residents are either young or old — the elderly and their grandchildren. Young adults usually move elsewhere for work or study; Zhang's son lives in Wenzhou, one of Zhejiang's biggest cities. The children of the village were still at the kindergarten, located in Lower Su, when the landslide happened, and all are unharmed.
Zhang's husband, still in shock from the events of the previous day, declined to speak to Sixth Tone. But Zhang said her husband witnessed what happened to their neighbors, a couple older than 50.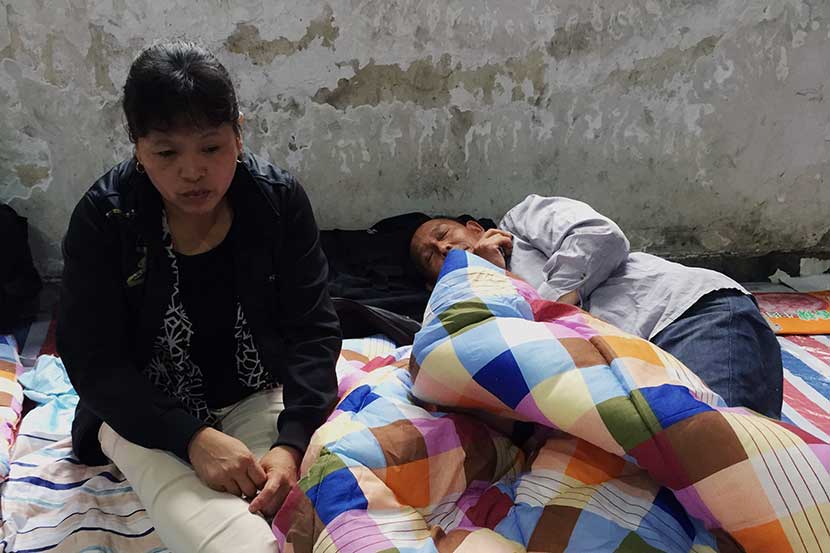 Zhang Sulian and her husband at a rescue shelter in Lishui, Zhejiang province, Sept. 29, 2016. Fu Danni/Sixth Tone
When the rumbling started, their pregnant daughter-in-law, who lives with them, grabbed her 2-year-old and ran. However, she couldn't move quickly enough and had to abandon the girl, who is now missing and presumed buried under the rubble, as are her grandparents.
The pregnant mother ended up in the river and was washed away. She managed to hold onto a piece of bamboo and was eventually helped out of the water.
For Zhang and her husband, the landslide has crushed their hopes for the future.
When Zhang finally got ahold of her husband, his first words were about their home: The hard-earned money that we made during our lifetime is gone, he said.
Last year, the couple had used their savings to redecorate their home in preparation for their son's wedding, thinking he was getting ready to settle down.
The 140,000 yuan ($21,000) they spent has been reduced to dirt and rubble.
(Header image: Two men help guide an elderly man to a rescue shelter in Lishui, Zhejiang province, Sept. 28, 2016. Dai Xinlu/VCG)