Six people have been jailed for selling the personal data of 2 million students and parents, Beijing Times reported Thursday.
The information was used to spam ingenuous individuals: In one case hundreds of parents were sent text messages encouraging them to enroll their children in schools that charged steep enrollment fees.
On Wednesday, news that the death of 18-year-old student Xu Yuyu had been linked to a telephone scam was widely reported in China. According to The Beijing News, Xu was defrauded out of 9,900 yuan ($1,500) — money she had saved to pay her first year of university tuition. Shortly afterward, she suffered a fatal heart attack.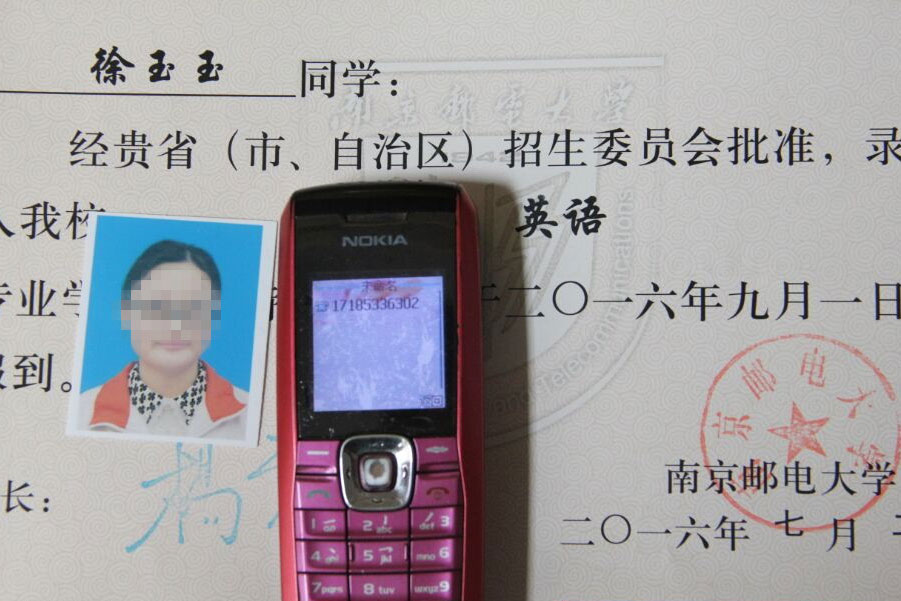 A photo of Xu Yuyu, a mobile phone, and Xu's university acceptance letter, Linyi, Shandong province, August 2016. Zhang Bin/IC
As communication becomes more convenient, telecom scams are becoming harder to prevent. Authorities in eastern China's Zhejiang province reported that they handled more than 100,000 cases of telecom fraud, resulting in a net loss of 1.5 billion yuan, in 2015 — up 40 percent from the previous year.
The individuals who were found guilty have been sentenced to up to 15 months in jail and fined between 5,000 and 15,000 yuan.
According to the court, a man surnamed Yang worked for three different educational organizations in Beijing, where he illegally obtained the personal information of 2 million students and parents, including their names, school addresses, and other details. Yang sold this information to five other individuals, earning himself 10,000 yuan from 2011 to 2013.
The court heard that a man surnamed Xu (no relation to the deceased) purchased the information of parents with children in seven primary schools in Beijing's Haidian District from Yang for 700 yuan.
Xu then spammed the parents with text messages, which resulted in a 25 percent enrollment increase at his training school, which he established in 2011. He went on to purchase more information from Yang, which he resold for a profit online.
When Xu Yuyu died earlier this week, it triggered an explosion of reactions on media and social media alike.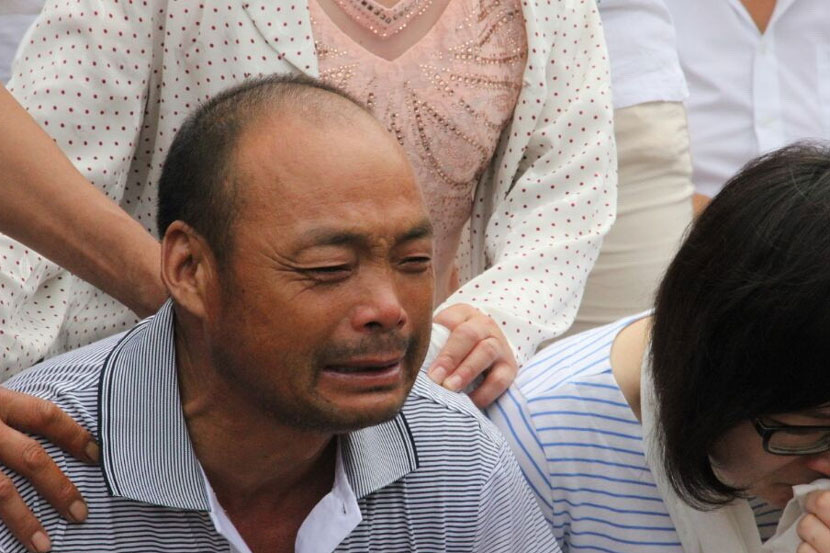 Xu Yuyu's father cries at his daughter's funeral in Linyi, Shandong province, Aug. 22, 2016. Zhang Bin/IC
Xu came from a poor family in Linyi, in east China's Shandong province, and had enrolled at Nanjing University of Posts and Telecommunications. She received a phone call last Friday directing her to go to an ATM to receive her student loan. Xu didn't doubt the veracity of the call, as the local education bureau had contacted her just the previous day to say that her loan would be issued shortly. The scammer asked Xu to transfer 9,900 yuan to another bank account and promised that a loan of 2,600 yuan would be transferred to her account within 30 minutes.
When she tried to call the scammer back and found the phone had been powered off, she realized she had been swindled. According to The Beijing News, she died from a heart attack on her way home from the police station.
China's Ministry of Industry and Information Technology announced in May that everyone who buys a SIM card in China has to provide their real names. Three major telecom companies — China Mobile, China Unicom, and China Telecom — are required to have at least 95 percent of their users registered with their real names by the end of 2016, and 100 percent by June 30, 2017.
Shu Hai, a lawyer at Zhong Lun Law Firm in Shanghai, told Sixth Tone that many scammers use phone numbers bought from virtual network operators, which don't require real-name registration. "Time is key to dealing with telecom fraud," said Shu, who added that the current inefficient enforcement policies make cases hard to crack once money has changed hands.
(Header image: Phones used in telecom scams were confiscated by police in Shenzhen, Guangdong province, June 2, 2015. Ma Qiang/VCG)