A research arm of China's cabinet has proposed shutting down the country's bear bile industry in a new report published Monday.
The document said that China should close down all small-scale bear farms by 2020, and a termination of the entire industry as early as possible — by 2035 at the latest. A total of 68 legal farms currently farm bile from an estimated 20,000 bears, the report says.
The animals' bile — believed to cure a host of illnesses — is collected on these farms to be used in traditional Chinese medicine. Bile, a yellow fluid the body uses to digest food, is extracted from the gallbladder.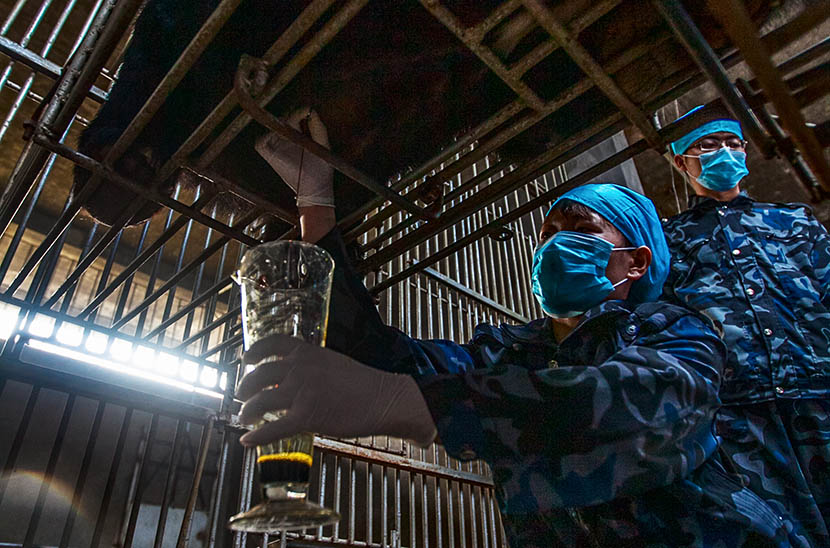 A farm employee extracts bile from the gallbladder of a live bear at the Fujian Guizhentang Pharmaceutical Co. Ltd. bile farm in Huian County, Fujian province, Feb. 22, 2012. VCG
The document was sent to various government departments, including the State Forestry Administration, which is in charge of wild animal protection, and was briefly posted on the DRC's website before it was taken down on Monday. Chang Jiwen, the leading author of the report and a research fellow at the Development Research Center (DRC) of the State Council, China's cabinet, declined to comment when contacted by Sixth Tone on Monday.
The study is based on a memorandum signed by the DRC and World Animal Protection, an international nongovernmental organization, wherein both parties agreed last year to study the bear bile industry in China. The findings of the report are those of the DRC only.
The Chinese government approved a new wildlife protection law on July 2. Though the new regulations restrict the use of wild animals, loopholes remain. Bear bile farming remains legal, for example, to the dismay of animal welfare activists.
The use of bear bile for medicinal purposes has a thousand-year-old history in China, though the technique for extracting the fluid from a live bear was only learned in 1983 from North Korea, Monday's report said. China's first bear bile farm opened in 1984, and the industry grew unchecked thanks to a lack of regulations.
Animal welfare activists have long decried the practice as cruel and inhumane. Farms claim that their techniques have improved, but the DRC's study said that even so, extracting bile remains harmful to the bears' health and affects their behavior.
With about 1,100 animals, Fujian Guizhentang Pharmaceutical Co. Ltd., located in Fujian province, eastern China, is one of China's biggest bear farms. A member of the company's public relations department who wasn't authorized to speak to the media told Sixth Tone that he doesn't believe China will shut down the industry. Bear bile, he said, is too important as it can be used to cure many ailments.
The employee said Guizhentang has improved animal welfare over the years, showing photos of dozens of little bears playing in a fenced-in area. "For adult bears, we keep two of them together in a room with access to outdoor pens," he said. "We also have a nutritionist who makes meal plans suited to their needs and continuously monitor their health."
But animal welfare activists like Wang Xiaojun, senior communications manager at World Animal Protection, the NGO supporting the study, disagreed. "It's like the difference between prisoners hanging out for a while and a free man on a road trip," he said, referring to the different lifestyles of bears that live on bile farms and their wild counterparts.
Monday's report says the government should invite nongovernmental organizations to invest in rescue centers to take care of the bears.
The International Fund for Animal Welfare (IFAW), which established the first bear rescue center in mainland China in 2006, has already convinced the forestry department of southern China's Guangdong province to shut down two small farms, said Grace Ge Gabriel, IFAW's Asia regional director. The bears rescued from the farms were transferred to the center. "It took the bears years to learn how to walk and eat normally, as they had lived in small cages their whole life," Gabriel told Sixth Tone. "Sadly, no bears can go back to the wild because they have lost their ability to survive on their own."
Synthetic bile is available on the market as a replacement, but opinions on its efficacy are divided. Zhou Chaofan, a member of the expert committee of the China Academy of Chinese Medical Sciences, said that synthetic bile medicines lack the complexity of natural bile. "The bear industry meets clinical demands, so we should support it," he said.
Others, however, are convinced that synthetic alternatives make bear bile farming unnecessary. "I didn't know extracting bear bile could be so brutal until I saw it on TV," said Shen Pian, a doctor at the Shanghai Municipal Hospital of Traditional Chinese Medicine. He said he now only prescribes synthetic alternatives, not real bear bile. "Developing Chinese medicine shouldn't come at the cost of wild animals," he said.
(Header image: A bear rests on a metal platform at the Fujian Guizhentang Pharmaceutical Co. Ltd. bile farm, Fujian province, Feb. 22, 2012. Ning Feng/VCG)