A recently opened Shanghai restaurant has apologized after its bathroom sign appearing to promote voyeurism raised discussion on social media.
In a statement posted on China's Yelp-like review platform Dianping, Charles Zeng, the owner of Chinese-American diner Lucky You, where the sign was displayed, said it had been removed. The sign, which appears to show a figure of a man climbing a wall to peek into a woman's stall, became a viral topic on social media platforms, with many online saying it was insulting to men — who are assumed to be peeping Toms — as well as women.
"My own limited knowledge and lack of consideration have caused discomfort and distress to our customers. I sincerely apologize for this," Zeng, who also owns the popular Shanghai burger chain Charlie's, wrote in the apology.
Zeng told Sixth Tone he now understands the sign was a mistake. "It's not just neon, it's the meaning behind it," he said. "Like anyone else, I don't like being called out — but I'm willing to listen to reason. Now that the reasoning is clear, I feel I'm at fault."
Tiffany Yeh, who visited Lucky You and first brought up the problematic sign in a large chat group on social app WeChat, told Sixth Tone that Zeng had also reached out to her and apologized.
According to chat screenshots seen by Sixth Tone, after Yeh said the sign was sexist and could constitute harassment, Zeng said he had only thought of it as "funny." Another member of the group chat then chimed in to argue against the sign being sexist, saying, "Why we all assume the triangle torso figure is a female."
"In terms of the reaction, it was really childish. If any of them (defending the sign) really had a basic fundamental understanding of gender equality, it just wouldn't have happened that way," Yeh said, adding that men should feel some responsibility to speak out for women.
"If I were a man, I'd be insulted by that image, too — it's like you're saying men are so base and animal that they can't control their impulses to sexually prey on women," she said. "I think it's really sad, and isn't doing anyone any favors."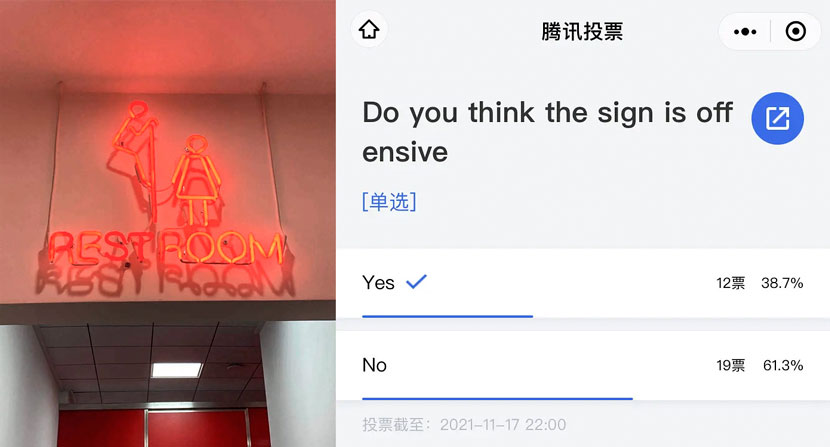 A poll asking users in a large WeChat group whether they think the bathroom sign showing a man peeking into a woman's stall is offensive. From Douban
Fang Gang, a Chinese sexologist, told Sixth Tone he doesn't view the sign as promoting sexual harassment, and that such humor shouldn't be subject to this degree of scrutiny. "Political correctness shouldn't be so sensitive, so humorless," he said.
Se-A, the founder of sex education advocacy group MayLove, disagrees. She feels that the sign is indisputably an example of sexual harassment in a public place.
"Thinking that political correctness has gone too far is the same as putting up that sign," Se-A told Sixth Tone. "It's absurd that when this object was pointed out as offensive, men denied women their right to be offended."
Makusi Shuo, an online influencer with more than 210,000 followers on microblogging platform Weibo who frequently posts about gender-related issues, including the bathroom sign, told Sixth Tone that there have actually been several cases of businesses making women the brunt of their inappropriate jokes. As such, these issues should be handled more seriously, perhaps even through legal recourse.
"The fundamental problem is that many people don't find it offensive to a woman's dignity, because that's the way this society has always been," the blogger said. "Many women now realize that this is offensive and speak up, and those who are used to enjoying such jokes feel offended, and try to defend their right to make them."
This article was updated to include the interview with Se-A.
Additional reporting: Zhang Wanqing; editor: David Paulk.
(Header image: Before and after shots of the problematic bathroom sign at Lucky You diner in Shanghai, 2020. From Douban)