"Where do you go to school?"
As a young, college-aged man, it's a question I'm asked with regular frequency. Yet when I answer, I'm inevitably met with bewilderment and consternation. That's because I'm one of just a few male students at Ginling College, China's oldest and best-known women's college.
Ginling College was established in the eastern city of Nanjing in 1915 by the United Church of America, and its first president was Matilda S. Calder Thurston, a Protestant missionary. The idea of sending young women off to get a university education was new to China, and Ginling enrolled just 11 students in its inaugural class. Of these, only five graduated four years later, but they became the first female students to earn a bachelor's degree from a higher education institution in China.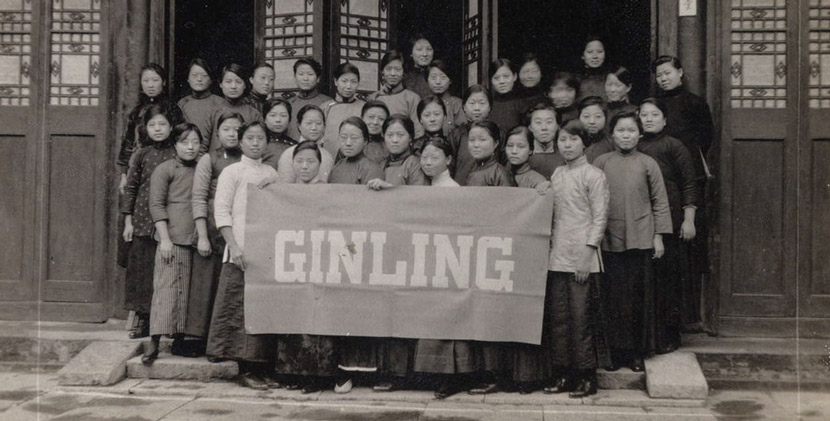 An undated photo of students from Ginling College, Nanjing, Jiangsu province. From Yale Divinity Library
Among them was one of 20th century China's most towering figures: Wu Yifang. Wu went on to receive her Ph.D. in biology from the University of Michigan, before returning to China and becoming Ginling College's second president in 1928. Famous for implementing bold reforms and setting strict teaching standards, she helped nurture class after class of talented women, many of whom would go on to make great contributions to modern China. By the early 1950s, when Ginling College was merged into another school and its campus given to what is now Nanjing Normal University, a total of 999 students had graduated from the college. Today they're known as the "999 roses."
For the next 30 years, the Ginling College name was defunct. But in the 1980s, Wu — who by that point had risen to become the vice governor of Jiangsu province, where Nanjing is located — began pushing for the school to be reopened. Wu died in 1985, but her efforts finally bore fruit in March 1987, when Nanjing Normal University reestablished Ginling College as one of its colleges. The reborn institution originally wanted to limit admissions to women, but the Ministry of Education ultimately decided that, for purposes of educational equality, it must also consider male students for admission; men now make up 10% of the college's total student population.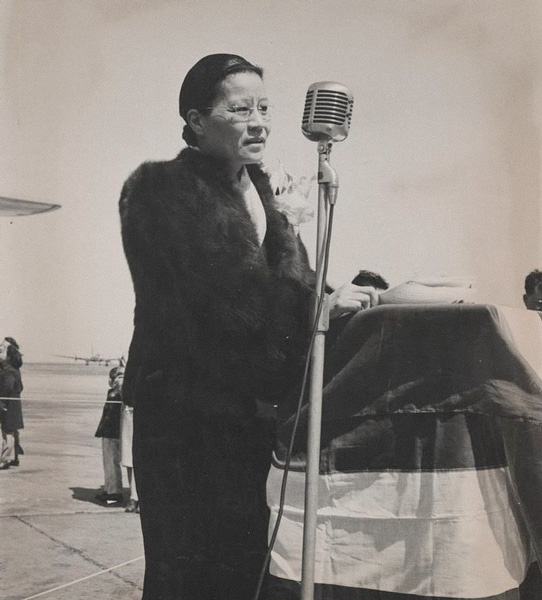 Wu Yifang. From Barnard College
I originally transferred to Ginling College because of my major. In 2017, I was admitted to Nanjing Normal University to study financial mathematics. Math had always been my Achilles' heel, and I struggled my entire freshman year. I eventually realized I had no future in the field, leaving me with only two choices: either switch to another major, or go back to high school and retake the college-entrance exam.
Fortunately, around that time I took a career planning course with Feng Ning, an instructor at Ginling College. After I told her about my struggles, she said I could consider transferring to the college's English department.
My friends and family were skeptical. They pointed out that finance was a good major with much better prospects than English. Some told me that men were better suited to the sciences; others teased me, asking if I was transferring to Ginling College to find a girlfriend.
But I stood firm. Before going to college, I had wanted to declare a foreign language major, only to give in to outside pressure from teachers, classmates, and relatives. I was determined not to be dissuaded again.
Arriving at my first class after transferring, I was nervous and purposely chose the seat closest to the window. The next day, our English teacher taught us the school song. I felt uneasy joining in some of the lyrics, like "women's college" and "women," but my classmates were all singing loudly and earnestly, and I soon found myself swept up in their enthusiasm.
More to the point, studying English at Ginling College allowed me take a standard curriculum while also getting a unique education in feminist culture and theory. The college offers a number of special courses on topics related to women and feminism. I took two: Introduction to Gender Studies — required for all students — and a course on feminist works offered through the English department.
To be honest, I brought plenty of baggage to those courses. Feminists had always seemed aggressive, radical, and extreme to me. I thought they saw men as the enemy and were always criticizing them. But the classes helped me realize that the goal of feminism was not to subjugate men. Instead, they sought equal treatment and the rights to which they were entitled.
And where once I had thought women's struggles only involved them and had nothing to do with men like me, I slowly learned how gender inequalities in our society can be ubiquitous, yet easy to miss — and how everyone feels their impacts. Hadn't I also suffered damage from crude gender stereotypes, abandoning my preferred major because men "were better suited to the sciences"?
I've been touched by the fact that, despite my outsider status, I've never encountered any discrimination or special treatment on account of my gender. It's strange: Some people I talk to wonder if I'm "vulnerable," a target for exclusion, or unable to voice my opinions in class. Others seem to think I probably enjoy certain privileges as a man at a women's college. The most disrespectful of them assume I must be able to reach out with my eyes closed and snag a girlfriend.
It's all utter nonsense. My classmates and I participate in a wide variety of activities equally, we're held to the same standards, and I've been single for over two years now. Sometimes I want to tell them that not all women care about finding a boyfriend above all else. But then, I, too, used to think that women, by their nature, were desperate for love and dependent on men. I even saw those traits as the bargaining chips that men held in gender relations.
That I now view such forms of "love" as nothing more than transactional, a form of bondage in which each person takes what they want from the other, is a credit to my school and teachers. Ginling College is truly remarkable. I just wish its education in gender studies and feminism was available at every school, for everyone.
Translator: Katherine Tse; editors: Wu Haiyun and Kilian O'Donnell; portrait artist: Wang Zhenhao.
(Header image: Students welcome freshemen on the campus of Nanjing Normal University in Nanjing, Jiangsu province, September 2020. From @南京师范大学 on Weibo)