SHANGHAI — In a dark, silent room, artist He Yu lays on the floor, a pair of lit candles resting on her breasts. Slowly, audience members walk toward her, taking turns to light their own candles, illuminating the entire room in minutes.
This scene was part of a performance art piece at "Stand By Her," an exhibition curated and created by women and mostly for women audiences that kicked off in Shanghai over the weekend. According to the artist, her candlelit performance titled "The Light of Gaia" — the breast-shaped candles were made from her breast milk — was a tribute to the Greek goddess said to be the mother of all life, and a reminder of powerful yet largely unacknowledged female energy.
"I am an artist with a clear sense of female consciousness, and I'm proud of that," she told Sixth Tone. "I know that some female artists will shirk this identity, as they don't want to be labeled. But avoiding the identity cannot solve their struggle, so why not embrace it instead?"
"Stand By Her" is one of a handful of recent exhibitions to combine art and activism for the purpose of amplifying social messages, though themes such as gender and sexuality can be subject to extra scrutiny. The nearly monthlong exhibition features 12 female artists whose works focus on gender issues, including women's bodies, motherhood, and their struggles.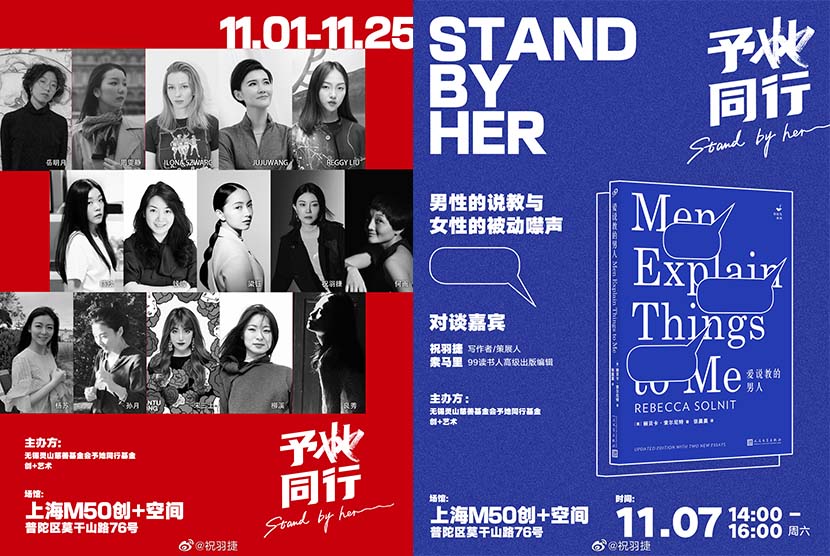 Posters for the "Stand By Her" art exhibition in Shanghai. From @祝羽捷 on Weibo
Artist Chen Xin's installation "A Room of One's Own" explores contemporary cyberfeminism while referencing Virginia Woolf's essay of the same name, about creating a space for women writers in a literary tradition long dominated by men. Visitors can write down their feelings and drop them in a nearby black box labelled "silence." Meanwhile, a video titled "No One Is an Outsider" features girls' handwritten letters collected from over 600 sexual abuse survivors, each detailing an instance of mistreatment.
Liang Yu, the exhibition's co-curator and founder of Stand By Her, the gender advocacy group behind the show, said its main objective is to put the focus entirely on women — as subjects rather than objects. "We need women's perspectives to see the world and solve our issues," she said.
Zhou Wenjing has used her work as a vehicle for exploring the impact of China's birth-control policies on women. "Woman Series: IUD" displays over 300 handmade IUDs, which were the most common means of contraception under China's one-child policy.
Stefanie Zheng, who visited the exhibition, said that although she had heard about IUDs before, she had never seen one until she found herself standing in front of Zhou's artwork. After the exhibition, she called her mother to ask if she had seen the IUD that had been inside her body for several years, only to be told that doctors didn't show the devices to their female patients after removing them.
"Now the IUD past is already gone, but looking at Zhou's art reminds me of the face of the girl who asked me what an IUD is," Zheng told Sixth Tone, referring to a question from a young visitor at the event. "Everything seems like it never happened."
Leah Zhang, another visitor who attended the exhibition with her mother, said she cried after seeing a piece of art titled "Mother" by Liu Xi. The installation was a collection of 18 clay washboards, resembling the wooden ones widely used in Chinese households to do laundry.
"I was very touched when the artist said that because the material for her ceramics was weaker, the size of the pieces would shrink by 17% in the kiln," said Zhang, describing the artist's metaphor for aging mothers. "I feel like the connection between my mom and me has become stronger from visiting this exhibition."
Zhang said she appreciated the exhibition as a safe space for women to meet and be together.
"However, I did see one guy 'mansplaining' to his female companion, which helped me better understand the value of an 'all-women' exhibition," she said. "Men's values and opinions have been dominating society for so long. We need women's views."
Editor: Bibek Bhandari.

(Header image: Chen Xin's art installation "A Room of One's Own" at the "Stand By Her" exhibition in Shanghai. From @祝羽捷 on Weibo)