The parents of a 3-year-old girl were accused of abusing and exploiting their daughter by having her partake in mukbang, an online trend where individuals broadcast themselves eating copious amounts of food, Guangdong Radio and Television reported Monday.
The child, who goes by the name Peiqi, first gained public attention in 2018 when social media users said watching her eat could "stimulate" their appetites, according to the report. Her parents have since uploaded videos of her eating high-calorie food items like burgers, fried chicken, and instant noodles, with tags such as "little baby," "prodigious stomach," and "finished in a few seconds."
In several videos, Peiqi is seen waving her hands and saying, "Don't add more food," while her parents continue to fill the bowl. Her most popular video has garnered around 56,000 views.
Xigua, the video platform that streams Peiqi's videos, said Monday that it had removed the videos in question and banned the account, without elaborating, according to the media report.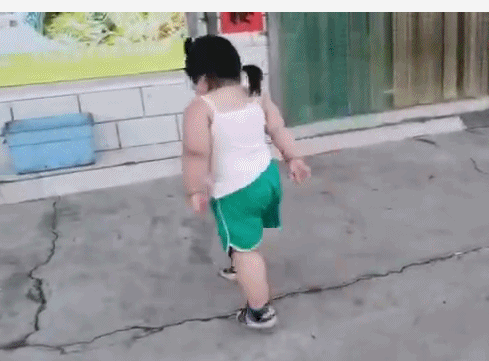 A GIF shows Peiqi has difficulty walking. From Weibo
Responding to the accusations, Peiqi's parents told domestic media they made the videos "just for fun." They said their daughter was born oversized — she currently weighs 35 kilograms — and they have never exploited her for profit.
"We only gained several hundred yuan from uploading such videos," Peiqi's parents said. "It is far less than the money we spent on her food."
Online, many were outraged by the parents' treatment of their daughter, especially considering childhood obesity is a cause for concern in China. A related hashtag has been viewed 290 million times on microblogging platform Weibo.
"Why did you continue to feed her when she said she no longer wanted more food?" read a comment under a related post. "Can't you see she was already unhealthy?"
"She's just a child, not a moneymaking tool," read another.
Zhao Liangshan, a lawyer at Shanxi Hengda Law Firm, told Sixth Tone's sister publication The Paper that the parents could be charged with abuse if they're feeding their child in a pathological way.
"It is irresponsible for parents to let children consume junk food and let their health deteriorate," Zhao said. "It's even worse if they do it for online attention and profit."
The mukbang industry in China has lately fallen into the authorities'  crosshairs, as the country ramps up its campaign against food waste. Earlier this month, state broadcaster China Central Television slammed "big stomach star" livestreamers for encouraging wasteful behavior, and exposed performers for pretending to eat, vomiting after their shows, or editing out footage of unconsumed food.
Several video platforms including Bilibili, Kuaishou, and Douyin have stepped up to curb the online trend, urging users to "treasure food and eat reasonably." Many bloggers have since changed their names or deleted videos that featured mukbang content.
Editor: Bibek Bhandari.
(Header image: A screenshot from a video in which 3-year-old Peiqi is forced to overeat. From Weibo)