One of China's largest state-owned television networks has been lambasted for portraying women in a "salacious" manner during a musical gala program Tuesday. Viewers have accused Hunan TV and its show of disrespecting celebrities from "Sisters Who Make Waves" by focusing less on their performances and more on their appearances.
Screenshots and videos from the gala show the production team using low camera angles while filming the female performers from "Sisters Who Make Waves" — so much so that the footage even revealed their "safety pants," an additional layer of clothing worn by some women to guard against upskirting. For the performances by men, however, the cameras alternated between wide eye-level shots and close-ups.
Sixth Tone's phone calls to the network went unanswered Wednesday.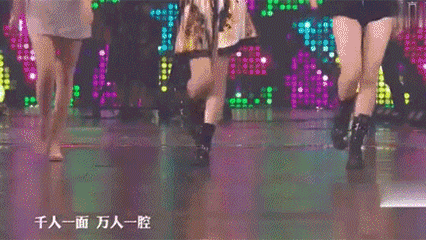 A GIF of the camera panning down to up during a women's performance on Hunan TV's musical gala program. From Weibo
On microblogging platform Weibo, many have criticized the cinematographic tactics for exploiting women, though some argued the lower camera angle benefits the female celebrities by making their legs appear longer and slimmer. A Weibo hashtag about the phenomenon had garnered 360 million views by Tuesday evening.
"As a photographer, I like to study the cinematography while watching films and performances," read one comment under a related post. "To be honest, they (the producers) did this deliberately — and so do a lot of other shows. For instance, when female dancers twirl, they like to change to a lower-angle shot."
Xin Ying, a gender equality advocate and director of the Beijing LGBT Center, told Sixth Tone that the TV show exemplified the "male gaze" — with the camera viewing women as objects and subjugating them to the audience's control.
"It suggests a sexualized way of looking that empowers men and objectifies women," Xin said. "The female performers are positioned to meet the desires of heterosexual males. Their personalities and feelings are less important by comparison."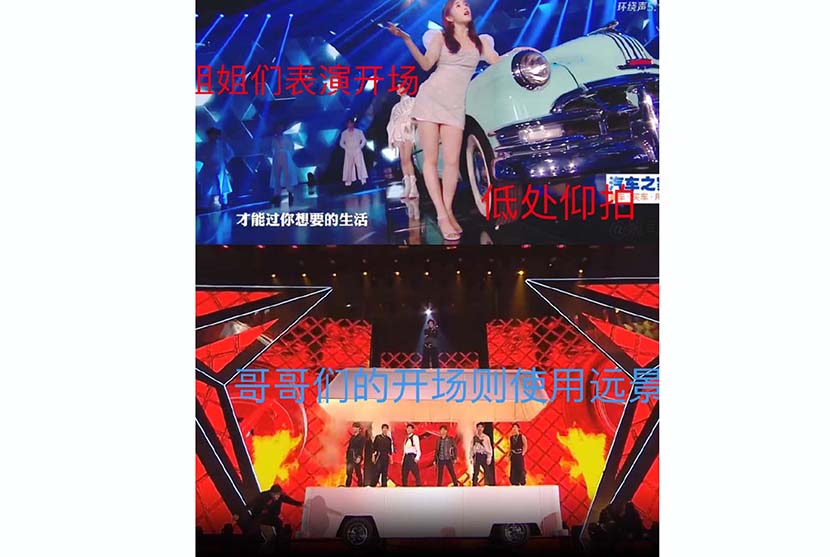 Screenshots of Hunan TV's musical gala show how the program's male and female entertainers are filmed differently. From Weibo
When it first aired in June, "Sisters Who Make Waves" was promoted as defying stereotypes, with positive language highlighting the charisma and confidence of its "middle-aged" stars. But some Chinese feminists criticized the program for sticking too close to traditional views, and the slimmer, more attractive contestants managed to stay in the competition longer.
This is not the first time Hunan TV and its subsidiaries have made headlines for dubious reasons. In recent years, the network has landed in hot water for casting doubt on the academic standards of the University of Nottingham Ningbo, cutting gay-themed content from a local broadcast of the Eurovision singing competition, and illegally airing songs by the legendary British rock band Queen on a music show.
Editor: Bibek Bhandari.
(Header image: A screenshot shows the opening act by female performers on Hunan TV's musical gala program. From Weibo)