YUNNAN, Southwest China — Mi Magan and Pai Madu stood on the summit of the mountain overlooking their home village of Shiti, close to China's border with Myanmar, scanning the forest canopy beneath them.
The two men were searching for signs of hornbills — colorful birds with long, arched beaks native to Southwest China. The creatures are among the rarest in the country, but Mi and Pai had been hunting birds since childhood and knew how to track them. They eventually spotted one gliding above the trees and descended into the forest.
It was early spring — breeding season for hornbills — and Mi and Pai knew the males would be shuttling back and forth, fetching food for their mates and young. After several days searching, they found what they were looking for: a hornbill nest perched inside a knot in a birch tree.
Unlike previous hunts, however, Mi and Pai hadn't come armed with rifles, but with wooden stools. They plopped the seats down on a ridge overlooking the tree, to indicate they'd claimed the village's first bird-watching spot.
The moment in 2017 marked the beginning of birding tourism in this remote corner of Yunnan province — an industry that is rapidly transforming the lives of local people and could unexpectedly save some of China's most endangered animals from extinction.
Yingjiang County, the subtropical region where Shiti is located, is a paradise of biodiversity. More than 500 species of birds live in its forests — one-third of the total recorded species in China — and conservationists are still discovering animals previously unknown to science among its densely packed flora.
But China's rapid economic development over recent decades has put Yingjiang's wildlife in mortal danger. Logging and slash-and-burn agriculture have chipped away at the forest, while widespread poaching has taken its toll on bird numbers. Given the nature of the region's ecosystems, where diversity and fragility coexist, many species are at risk of disappearing completely.
"It's often easier to find animals from 10 different species than find 10 different individuals of the same species (in Yunnan)," says Han Lianxian, a zoology professor at Southwest Forestry University. "Each species only has a small population and is very fragile."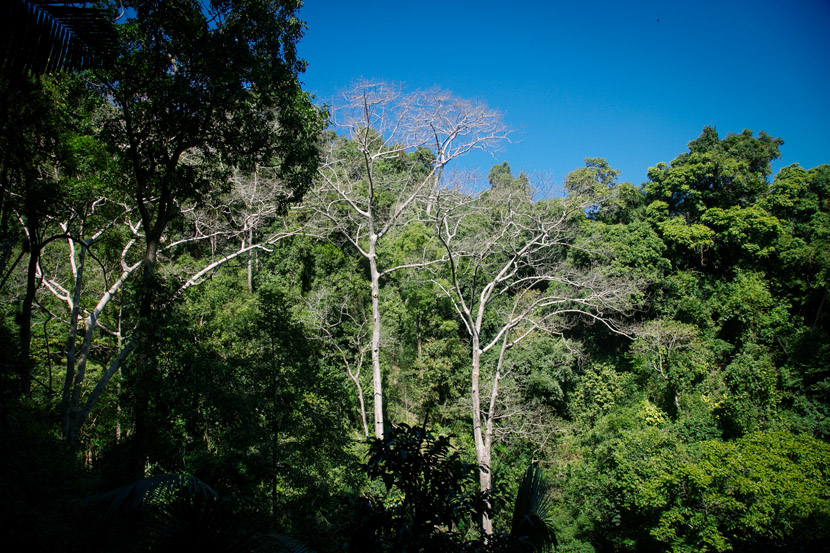 A view from a birding spot in the nature reserve, Yingjiang County, Yunnan province, Jan. 15, 2020. The knot on the birch tree was previously a hornbill nest. Li You/Sixth Tone
Chinese authorities have attempted to prevent the destruction, establishing a 340-square-kilometer nature reserve — the Tongbiguan Nature Reserve — in the forest in 1986. The reserve introduced strict controls on construction, designed to combat deforestation and protect rare wildlife like the hornbill and Skywalker gibbon.
The measures, however, were only partially successful. In Shiti and other villages inside the park's borders, people's livelihoods depended on farming and hunting — and had been that way for generations.
Villagers continued chopping down trees to grow crops and build houses, and killing animals for food. And as the local population grew — Shiti's rose from 159 to 254 between 1994 and 2008 — they increasingly ventured outside their villages, and into the nature reserve itself.
Mi's family started teaching him to hunt birds at age 9. When he was little, he recalls being terrified whenever he saw a hornbill swooping above him: The adults used to tell him the large birds ate small children.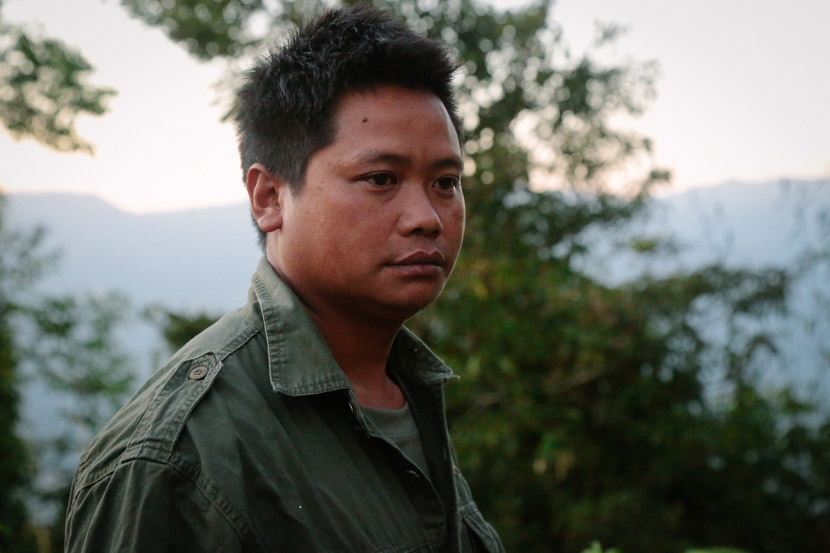 Mi Magan poses for a photo in Shiti Village, Yingjiang County, Yunnan province, Jan. 15, 2020. Li You/Sixth Tone
But soon, Mi was an expert fowler, competing with other local kids to bring back the best trophies. Children hunted with slingshots; adults used rifles. The small birds were made into kebabs, and the big ones used for soups.
"We didn't have much food," Mi, now 34, tells Sixth Tone. "So, we hunted birds, as well as four-legged animals."
The community's way of life, however, started to become untenable as local authorities increasingly cracked down on poaching and logging. In 2016, officials took away the villagers' guns in Shiti after another raid.
By this time, Mi had already left the village in search of new opportunities. In the 2000s, he found work as a logger in another part of Yingjiang County. Then, he became one of thousands of Chinese laborers cutting down trees inside Myanmar.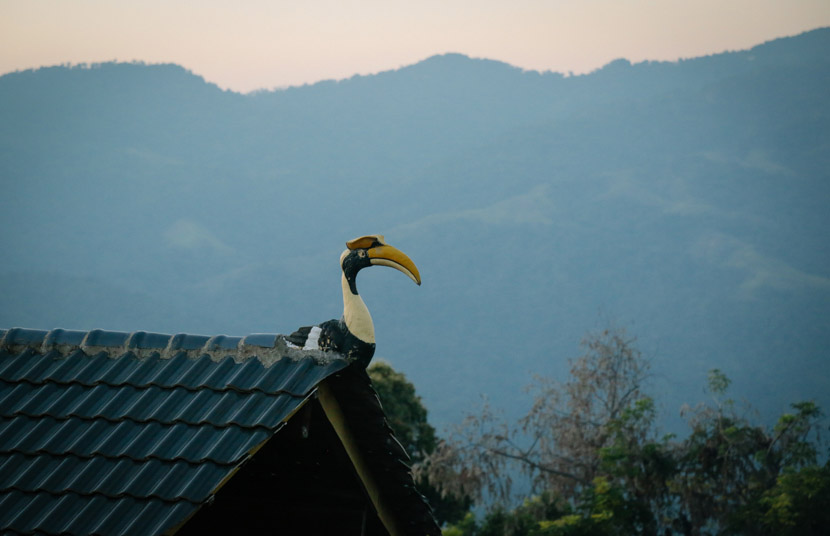 A hornbill ornament sits on the roof of a local resident's home in Yingjiang County, Yunnan province, Jan. 15, 2020. The hornbill is a holy animal for people of the Jingpo ethnic group, which is one of the main groups in Shiti Village. Li You/Sixth Tone
"I have to support my family," says Mi. "So I tried to find some work out there."
It was during a trip home in 2017 that Mi thought about giving bird-watching a try. Pai, a childhood friend six years his junior, said he'd heard about people in other villages making good money hosting tourists — even attracting travelers from overseas.
Yingjiang had gradually been gaining fame as a bird-watching destination. Tourists came during the dry season — November through May — for a chance to spot species often impossible to see elsewhere.
For most bird-watchers, the greatest draws of all were the region's five native species of hornbill: the wreathed hornbill, rufous-necked hornbill, great hornbill, Oriental pied hornbill, and Austen's brown hornbill.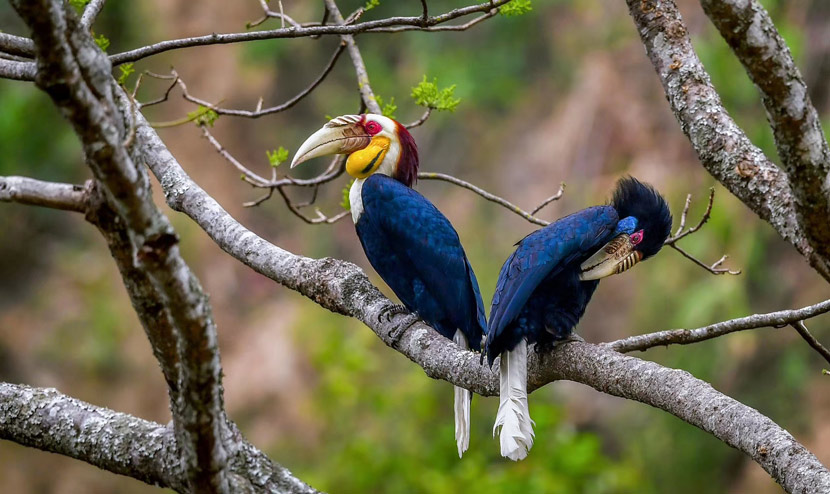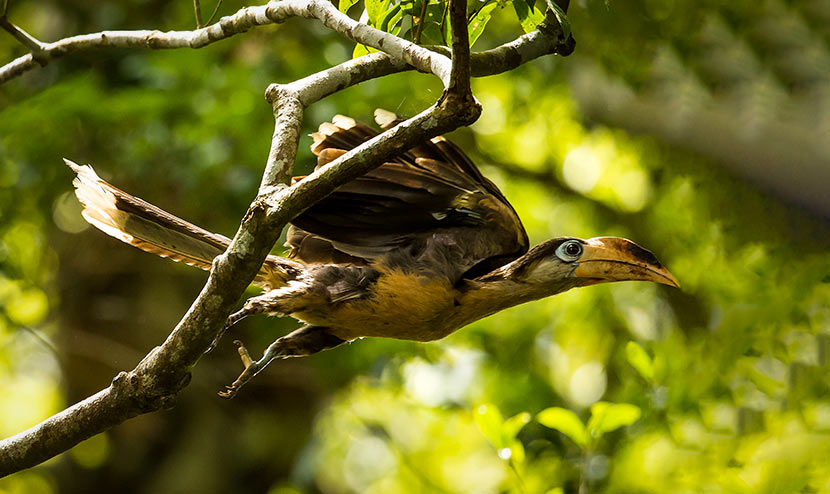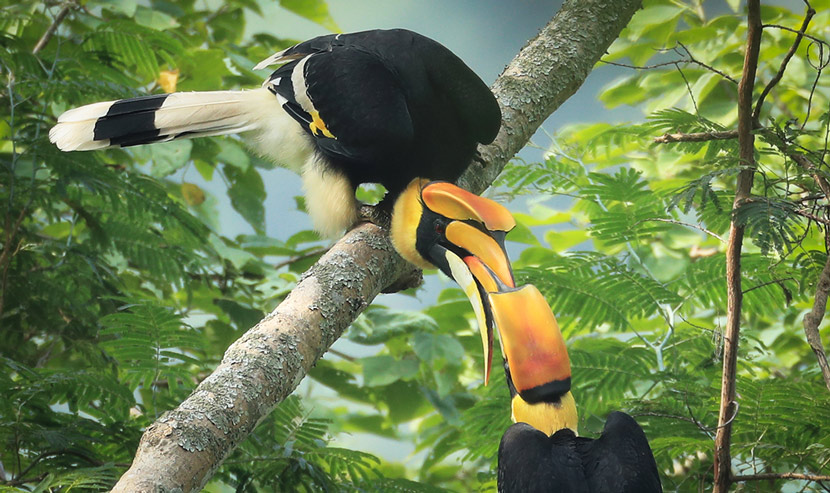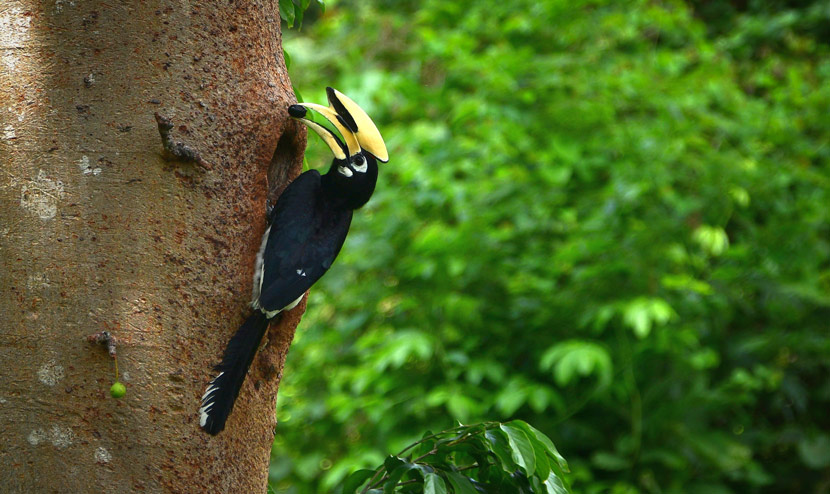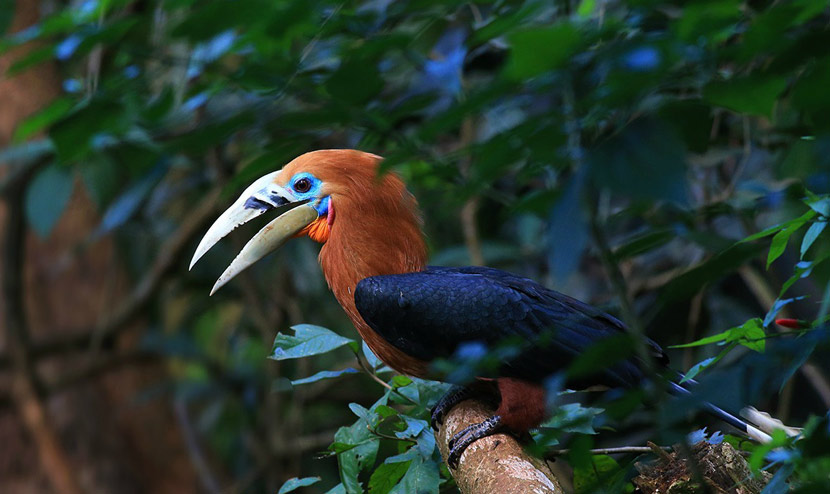 Hornbills can be found in three regions in Southwest China, but the birds have become extremely rare outside of Yingjiang, though no definitive data exists on countrywide hornbill numbers. 
The birds are particularly vulnerable to deforestation. As large as chickens, hornbills have a big appetite that only a diverse, rich forest ecosystem can sustain. They also live in natural tree cavities, requiring old, thick-trunked trees, rather than fast-growing, man-made forests.
"Despite being relatively easy to observe in Yingjiang County, hornbills are hard to find in field observation elsewhere," says Han, the zoology professor. "We believe the hornbill population is decreasing in China."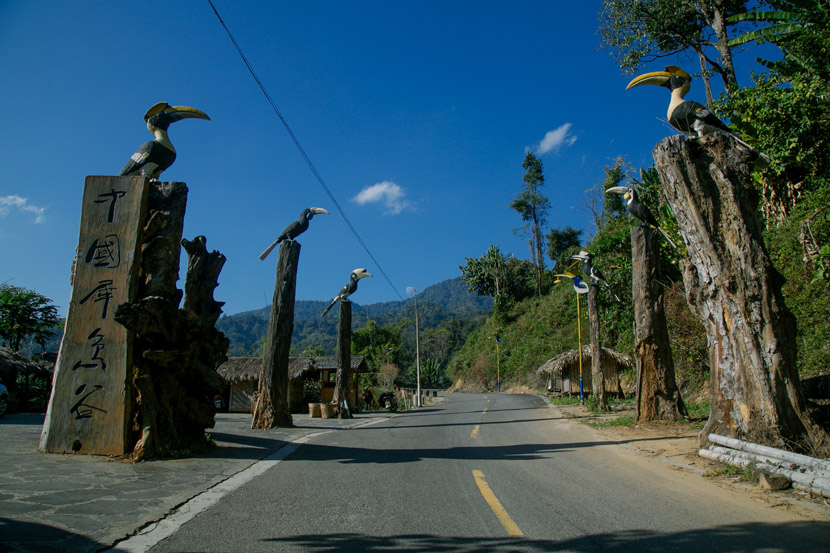 A large sign bearing the slogan, "China's Hornbill Valley" greets visitors to the nature reserve, Yingjiang County, Yunnan province, Jan. 15, 2020. Li You/Sixth Tone
Yingjiang has embraced its status as a haven for hornbills, seeing the potential to raise income levels in one of the country's poorest regions. As visitors approach the nature reserve, they're greeted by a large sign bearing the slogan, "China's Hornbill Valley," flanked by giant wooden pillars with bird sculptures perched on top.
Perhaps surprisingly, local conservationists have also been keen backers of the bird-watching drive. For Han, tourism offers an opportunity to help villagers sever their reliance on forest exploitation, as well as raise their awareness of conservation issues.
"Finding bird nests, setting up monitoring booths, letting people come and take photos, and profiting from it: It gives villagers motivation to protect the birds," says Han.
An entire birding economy has quickly emerged in Yingjiang over the past few years. Dozens of locals have set up bird-watching spots like Mi and Pai's, charging up to 100 yuan ($14) per person. There are now 17 observation points inside the nature reserve and another 20 in Shiti alone.
Two families usually run a birding spot together, splitting the revenue. Those wanting to operate inside the nature reserve have to get a permit and help the park collect observation data on the birds. 
Other locals have created bird ponds, designed to lure rare birds with food and water. Still others offer tourists accommodation, food, or luggage-carrying services. 
Birding tourism has attracted 100,000 visits to Yingjiang and generated 80 million yuan for the countywide economy since 2014, according to local government estimates.
Mi built an observation booth using camouflaged tarpaulin next to the hornbill nest in late 2017 on the advice of a visiting researcher, to prevent photographers from disturbing the birds.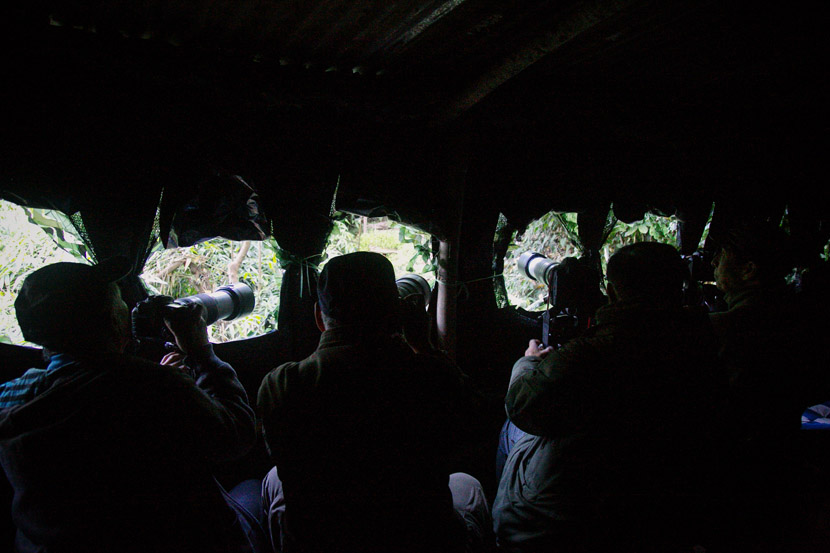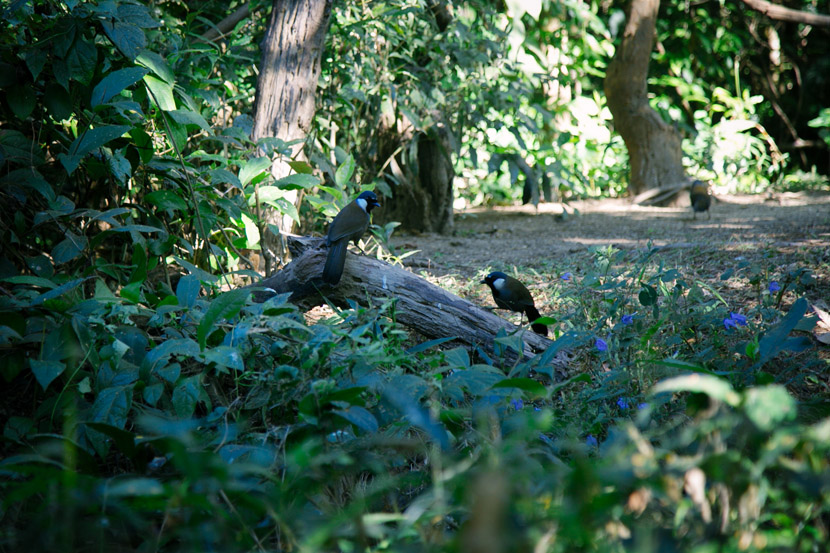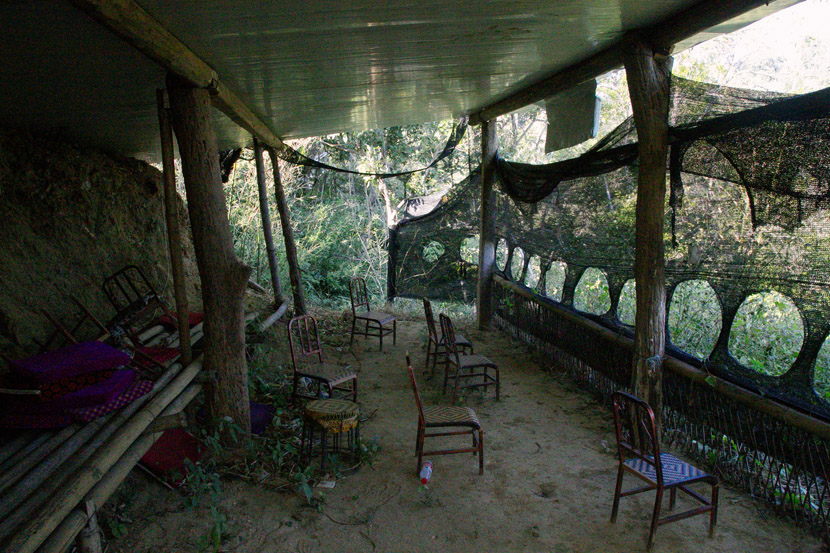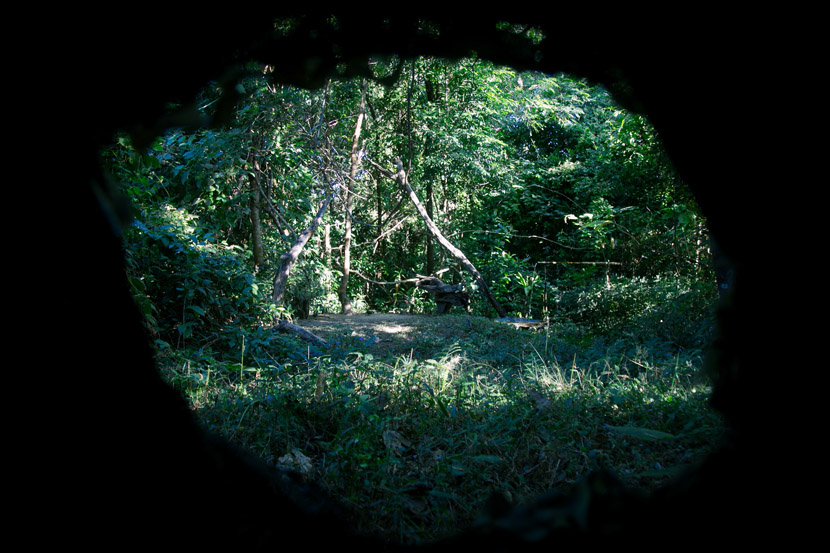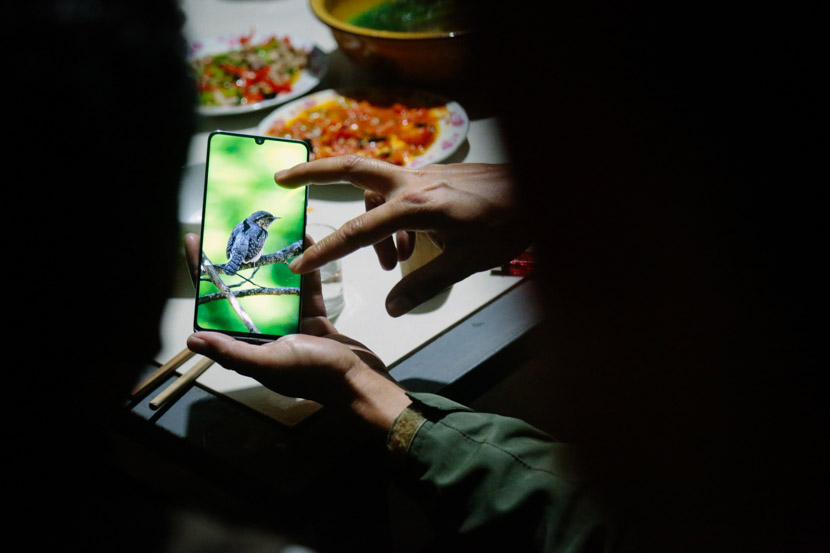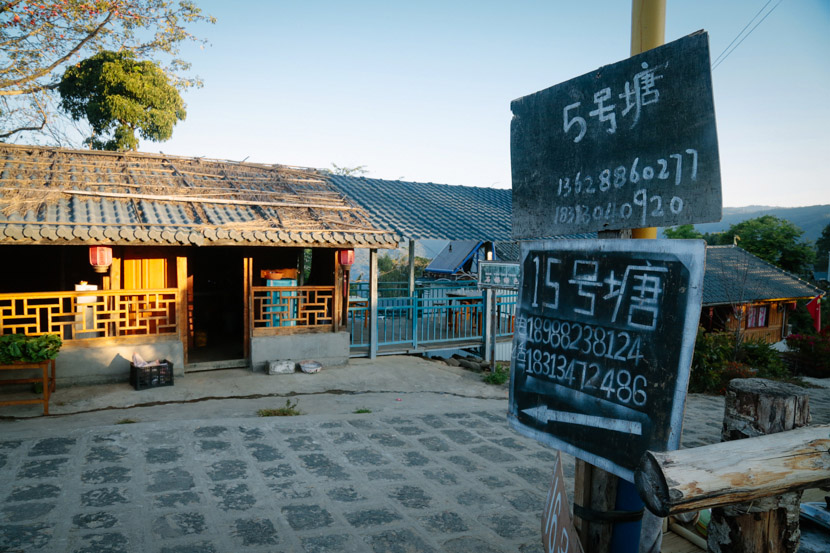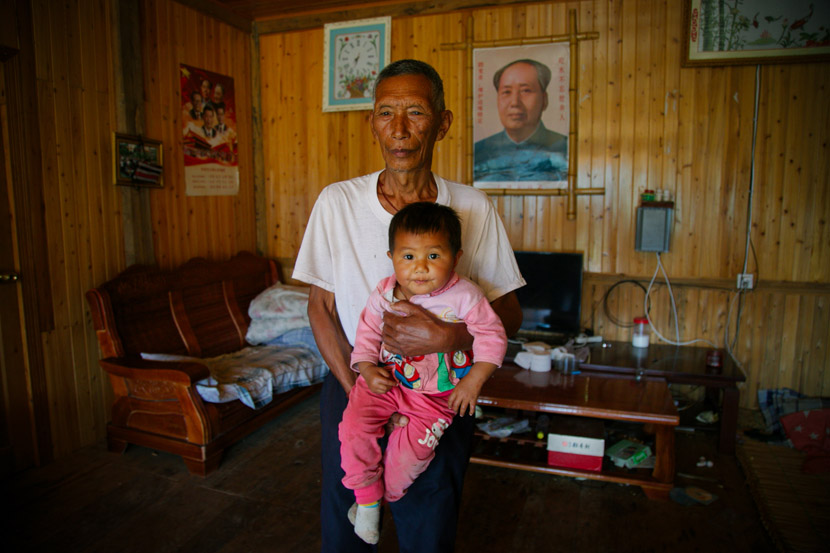 "The teachers told me to protect the birds well," says Mi. "I can profit from conservation."
Though visitor numbers fluctuate, Mi says he's generally happy with the birding business. In a good year he makes 7,000 yuan from hosting bird-watchers, while the average annual income in Yingjiang's villages is around 10,000 yuan. He supplements his income by growing nuts.
But bird-watching is becoming a competitive business in Yingjiang. Villagers use apps to identify the species in the forest before hosting tourists. Everyone in the county has come to understand the key to success: The rarer the birds, the greater the profits.
Li Du, a 44-year-old Shiti resident, set up a bird pond with another family this past August. He used to make a living from hunting and farming, but gave up after a friend was sentenced to three years in prison for poaching. The pond, however, has proven to be a precarious venture at times, due to the fickleness of the animals and tourists alike.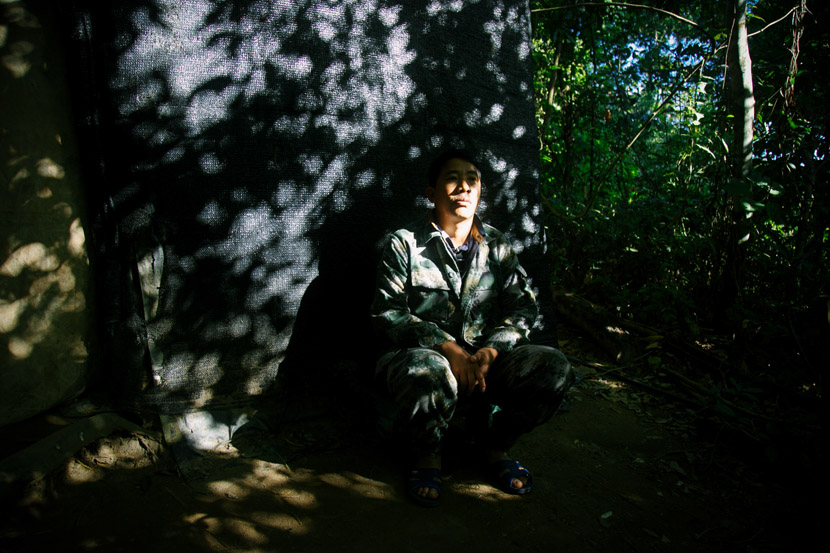 Li Du sits on a stool outside his bird pond in Yingjiang County, Yunnan province, Jan. 16, 2020. Li You/Sixth Tone
"Running a bird pond is a crapshoot," says Li. "Not every pond has visitors. Only those with rare birds can profit. Those common birds are a dime a dozen. They (photographers) say they don't want to shoot them."
Luckily, plenty of highly coveted species frequented Li's pond during the winter, and he made good money. But he knows his fortunes could change next year. "You can't expect good birds to come to your pond every year," he says. "They have wings."
The recent COVID-19 outbreak, which has killed over 2,000 people and brought much of China to a standstill, is just another source of uncertainty. The epidemic has come at a bad time, according to Mi. The hornbill breeding season begins in early March and is usually a peak period for visitors.
"Due to the disease, we haven't had visitors lately — I'm quite worried," says Mi. "Hopefully things will get better at that time (March). But no one can predict it."
In the long term, however, tourism in the region is only likely to grow. Conservationists realize that the industry could be a double-edged sword for Yingjiang, but most argue it's better than the alternative.
"From the most idealistic perspective, feeding the birds disturbs their natural activity," says Bosco Pui Lok Chan, a conservationist at Hong Kong-based nongovernmental organization Kadoorie Farm and Botanic Garden, referring to bird ponds that attract rare species with food and water. "But the question is: Would you rather let the villagers slightly change the birds' habits, or let them log trees for crops and kill birds for food like before? I'd rather they build those bird ponds."
For Zuo Changsheng, deputy head of the nature reserve in Yingjiang, the main concern is that the impact on local wildlife will grow as tourist numbers swell. Visitors are supposed to register with the park before going to a bird-watching spot in the nature reserve, but Zuo says he sometimes finds tourists sneaking in without a permit. "Our management is still relatively loose," he says.
Zuo also worries what might happen if a large tourism company takes control of the area. At the Jade Dragon Snow Mountain nature reserve in northern Yunnan province, the construction of cable cars and huge visitor numbers reportedly caused large-scale damage to the environment and a sharp decline in the wildlife population. 
"I've visited many nature reserves," says Zuo. "When there's cooperation between nature reserves and tourist site operators, it often weakens the nature reserve's status."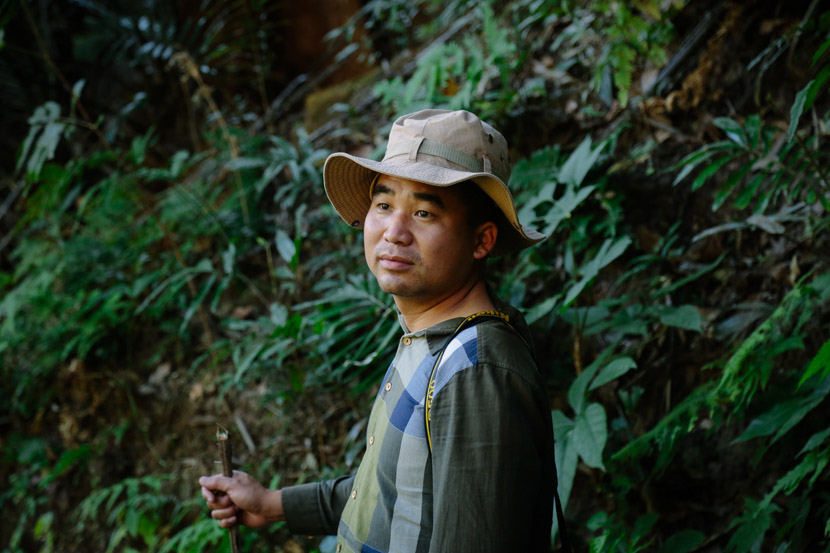 Zuo Changsheng, deputy director of Tongbiguan Nature Reserve in Yingjiang, poses for a photo in the reserve, Yingjiang County, Dehong autonomous prefecture, Yunnan province, Jan. 16, 2020. Li You/Sixth Tone
Local communities, meanwhile, will need to take responsibility for the fate of the forest outside the reserve, according to Chan.
"The lowland bird population can be sustained in Yingjiang, but it's still a small amount," says Chan. "How to restore and expand the lowland bird habitats should be the shared goal for conservationists and local officials."
But by raising local people's incomes, bird-watching has already done a lot to heal the divide between the nature reserve and nearby villages, Zuo stresses. The situation is almost unrecognizable from 2001, when he first visited Tongbiguan as an inspector, he says. Villagers were openly felling large trees to make room for their farms. 
"I tried to stop one of them, telling him the trees would be valuable in the future," Zuo recalls. "But he told me he'd starve if he didn't do this and asked me if I wanted to buy the wood.
"The villagers have logged the mountains over and over again but still live in poverty — they need a way out," says Zuo.
Editor: Dominic Morgan.
(Header image: An Oriental Pied Hornbill in Tongbiguan Nature Reserve, Yunnan province, June 8, 2019. Courtesy of Zuo Changsheng)