Amid the ongoing novel coronavirus epidemic that has brought large swaths of China to a standstill, millions of people in the country have been forced to take their work home.
"I think it's pretty good," said Wang Jie, a Shanghai-based public relations executive who has been working from home since Monday. "It saves me the commute time and it's more freeing, giving me flexibility to arrange my work," the 26-year-old told Sixth Tone.
Prior to Monday, when domestic businesses were officially expected to resume normal operations after the Spring Festival holiday was extended by 10 days to contain the contagion, less than half of companies surveyed said they expected to reopen, according to domestic media, and many were opting to have their employees work from home.
A night view of a busy road on the first day back to work after the extended Lunar New Year holiday in Shanghai, Feb. 10, 2020. Wu Huiyuan/Sixth Tone
Meanwhile, Wang has been enjoying sleeping in until 11 a.m. on less-busy mornings and not having to worry about scrambling to clock in. With all the time saved, Wang can carefully disinfect her family's home — a daily ritual she considers a "must" during the epidemic.
Not everyone is welcoming the new working style with open arms, however. Common complaints include having to work in communal family space for want of a desk setup, or being expected to do even more work than would be required under normal office hours.
David Tsai, a 27-year-old marketer in the online professional training sector, returned to Beijing from his family's home in the southwestern Sichuan province at the end of January to address some of the sudden changes the coronavirus epidemic has foisted on his company's projects. But collaborating as a team is more challenging without a shared office, he says.
"Some people are just touching fish," Tsai told Sixth Tone, using an online slang term referring to lazy employees. Moreover, Tsai said, some of his colleagues have yet to return from their hometowns due to local quarantine measures and are unable to access the company's internal network.
"This has made our work very inefficient," said Tsai, whose company employs around 6,000 people. "Even though our solutions have been worked out (in theory), the colleagues implementing those measures may still be performing poorly."
Tsai isn't the only one with concerns about China's unprecedented work-from-home experiment. Dingding, a 24-year-old woman from the eastern Anhui province who works for a new media-focused internet company, told Sixth Tone that she feels like she is being micromanaged by her boss, who demands that his employees be on call at all times.
According to a "code of conduct" Dingding's supervisor sent out, employees must give two progress reports per day, as well as wash their hair and change out of their pajamas before daily conference calls, purportedly to "keep morale high." But Dingding, who is at home with her family, isn't comfortable being so closely bound to her work.
"You don't really have the same sense of urgency, and it's hard to keep up the same tempo as when you're at the office," she said.
The loss of any semblance of work-life balance also troubles Dingding. "Your work and your home are together: You have no time off at all, and you don't know when you'll finish," she said. "And on top of all that, he (the boss) is watching you more closely."
In Tsai's case, this is true in the literal sense. His company is requiring all staff to turn on their computers' front-facing cameras while working so that supervisors can tune in at any time, without warning, and verify that everyone is pulling their weight.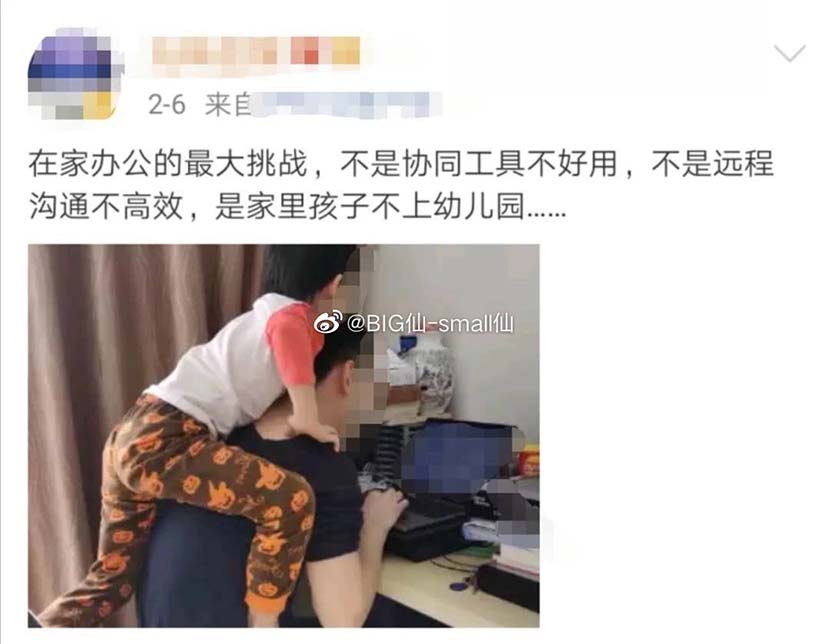 A Weibo user's post complains that it is hard to work at home when schools are not in session. From @BIG仙-small仙 on Weibo
In late January, China's top health authority said that all nonessential employees, as well as those from epidemic-stricken areas, should be allowed to postpone any Spring Festival travel from their ancestral homes to the cities they live and work in, or work from home to avoid the risk of infection.
Companies have taken different measures to work around the belief that the coronavirus is more easily spread in crowded spaces. Some employers have arranged staggered office hours for their staff, while others have imposed their own longer extensions to the Lunar New Year break, or asked employees to self-quarantine and work from home for two weeks upon returning from their holiday travels.
As a result of these policies, WeChat Work, a conference call platform owned by tech giant Tencent, has seen the stress on its servers increase tenfold. "During the epidemic, we're seeing heightened demand from all kinds of industries," WeChat Work said in a statement to Sixth Tone, adding that livestreamed education is receiving the biggest boost.
But in these unprecedented times, people are questioning the feasibility of coping with increased pressure as a worsening economic downturn threatens to drag down businesses without rainy-day funds to sustain themselves. While some provincial and local governments including Beijing have vowed to subsidize smaller businesses to help keep them afloat, how quickly these funds can be disbursed, as well as how much they can actually help, are difficult to predict.
Tsai the marketer says his firm — which plans to go public in the near future — is now asking for greater productivity from its employees in order to meet performance targets and appease investors, even as the epidemic poses ever greater challenges.
"It's hard to do marketing now," said Tsai, adding that he will consider quitting if the pressure becomes too great, even with the current gloomy job market. "If the epidemic situation cannot be alleviated and I have to keep working from home, I'll feel even more conflicted."
For 24-year-old Dingding, whose company is much smaller at around 200 staff, her boss's nagging calls for mobilization are an indication of the pressure the company is under to survive.
"He (the boss) says we have to be prepared for a hard time," she said.
Contributions: Cai Xuejiao; editor: David Paulk.
(Header image: People wear face masks in Shanghai, Feb. 10, 2020. Shi Yangkun/Sixth Tone)