With just one week to go before China's most important festival for family reunions, Beijing customers who were quick to make reservations for their Chinese New Year's Eve dinner at the Palace Museum received word this week that their much-anticipated meals have been canceled.
The Corner Tower Restaurant — located inside the Forbidden City, the former imperial residence — had already generated online discussion earlier this week with the revelation that its set menu for nianyefan, or Chinese New Year's Eve family dinner, was priced at 6,888 yuan ($1,000) per table of up to 10 guests. Some suggested this was far too expensive, while others said the price could be justified for such a special venue.
In a post Wednesday on microblogging platform Weibo, one user said the restaurant told her the dinner had been canceled because of ongoing renovations at the Palace Museum, and that her advance payment would be fully refunded. "But wasn't there early notice about the renovation plan?" wrote the user, skeptical of the real reason behind the cancellation.
Just east of the north gate of the Forbidden City, the Corner Tower Restaurant opened for business a year ago. Tickets to the Palace Museum aren't required to enter the restaurant, which mostly provides fast food.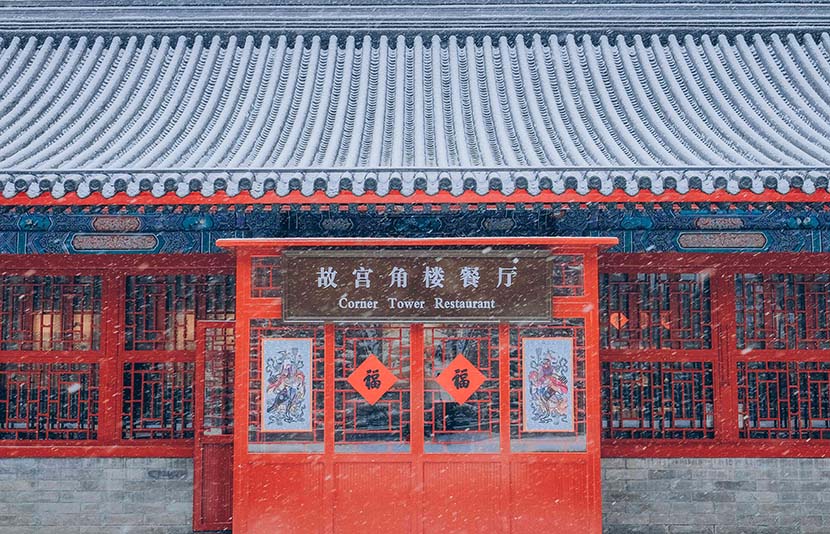 An exterior view of the Corner Tower Restaurant, located near the north gate of the Forbidden City in Beijing. @故宫角楼餐厅 on Weibo
Despite the Corner Tower Restaurant being relatively new, it has faced controversy before. Two months after its grand opening, some people questioned whether the Palace Museum was becoming too commercialized. The restaurant was then offering hot pot, which some guests complained was too expensive — even as they lined up in droves to consume it. In response to the criticism, the restaurant said it would stop serving the classic Chinese dish.
The cancellation of nianyefan at the Palace Museum went viral Wednesday, with a related hashtag viewed over 520 million times on Weibo at time of publication. The restaurant suspended its operations Thursday and did not answer Sixth Tone's phone calls.
For Chinese people, the Lunar New Year's Eve meal is much more than an excuse to enjoy fine dining. It means coming together with family members one may not have seen since the same time last year, rekindling blood bonds, and sharing news about the big changes in each other's lives. While the vast majority of families who convene in rural areas cook up big meals at home for the occasion, many urban households prefer to dine out for the sake of convenience.
In megacities like Shanghai, nianyefan reservations at popular restaurants must be made months in advance. "We started accepting reservations in June," Li Xuemei, the manager of a riverside restaurant serving Shanghainese cuisine, told Sixth Tone. "We were fully booked two months ago."
The manager of a famous, well-established restaurant in the city's downtown Jing'an District, meanwhile, told local media that their first reservations for this year's nianyefan were made just after the same dinner last year. In order to accommodate as many bookings as possible for occasion, some restaurants even set two-hour dining windows — 6 to 8 and 8 to 10, for example — to squeeze in two rounds of service.
Editor: David Paulk.
(Header image: A promotional photo for the Corner Tower Restaurant in Beijing. @故宫角楼餐厅 on Weibo)