As a painter, my favorite subject has always been history. I enjoy both recreating fragments of the past and integrating my own perspective of history into my art. Take, for example, "Dreamland: No. 1 Justice Road," completed in 2012, which I used to reflect on the human catastrophe that was the Cultural Revolution. Or my "Oil Lamp Memories" series, begun in 1985, in which I chose to center the "Down to the Countryside" movement of the 1960s and '70s, which sent educated youth away to be "re-educated" by peasants, on the experiences of the young women involved.
My latest work, "Tokyo Trial," which went on display at the Nanjing Massacre Memorial Hall in eastern China this September, is no different. This time, however, pulling off the balancing act between historical reality and my own perspective was far more difficult.
The painting's title is a reference to the International Military Tribunal for the Far East (IMTFE). Held in Tokyo between April 29, 1946 and Nov. 12, 1948, it was presided over by 11 judges — one each from the United States, China, United Kingdom, Soviet Union, Canada, Australia, Netherlands, New Zealand, British India, France, and Philippines. The court was convened to try 28 high-level war criminals associated with the Japanese military regime.
Like its Nuremberg counterpart, the IMTFE was tasked with assigning responsibility for the outbreak of World War II, as well as for the atrocities committed against civilian populations and prisoners of war by the defeated Axis powers — in this case, Japan. More importantly, its backers sought to set a new precedent for international justice and wartime conduct.
When I first began work on the painting, four and half years ago, I planned to focus my attention on the Chinese delegation to the trials. But the more I learned about the tribunal, the more I grew enamored with the idea of a panorama-style painting. I wanted to recreate the two-and-a-half-year-long trial and everyone who took part in it, including judges, prosecutors, defendants, lawyers, witnesses, and courtroom workers. I quickly realized I was going to need a bigger canvas; I also realized that I had a lot of research to do.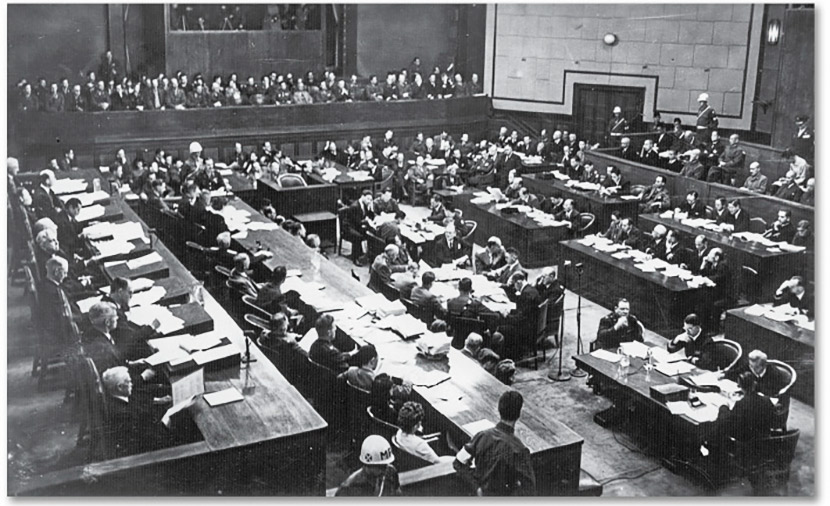 A view of the IMTFE courtroom at the Japanese War Ministry Building in Tokyo, May 3, 1946. From Virginia Libraries
When painting historical events, it's imperative to first thoroughly understand your subject. To this end, I went to the Academia Historica in Taiwan where I made copies of the relevant historical documents and materials. I also visited Jimbocho in Tokyo, famous for its used bookstores, where I bought practically every photo book I could get my hands on that was related to the Tokyo Trials and WWII.
But the most valuable information came from the Tokyo Trial Research Center at Shanghai Jiao Tong University, which in 2016 purchased 7,000 minutes of archival footage taken by a team of American documentarians who were present at the trial. I spent so much time watching and rewatching this film, I sometimes wonder if I've seen it more times than anyone else in the world.
But I was determined to accurately record everyone who was present. This wasn't always easy. When it came time to paint the attorneys for the accused, I realized I only had the names for most of them, and no idea what they looked like. Checking online, I discovered that many of them went on to serve in the postwar Japan Federation of Bar Associations (JFBA), so I asked my friends who were visiting Japan to find their photographs in the JFBA's records, then I matched their faces to the courtroom footage.
There was also the matter of identifying and painting all the witnesses. Although I listened carefully to their self-introductions, I ran into an unexpected difficulty. The figures in the footage are often shown wearing headphones; to get their ears right, I had to watch the footage closely and hope they took them off.
In the end, I had a 4-meter-high, 172-meter-long painting with over 400 named figures. It's an unusual work. Almost half of its surface is taken up by historical documents, photographs and courtroom records. In other words, the documentary evidence exists on equal terms with the painting's ostensible subjects.
Naturally, this approach has generated a fair amount of criticism. Why bother painting at all if all I care about is historical accuracy? Wouldn't it be more "realistic" to just use old photographs?
Generally, I reply by explaining that my basic desire when creating this work was for viewers to be able to spend 30 minutes to an hour taking it in, and in that time achieve a basic understanding of what the Tokyo Trials looked like and what made them so significant. In order to achieve this goal, it wasn't enough to just present the history as it was; it needed to be imbued with a certain artistry.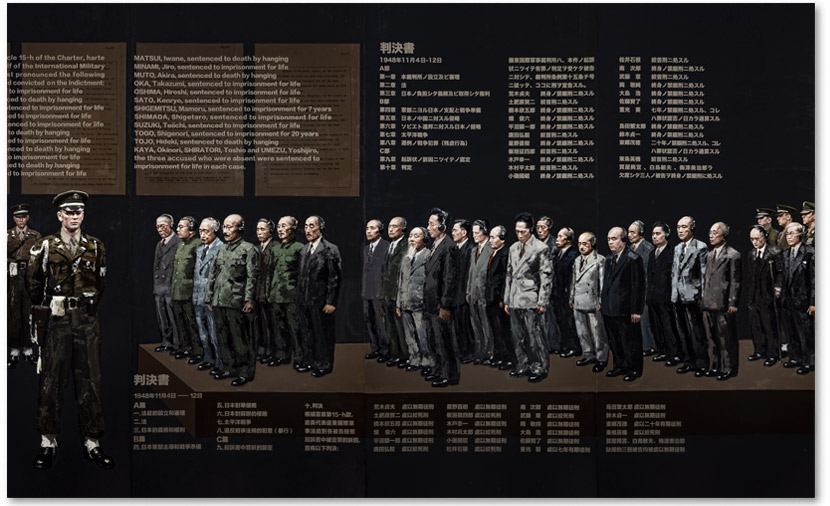 A partial view of the oil painting"Tokyo Trial." Courtesy of Li Bin
And to be fair, I did take some artistic license. For example, when Australian Justice William Webb summoned the defendants to appear in court for sentencing, he did so one at a time. If I had painted the scene this way, it would have looked disjointed. As such, I grouped the accused together, with the seven sentenced to death by hanging in the front, the 16 sentenced to life imprisonment in the middle, and the last two, who were given lighter sentences, in the back. This also gave me more room and allowed me to emphasize the solemnity and imposing nature of the court.
Although "Tokyo Trial" is essentially complete, I may make a few more minor revisions. The events of that time should never be forgotten, so it's only fitting that recreating them would be such an unforgettable experience.
Translator: David Ball; editors: Wu Haiyun and Kilian O'Donnell; portrait artist: Li Bin.
(Header image: A partial view of the oil painting"Tokyo Trial." Courtesy of Li Bin)