The Shenzhen Metro isn't getting much love on Chinese Valentine's Day.
Thousands of social media users have slammed the southern city's public transit system over ads by Japanese condom brand Okamoto that were displayed at Houhai station — some angry about sex-related advertising appearing in a public space with significant foot traffic, others angry about the metro's capitulation to prudish attitudes toward family planning. Shenzhen Metro Group Co. took the advertisements down Sunday after receiving complaints from "upset" commuters, according to Southern Weekly magazine.
"The metro stations are very crowded — more care should be put into selecting locations for controversial advertisements," a commuter told the magazine, adding that he was embarrassed to see the Okamoto ads while walking with his son.
"Shenzhen Metro should remove them," a similarly upset user wrote on microblogging platform Weibo, referring to the ads. "They're a bad influence on students, especially during the summer holidays."
According to photos shared by domestic media, the ads included colorful silhouettes of a man and woman reaching out to each other against a backdrop of stars and planets. Overtly sexual images and text — and even the word "condom" — were not included in the ads.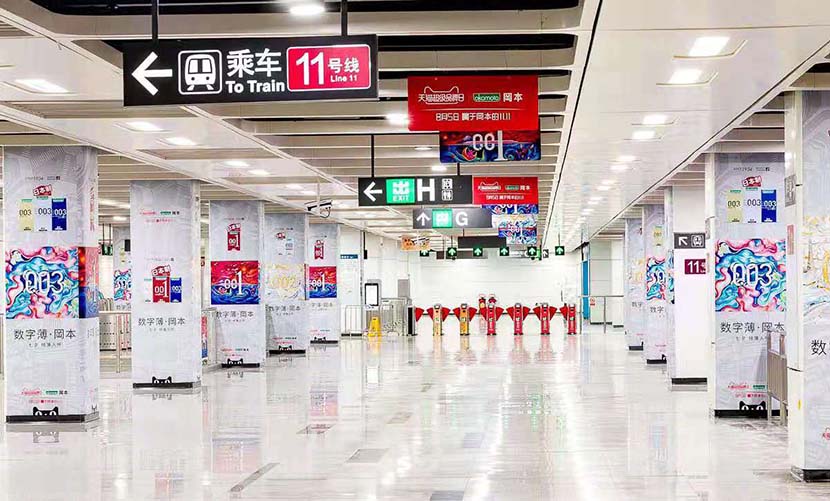 Advertisements for Japanese condom brand Okamoto are displayed at the Houhai subway station in Shenzhen, Guangdong province, Aug. 4, 2019. @南都周刊 on Weibo
The company responsible for placing the ads, Shenzhen News Metro Media Co. Ltd., told Southern Weekly on Wednesday that the Japanese condom brand had only rented the advertising space for a week, and that the lease had expired Sunday.
Many online aren't convinced, however, and are criticizing the metro for seemingly holding such conservative views about sex. Some people say the condom ads help promote discussions about safe sex, while others argue that their content isn't remotely offensive.
"The design is very beautiful — don't they (the ads' opponents) see this kind of aesthetic as pleasing to the eye?" one Weibo user commented under a related media post. "What era are we living in now?" asked another incredulous user.
Okamoto's office in Shenzhen told Sixth Tone on Wednesday that the company has elected not to comment on the case.
Editor: Bibek Bhandari.
(Header image: An Okamoto condom advertisement is displayed on a wall at the Houhai subway station in Shenzhen, Guangdong province, Aug. 4, 2019. @南都周刊 on Weibo)