Update: On Dec. 23, the Yunnan High People's Court upheld a lower court's death sentence for Sun Xiaoguo, handed down two decades earlier for crimes including rape and intentional injury, among others. Earlier this month, eight courts in the province sentenced 19 people — including former civil servants, as well as Sun's mother and stepfather — to between two and 20 years in prison over their ties with Sun.
Authorities in southwestern China have opened a probe after a convicted rapist who was sentenced to death two decades ago was discovered last month to be living outside prison as the alleged leader of a criminal gang.
In a statement Friday, the anti-gang office in the city of Kunming said that the relevant departments in Yunnan province had started investigating Sun Xiaoguo, the handling of his case and punishments, and official corruption connected to him. Sun was first given a three-year sentence "to be served outside prison" in 1994 for raping a woman and was arrested again in 1997 for a separate rape case involving two underage girls, for which he was handed a death sentence in 1998, according to media reports citing an archive of legal cases from 1999.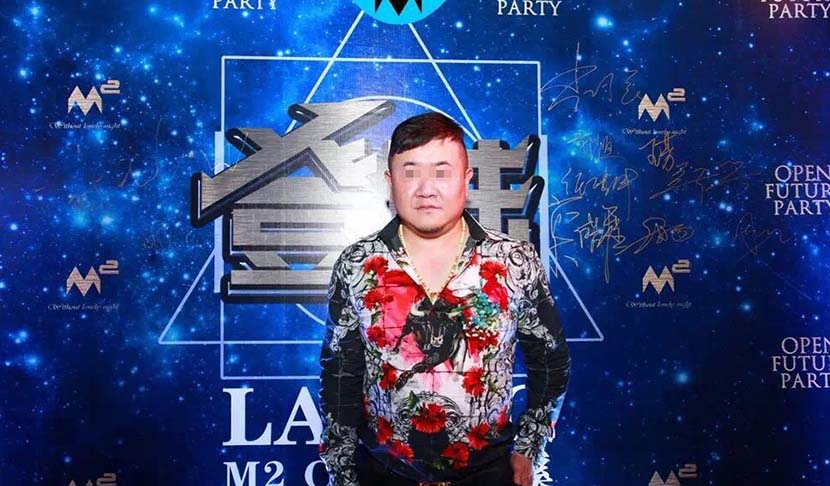 Sun Xiaoguo attends the grand opening of a nightclub in 2013. From the club's public WeChat account
But last month, officials at an anti-gang press conference announced that Kunming had cracked down on several "gang-related criminal groups" in the city, including one allegedly led by a man named Sun Xiaoguo. Follow-up stories from national media discovered that this Sun was the same man who had been convicted in 1998 and thus, inexplicably, that he had been living outside prison as a free man.
Though news outlets found no official documentation confirming Sun's release from prison, they noted that a "linkage locking-type anti-theft manhole cover" was registered with the national patent office under his name in 2008. Under Chinese law, convicts may have their prison terms reduced for making important technical innovations or inventions.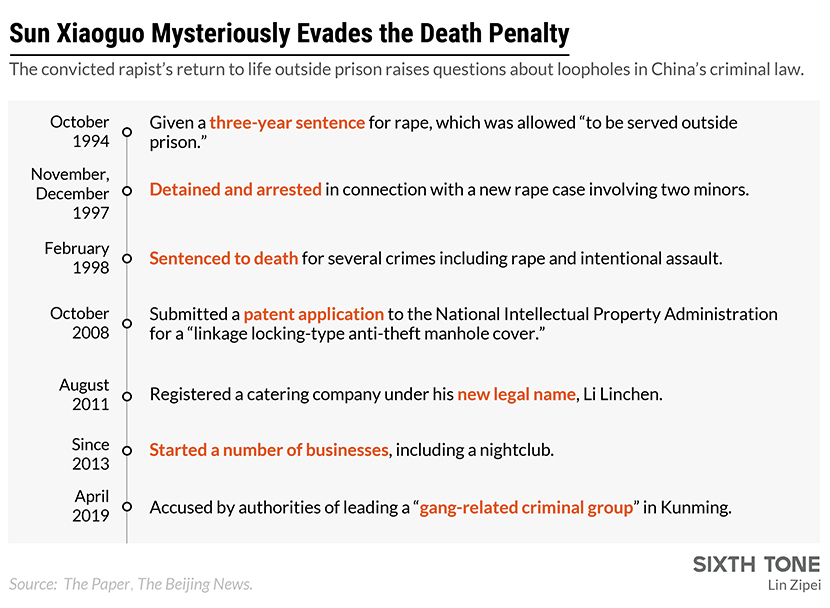 After media outlets began scrutinizing Sun's mysterious freedom, legal experts called for further investigation to determine if Sun was in fact eligible for reduced sentencing, pointing to past missteps in judicial practice regarding commutation. Moreover, they questioned whether Sun had actually created the manhole cover patented under his name.
"Patent rights are tradable; however, if a patent bought (from others) is used for commutation, this can constitute fraud," Lü Jiang, deputy director of the Yunnan Lawyers Association's intellectual property research committee, told Red Star News last week. "The condition of such a commutation depends on a personal contribution to society. If Sun didn't come up with the invention, then there is a flaw in his reduced sentence."
Editor: Bibek Bhandari.
(Header image: IC)