One child remains in critical condition five days after being poisoned along with 22 other kids at a private kindergarten in central China, local police said on their official Weibo microblog late Monday night.
Last Wednesday, a class of children aged 4 and 5 began showing abnormal symptoms — vomiting and loss of consciousness — after eating porridge at Mengmeng Kindergarten, a small, privately run school in suburban Jiaozuo, a city in Henan province. Around 50 children are enrolled at the school.
A preliminary police investigation resulted in a teacher there surnamed Wang being criminally detained for intentionally adding nitrites to the children's food. Although the police said in their statement that they have not yet established a motive, a Monday report by a news outlet under Chongqing Daily quoted sources from the Jiaozuo police as saying that Wang had wanted to take revenge on a colleague at the kindergarten.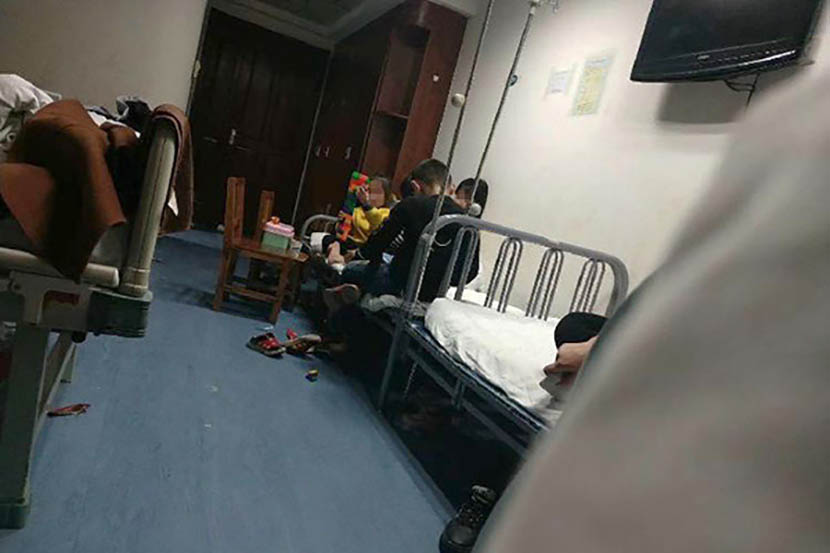 Some of the poisoned children are treated at Jiaozuo No. 2 People's Hospital in Jiaozuo, Henan province, April 1, 2019. The Paper
A father surnamed Li told The Beijing News that, at around 10 a.m. Wednesday, the kindergarten notified him of the emergency — and when he arrived, he found his child unconscious. "Three or four other kids were vomiting beside my child," the father was quoted as saying. "They all looked pale."
When another parent, surnamed Hu, arrived at Jiaozuo No. 2 People's Hospital — where most of the poisoned kids were sent — his child's stomach had already been pumped. Hu told The Beijing News that the words "nitrite intoxication" were scrawled on his child's medical sheet.
Nitrite is a food additive that is toxic when more than 0.2 grams are consumed. At 3 grams or more, the compound can be lethal, according to a warning from a food and drug authority in southwestern China's Sichuan province following a 2016 nitrite poisoning incident.
In addition to vomiting, nitrite poisoning can cause other symptoms including headache, dizziness, coma, and respiratory failure. The Jiaozuo children who lost consciousness at the kindergarten had been poisoned relatively severely. In addition to the child in critical condition, seven others remain hospitalized; the rest had recovered and returned home, according to police.
When reached by Sixth Tone on Tuesday, an official from the local education bureau in the city's Jiefang District — where the kindergarten is located — said that the school has been shut down and the students have been dispersed to other kindergartens in the area. "Further details of the case are still under investigation," said the official, who would not give his name as he was not authorized to speak with media.
Under a Weibo hashtag translating to "parents respond to kindergarten poisoning incident" — already viewed over 17 million times — many netizens are expressing concerns over the teaching qualifications required to work at small, private preschools and kindergartens. Over the past two years, a few high-profile kindergarten abuse cases have been reported in China, drawing pubic attention to the issue of school safety.
"Now that the country is encouraging families to have more children," wrote one netizen, "the kids must be better protected — and so kindergarten teachers' qualifications need to be closely monitored."
Editor: David Paulk.
(Image: VCG)