The road to Heishui County, located in a predominantly Tibetan part of the southwestern province of Sichuan, wends its way along the Min River before climbing into the region's lush, verdant mountains.
Every autumn, Heishui's Naizigou Valley, home to a rich mix of birch, pine, cypress, and maple trees, bursts into a riot of color, helping lure tourists and much-needed tourism money to this largely impoverished part of western Sichuan. One of the prime beneficiaries of this boom has been the nearby village of Jiazu. Once a loose collection of residences scattered across the mountains, Jiazu was for centuries isolated from the rest of the province by its forbidding geography. Then, in 2014, the villagers acquiesced to a government plan to resettle them closer to the above-mentioned highway along the banks of the Min River.
Since then, the local government has directed the recently relocated villagers to open largely self-funded guesthouses to take advantage of the region's pristine forests. In late 2017, I visited Jiazu to see how it had progressed — and what challenges remained.
Targeted poverty alleviation has been a government priority in China since at least late-2013, and the program continued to receive special attention at this year's legislative "two sessions" meetings. To meet its target of eradicating poverty by 2020, the country has adopted a wide range of policies, from microloans and job training to infrastructure development. For those living on land the government deems incapable of supporting a fixed population, one of the most common solutions is relocation. According to a government plan released in 2016, China aims to relocate 10 million of its citizens between 2016 and 2020.
Ba'erdeng Sanlang shares his experiences managing a guesthouse. By Wu Huiyuan and Lu Yunwen/Sixth Tone
According to Jiazu's 61-year-old party branch secretary — who gave me the Sinicized version of his name, Luoerji — the 2014 relocation down the mountain was not the only time the village has been moved in his living memory. Less than a decade prior, several of its villagers had been relocated in an effort to centralize Jiazu's scattered homesteads. "Before, when the village would hold a meeting, some villagers had to walk one or two hours along mountain paths just to attend," Luoerji said.
This now-abandoned cluster of homes is still there, an hour's walk up the mountain from the village's new address. A small 5-meter-wide concrete road winds up the slope, connecting the old village to the households farther afield, some of which are an additional 40- to 50-minute drive away.
Today, most villagers have built new two-story buildings with gabled, red-tiled roofs along the riverbank, accenting them with Tibetan decorations. After completion, the government provided villagers with more funds to paint their walls in bold, colorful patterns. The infrastructure was also improved, as bathrooms, footpaths, and tourism centers were built — all to attract passing travelers. The village was even rebranded "Colorful Jiazu."
While there are no detailed statistics on tourism income, Luoerji told me that some households' disposable income was more than five times the Heishui County rural average of 11,567 yuan ($1,725) a year. Prior to the move, residents' primary source of income came from the mushrooms and fungi they dug up from nearby mountainsides and sold to be used in traditional Chinese medicine. Now, even the villagers who couldn't afford to build guesthouses can still make a little extra money by selling what they forage to passing tourists from stalls set up in front of their homes.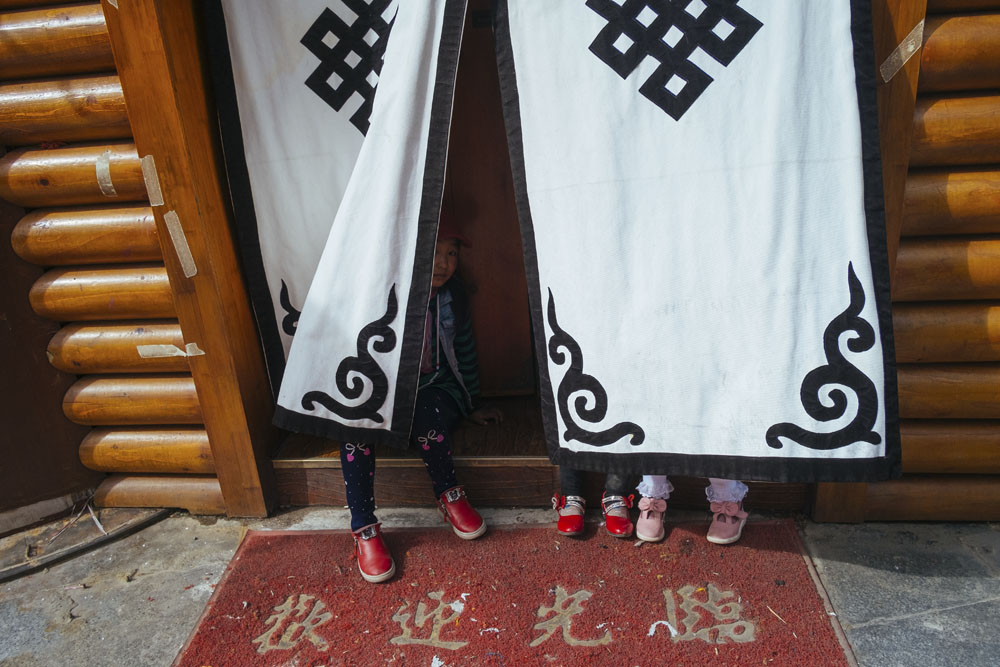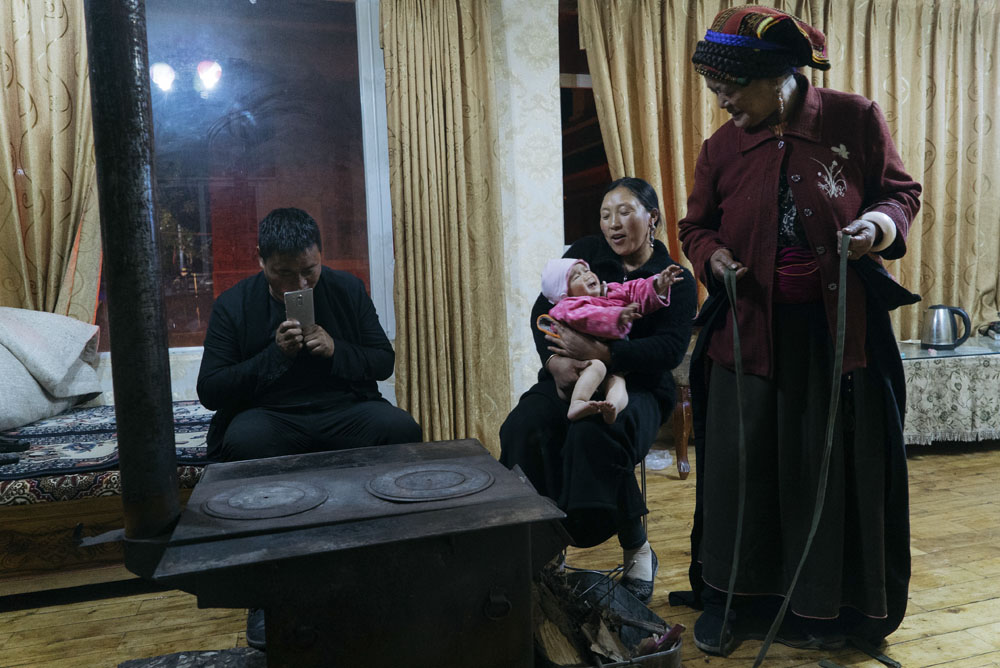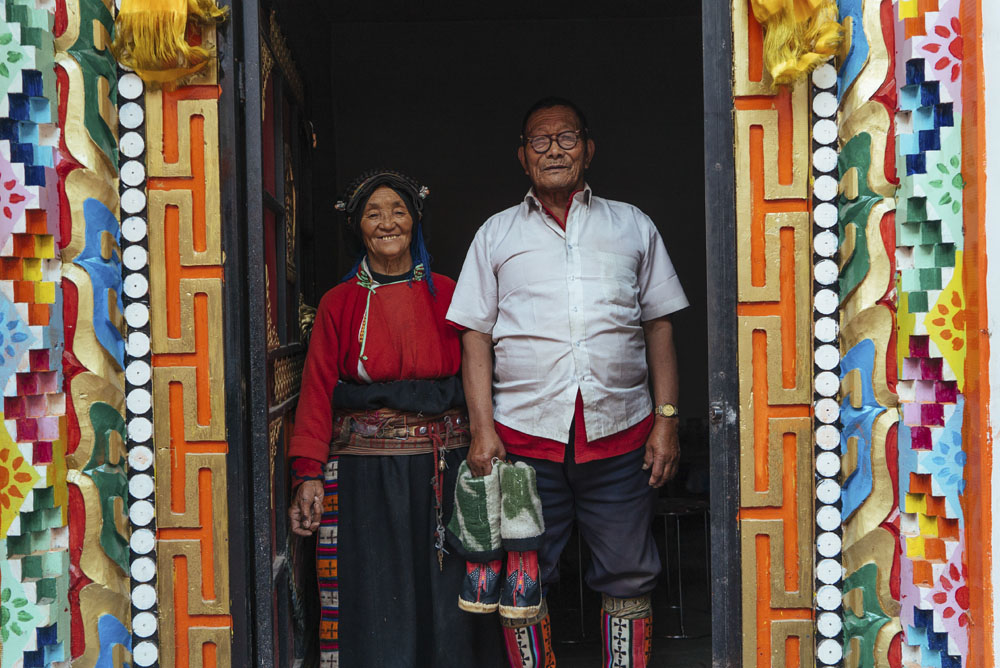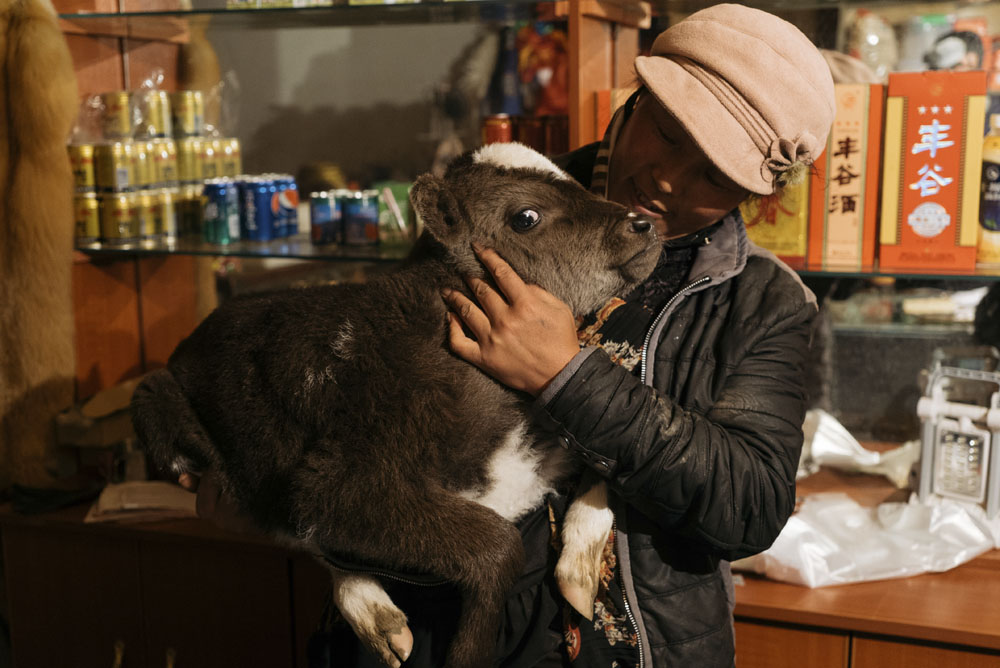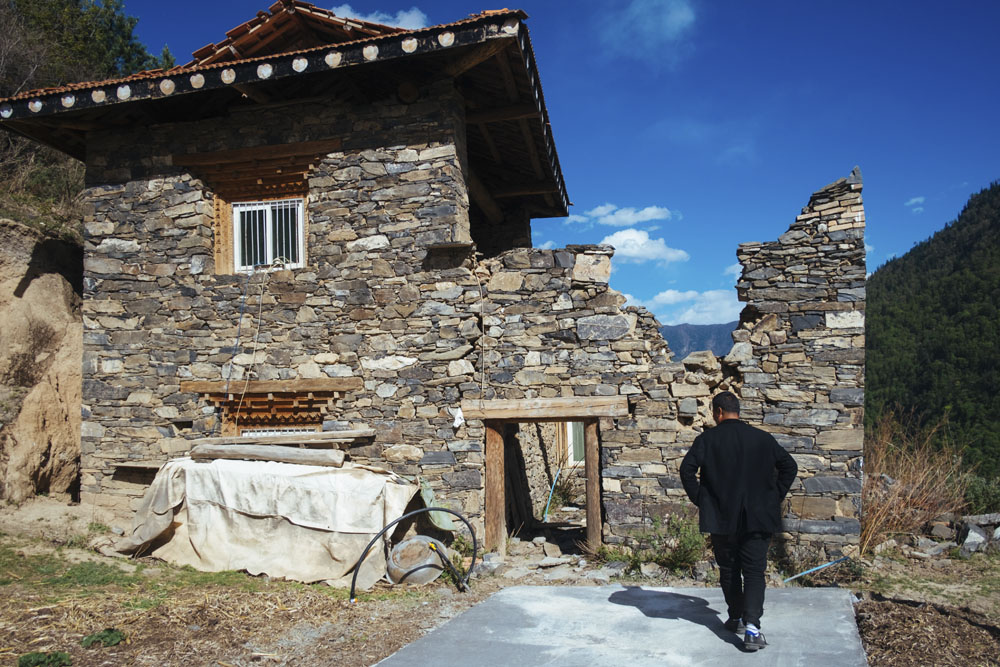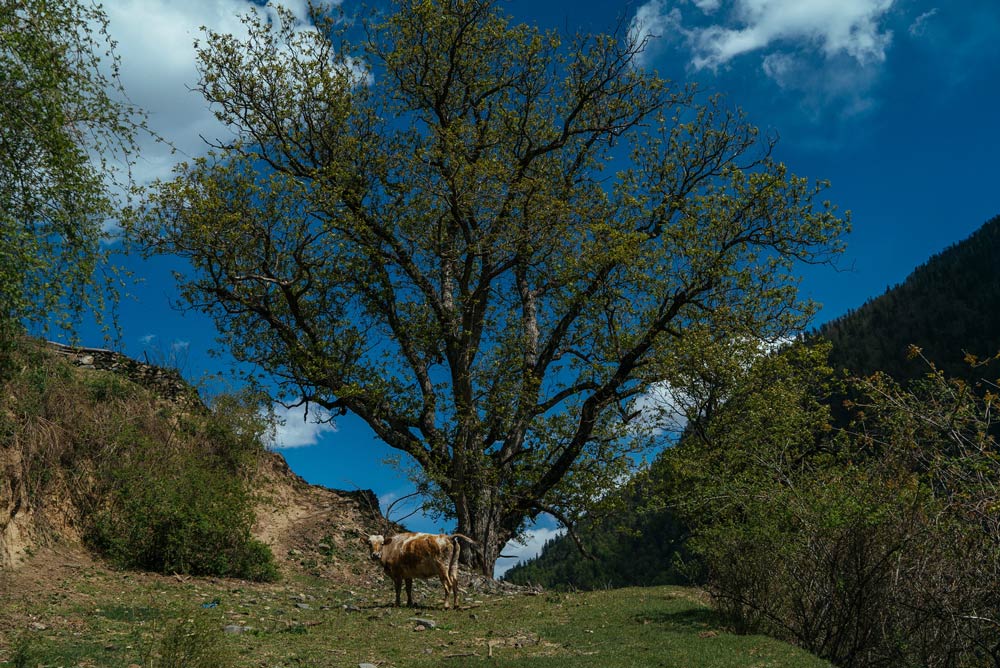 Ba'erdeng Sanlang, the head of one of the first households to move down the mountain, told me his willingness to relocate was primarily driven by the belief that it would benefit his medicinal herb business. Well-built and swarthy, Sanlang is an enthusiastic and welcoming presence, but didn't come up with the idea for a guesthouse on his own.
One day, in 2014, a group of travelers came to him looking for a place to stay the night. There to visit the lush forest, they rented out rooms in Sanlang's home, sleeping under the same blankets his family used. The next day, they recommended he open a hotel. After he finished construction on his three-story house, Sanlang set aside several rooms for tourists, a decision that has helped supplement income from his shop. During peak season, he and his family will set up several 4- to 5-square-meter yurts in the village square, also for tourists.
Jiazu is not the only village turning to tourism in the Naizigou area. Seven kilometers away, the village of Hade built a single, distinctive guesthouse, which is run by the village collective and employs several villagers. Another nearby village, Changde, plays up its history as a stop along the Long March with a number of People's Liberation Army-themed hostels.
Over the past few years, local governments around the country have increasingly come to see the tourism industry as a way to take advantage of the beauty of remote areas to drive development. But they may be overreaching. Heishui County, for example, has spent more than 30 million yuan in poverty alleviation funds on beautification projects in villages like Jiazu, Changde, and Hade. Meanwhile, relocation stipends given to villagers have only covered a small fraction of construction costs, leaving many in debt. Every villager was given several thousand yuan to put toward the move, but Sanlang estimates his house set him back over 400,000 yuan.
And while the resulting villages have their appeal, as more guesthouses open, the market risks becoming oversaturated. If it does, even the area's natural beauty might not be enough to ensure a sustainable, profitable tourism sector. As long as the local tourism industry continues to flourish, the additional income will allow villagers to repay their loans. If growth stalls, however, it could have serious implications for the local economy.
Despite the uncertainty, Luoerji assured me that support for the move had been unanimous, and that the income Jiazu villagers derive from their guesthouses far exceeds what they had been making as small-scale farmers and gatherers. "Not a single family opposed the relocation scheme when the village proposed it," he said.
Still, a few villagers I spoke with said they occasionally make trips back up the mountainside to their old homes. Some of them continue to plant crops on their old plots, not far from where the milk cows they left behind graze free, high above the valley.
Translator: Kilian O'Donnell; editors: Matthew Walsh and Kilian O'Donnell; portrait artist: Zhang Zeqin.
(Header image: Ba'erdeng Sanlang and his wife stand on a hillside near their old house in Heishui County, Sichuan province, May 11, 2017. Wu Huiyuan/Sixth Tone)