Authorities in eastern China have withdrawn charges against a couple previously accused of stealing a police dog after the case sparked backlash from netizens, state-owned China National Radio (CNR) reported Friday.
"The case was revoked because criminal responsibility should not be pursued," said the public security bureau of Jinhua, a city in Zhejiang province, according to a statement viewed by CNR.
On Oct. 8, a Jinhua resident surnamed Ying posted on social media that she and her husband had taken in a German shepherd with no identification tag that they found eating food scraps next to a trash bin in June. A few days later, police showed up at their home and accused them of stealing the animal, a trained police dog valued at 15,000 yuan ($2,200). The couple were released on 5,000 yuan bail, pending an investigation. Police announced Friday that this amount would be returned.
The couple told local media that as they left the Duohu police station, they saw the dog rifling through garbage in the same place as before.
According to Yangtse Evening News, Ying said the investigation should not prove difficult for the police, given that there is a surveillance camera pointed at the spot where the dog was eating trash. "The officers handling the case just assumed we took the dog because of its the value," said Ying, who has adopted stray animals in the past.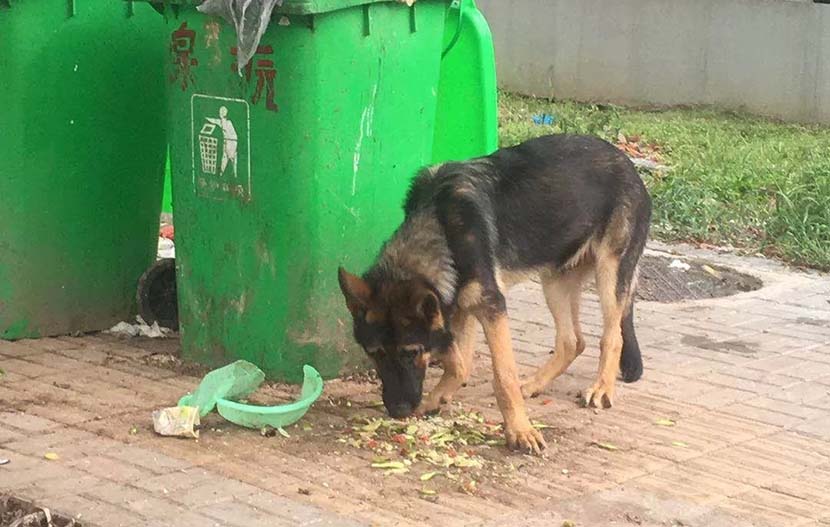 Lao San, a police dog, is seen eating food scraps near a garbage bin in Jinhua, Zhejiang province, October 2018. From @人民网 on Weibo
When police did not notify her of the results of their investigation in the months that followed, Ying posted about the case on microblogging platform Weibo, calling for media to intercede. It has since drawn wide attention online, with many netizens accusing the station of negligence in the handling of its animals.
Remarkably, this was not the first time the German shepherd — an 11-month-old pup named Lao San, or "Old Three," as in the third member of a family — was found wandering around Jinhua. In May, a father and son found the dog unleashed near their residential complex and took the animal home. Police later fined them a total of 15,000 yuan and sentenced one of the men to a year's probation.
Ying said that she used to take stray dogs to her local police station, hoping officers would help find their owners. "But they just asked me to take the dogs away, so I didn't report it this time," she told The Paper, Sixth Tone's sister publication.
Jinhua's public security bureau announced on Tuesday that because some personnel at the Duohu police station were found to have been negligent in their duties, the head of the station would be suspended and the police dog manager dismissed.
"Letting a police dog wander the streets is essentially creating a mobile 'enforcement trap' that results in unsuspecting citizens being blamed and punished," The Beijing News wrote in a commentary. "This incident should not have happened."
Correction: A previous version of this article said that police had announced they would return 5,000 yuan to the father and son involved in the May case. This is the amount Ying and her husband paid to be released on bail, and is to be returned to them.
Editor: David Paulk.
(Header image: A police officer walks his dog in Laohekou, Hubei province, March 22, 2002. VCG)