Chinese environmental officials have criticized the illegal construction of commercial facilities on protected land for threatening endangered dolphin and porpoise species in the country's eastern Jiangsu province, state broadcaster China Central Television reported Sunday.
Inspectors from the environment ministry said the Dajiang Fengyun amusement park was illegally built in the Jiangsu Zhenjiang Yangtze Dolphin Provincial Nature Reserve without an environmental evaluation, thereby disturbing the last shelter for the endangered animals. The Song dynasty-themed park, which opened in 2017, features replicas of ancient battlefields, horse-racing tracks, and herding grounds, along with a sign reading "finless porpoise protection, science popularization, and research center."
"[Hanging the sign] is a temporary act to deal with inspections," environmental inspector Zhang Jianliang told CCTV.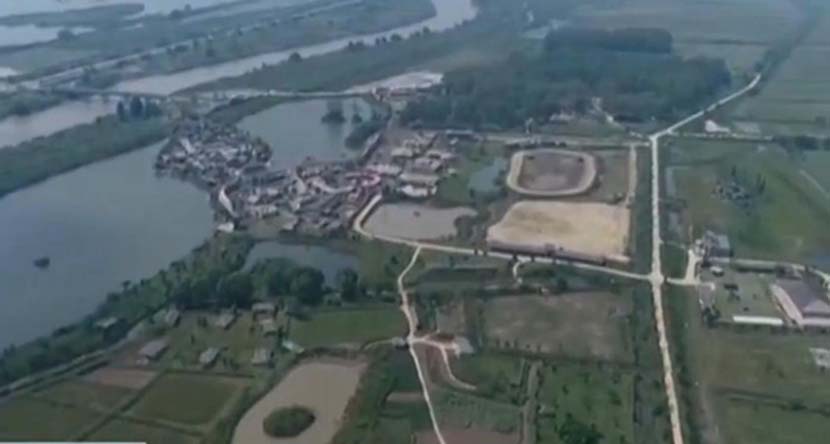 A screenshot from video footage shows the Dajiang Fengyun amusement park constructed in the Jiangsu Zhenjiang Yangtze Dolphin Provincial Nature Reserve in Zhenjiang, Jiangsu province. @央视新闻 on Weibo
The reserve was established in 2005 to protect the "functionally extinct" baiji dolphins — also known as Yangtze River dolphins — as well as the critically endangered Yangtze finless porpoises. The area is considered an ideal habitat for the dolphins and porpoises due to its good water quality, rich food sources, and relative lack of human activity, according to the local environment bureau.
Commercial exploitation of China's environmentally protected areas — such as illegal fishing — as well as land reclamation and other forms of increased human activity have rapidly contributed to the depletion of the last remaining shelter for many freshwater animals. There are just over 1,000 finless porpoises still living in the Yangtze, with their numbers having declined by nearly 14 percent annually between 2006 and 2012, according to official estimates.
Despite measures from the central government to protect the country's environment, local authorities have been lax in adhering to them. A 2016 environmental inspection found several illegal aquaculture and sand mining activities operating in Zhenjiang's protected drinking water sources. The city, according to the CCTV report, also ignored orders from the environment ministry to "reform and rectify" the issues and continued the park project. Environmental officials had revisited the site in June this year to further assess the situation.
On Monday, China's State Council released guidelines reinforcing the country's commitment to protecting endangered aquatic species in the Yangtze River, including the Yangtze finless porpoise. "[The guidelines stipulate] to continue prioritizing protection and natural restoration, improve protection and restoration measures, and comprehensively strengthen the protection of aquatic life in the Yangtze River," it said.
Editor: Bibek Bhandari.

(Header image: A Yangtze finless porpoise swims in an aquarium at the Chinese Academy of Sciences in Wuhan, Hubei province, March 28, 2013. VCG)