Since May, the Venice Biennale has been holding its 16th International Architecture Exhibition in two of the city's historic spaces: the Giardini, an expanse of local parkland, and the Arsenale, a complex of former shipyards and armories. This year, Li Xiangning, an architecture professor at Shanghai's Tongji University, is curating the Chinese pavilion, while I'm taking on the roles of his assistant and exhibition designer.
Although the Biennale has taken place since 1895, architecture has only been included since 1980. Nonetheless, it is currently the largest and most influential architecture exhibition in the world. China debuted at the exhibition in 2005 — comparatively late by other countries' standards. Consequently, unlike other countries, we don't have a permanent pavilion. Because the Giardini venue is already full to capacity, this means that we are located in a workshop next to the Italian pavilion in the Arsenale. The workshop is big enough, but since it is located in a protected building, there are constraints on what our exhibition can do.
The theme of this year's Biennale is "Freespace," and China's contribution is called "Building a Future Countryside." We are taking a sweeping look at the development trends and opportunities to be found in China's rural areas, focusing on dwellings, production, culture, tourism, society, and the future.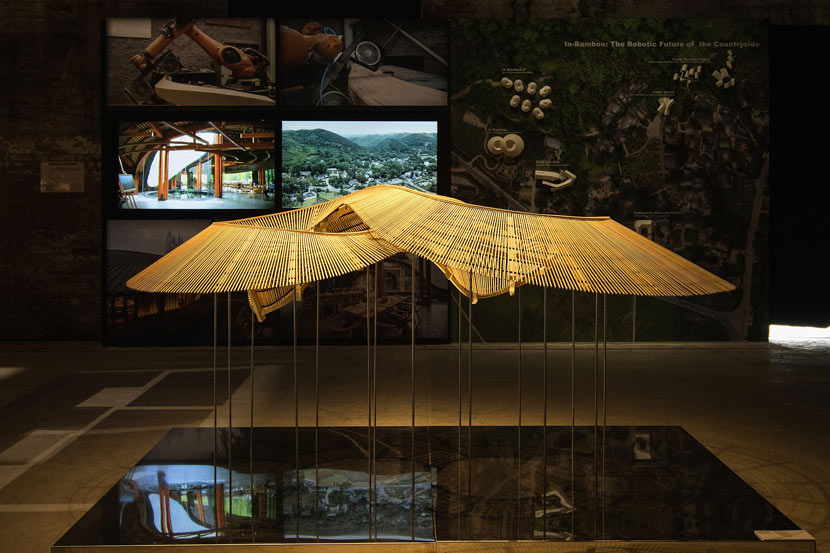 An installation of the Chinese Pavilion is seen during the press preview of the 16th International Architecture Biennale, in Venice, Italy, May 23, 2018. Padovani/Awakening/VCG
In the last 30 years, China's economic development has brought profound changes to both its cities and its countryside. However, rapid urbanization means that cities have largely outpaced development in rural areas.
Although living standards are generally lower in the countryside than in the cities, many Chinese people still hold pastoral areas in high regard. Rural landscapes, environments, and industries have long been venerated in Chinese art and literature. Every Chinese middle school student, for example, knows "Returning Home to My Gardens and Fields" — a work by the 4th- and 5th-century poet Tao Yuanming that evocatively captures the thatched cottages, plum trees, and shady willows of his countryside hometown.
In recent years, certain rural areas in China have embraced cutting-edge innovations in architecture. I believe that as China continues to modernize, urban architecture will influence development in the country's villages and towns. But this is not to say that we must ignore the unique traits of rural architecture: Indeed, traditional modes of building in the countryside can occasionally offer solutions to urbanization problems in big cities.
For Li, the objective of the Chinese pavilion is not just to focus on nostalgia for traditional, but declining, rural architectural styles, but also to articulate ways that countryside architecture can return to long-held — but often forgotten — Chinese values of living in harmony with nature and caring for the local environment. In addition, placing a strong emphasis on the future helps us avoid the pitfalls of previous Chinese exhibitions, some of which had a tendency to self-Orientalize — that is, play up the supposedly ineffable mysteriousness of ancient Chinese culture, rather than look at where the country is going.
Some of our exhibits have proven especially popular. Many visitors appreciate our representation of the Jianamani Visitor Center, which is originally a Tibetan-inspired construction in western China's Qinghai province, designed by Zhang Li. The Chinese pavilion's viewing deck is an exhibition in and of itself; titled "An Old-New House," it is designed by the Hong Kong-based organization Rural Urban Framework and uses discarded wood from an abandoned village mansion. And groups of visitors often rest under the installation "Cloud Village," designed by Philip F. Yuan of Archi-Union Architects.
As with any kind of architecture exhibition, some aspects of this Chinese effort have come under criticism. Some critics have pointed out that many of our architects are based in urban areas and perhaps struggle to fully understand the needs of Chinese villages. They say, not without reason, that ours is largely an exercise in city folks telling country folks what to build. Others question whether our exhibits accurately reflect and represent the complexities of Chinese rural life, which tends to be more diverse, pragmatic, and vernacular than life in the cities.
I can understand the appeal of such criticism. The Swiss effort, which won the Golden Lion, used a series of different-sized, furnished rooms to explore the wondrous connection between scale and the places in which we reside. And the British pavilion, which was given a special mention for its courageous interpretation of the Freespace brief, is completely empty inside, allowing visitors to interpret and appropriate the space as they wish. Both of these teams narrowed their focus with exceptionally pleasing results.
Cultural, linguistic, and logistical barriers also make it harder for our theme to resonate with audiences in Europe. The Chinese pavilion is located at the back of the Arsenale, and so a number of weary visitors simply walk right by it. It is imperative that we try to introduce China in a calm, clear way, while still offering something worth staying for. We've done our best to make this exhibition as accessible to non-Chinese speakers as possible.
Perhaps we in the Chinese pavilion bit off more than we could chew this year. Maybe future curators of the Chinese pavilion will pursue purer, more abstract, and more playful interpretations of the brief, while still telling China's stories. Nonetheless, I still believe that our architects have created a highly interesting and informative exposition that brings a little bit of rural China's earthiness into the spectacular canals, avenues, and squares of "La Serenissima."
Translator: Clemens Ruben; editors: Wu Haiyun and Matthew Walsh.

(Header image: Visitors look at the Chinese pavilion in the Arsenale during the press opening of the 16th International Architecture Biennale in Venice, Italy, May 23, 2018. Padovani/Awakening/VCG)