Tomorrow night, millions of Chinese soccer fans will stay up to watch Croatia and France thrash it out in Moscow for a chance to lift the FIFA World Cup trophy.
The final will mark the end of the month-long tournament, and with it, the soccer mania that has gripped the world. Despite China not playing at this year's event, its fans and sponsors have made their presence felt.
Back in China, the quadrennial tournament has provided plentiful material for jokes, memes, and inevitably, national stereotypes, shared on social media platforms such as WeChat and Weibo.
Even teams have added to the noise through their official pages on Weibo, taunting and congratulating each other in Chinese as the tournament progressed. The England team's account, which has 3 million fans and adds little lion face emojis to its posts, posted live match updates for each game and thanked its fans after it lost to Croatia in the early hours of Thursday morning.
Here are some of the most popular jokes and memes from China's netizens during this World Cup.
England, the Fearsome Squad of Kittens
"Three Lions" can refer to the catchy song that fuelled England fans' hopes of football "coming home," or to England's national soccer team. But in China, the term has been twisted to create a less-than-ferocious nickname befitting a team that hasn't won the World Cup in over 50 years: "The Three Meow Corps."
Numerous "Three Meow Corps" variations on the team's iconic coat of arms, including some with Hello Kitty or cute cartoon lions surrounded by love hearts, spread like wildfire among netizens as the team surpassed expectations to make it into the semi-finals. As they progressed, many joked that the English kittens finally seemed to have found their inner lions.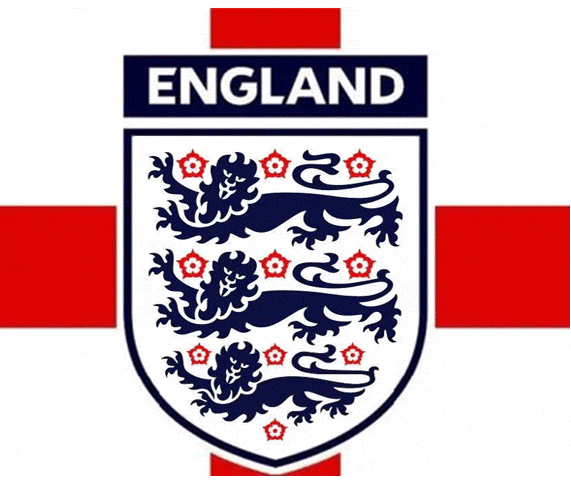 A gif shows Chinese spoofs of the English team's logo. From Weibo
South Korea and their Picture-Perfect Goalkeeper
After South Korea's opening game against Sweden, Chinese netizens zoned in on the team's goalkeeper, Cho Hyun-woo. Not only did he play fabulously, he also looked like a pop idol with his immaculate hair and evidently made-up skin. "What foundation could he possibly be using?" wondered netizens. To this day, there are BB creams on e-commerce website Taobao that advertise using his image.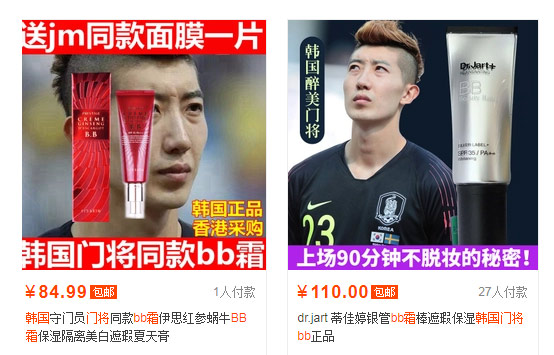 A screenshot of Taobao listings that use photos of South Korea's goalkeeper to promote their BB creams. From Weibo
Germany, the Favorites Doomed to Fail
China's manifold stereotypes of Germany include "meticulousness," reliable cars, and footballing success. But soon after the cup began, local fans of the team were surprised to find that the former champions had lost a lot of their lustre.
Netizens in China and abroad drew parallels between the team's poor performance in Russia and the nation's catastrophic campaign to invade Russia during World War II. The Chinese caption on a widely shared screenshot of Hitler from the movie "Downfall" reads, "70 years! How are we still dying in Moscow?"
The team's manager, Joachim Löw, or simply lefu in Chinese, is popular in China for his good looks and talent. But the moment the team played, unflattering images of him picking his nose and with his hand down his trousers were widely shared. After the team's shock defeat to South Korea sent them spiralling out of the World Cup, netizens produced photoshopped images of the now-surely-jobless manager selling potatoes by the roadside, and starring in a TV commercial for a job-seeking site with the caption, "Find work!"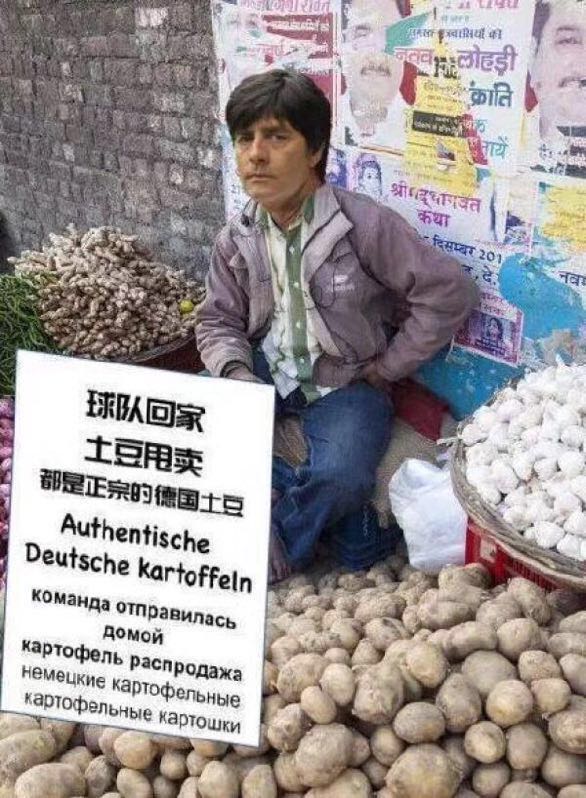 A meme showing Joachim Löw selling potatoes. From Weibo
Russia, Terrorized Under Mighty Putin
Vladamir Putin, leader of tournament host nation Russia, is popular among Chinese for his strong leadership, national pride, and tough man image fitting for the head of what netizens jokingly call zhandouminzu, "The Fighting People." Popular images of the leader include him fishing topless or photoshopped to look like he's riding a bear. So each time Russia's team won, viral pictures inevitably included the meme-friendly head of state, such as images showing Putin ordering the release of Russian player's families from hostage or controlling the referee behind the scenes.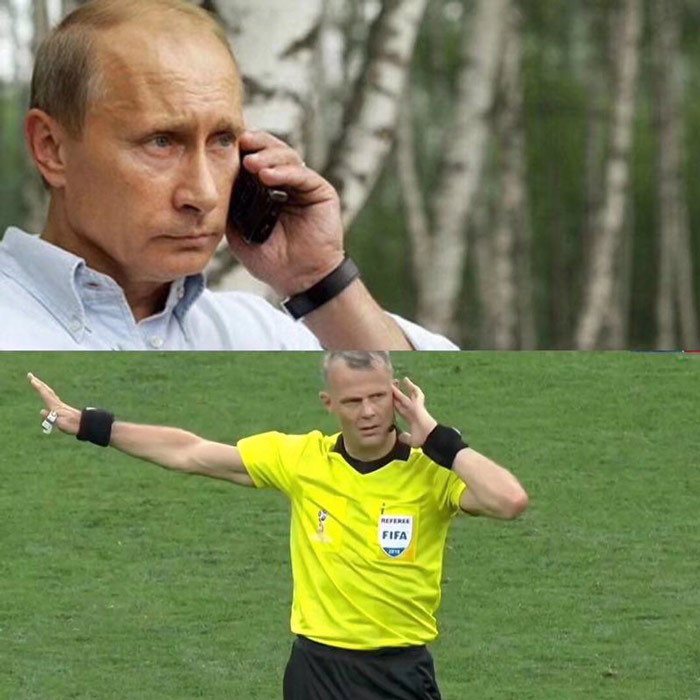 A meme implying that Putin is pulling the strings on the field. From Weibo
Iceland, the Mighty Amateurs
After tournament minnows Iceland equalized with Argentina, China's web was awash with jokes about how the island nation could have selected its team from its tiny population, and whether it was made up of amateurs that play semi-professionally. Feeling a need to set the record straight, Iceland's China ambassador even told media that the team is not made up of amateurs, and that the nation in fact had a pool of 100 professional players to choose from when picking its World Cup squad.
Croatia, the Team with the Gangster Pig
Sunday's final will pit France against Croatia, a team and country for which most Chinese people have few stereotypes. However, amused by the amount of times the Chinese character qi appears in transliterations of Croatian players' names, netizens photoshopped an image adding China's favourite viral gangster icon Peppa Pig — peiqi in Chinese — to the squad's ranks.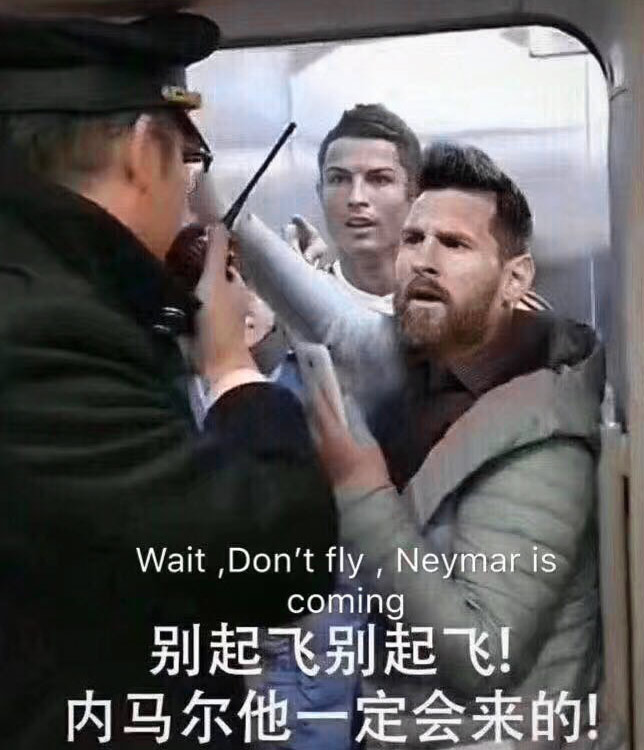 A meme shows Messi and Cristiano Ronaldo waiting for Neymar at the cabin door. From Weibo
Portugal, Argentina, and Brazil: The Superstar Bromance
In idol-obsessed China, it's not uncommon for soccer fans to support a sports team based on a single star player, even switching allegiance when the player transfers to another team. So World Cup games featuring Argentina, Brazil, and Portugal — which include superstar players Lionel Messi, Neymar Jr. and Cristiano Ronaldo, respectively — were highly anticipated. Even for those who don't watch football, Messi's milk adverts and Neymar's smartphone commercials have been hard to miss.
But as the teams and their stars started to get "sent home" from the tournament, netizens shared various pictures imagining conversations between the "bromance trio." "Don't start the plane! Neymar is definitely coming," says Messi in a photoshopped picture of him with Ronaldo at the entrance of an aircraft. "Let go of me! I won't go!" responds a wailing Neymar in another image.
Editor: Qian Jinghua.
(Header image: A man with decorations related to the World Cup in Guangzhou, Guangdong province, July 13, 2018. VCG)