While her peers donned suits and started their careers in office buildings or flew abroad to further their studies, 22-year-old French major Zhang Zixuan disappeared to a training ground in northwestern China's Xinjiang Uyghur Autonomous Region upon graduation from university last June. When she resurfaced earlier this month, it was at a ceremony inducting her into China's new permanent UN peacekeeping unit.
Zhang is among a pioneering group of university grads recruited for the unit — the first of its kind in the world. Over 90,000 uniformed personnel from 123 countries are currently serving in global UN peacekeeping operations, but most are ad hoc forces summoned for specific missions. In 2015, China pledged to contribute 8,000 troops to a new 40,000-strong UN peacekeeping standby force. The troops from 50 nations will be part of a rapid-deployment system, ready in as little as 30 days for missions around the world: stopping armed conflict, aiding in crowd control, and supporting local police in conflict-torn countries.
When China's standby unit was founded in December 2016, the initial 300 members were selected from the nation's armed police forces; 56 of them had participated in peacekeeping missions in Haiti, South Sudan, and Liberia. Past peacekeeping troops, too, were drawn from existing military and police units, whose officers typically don't have much higher education.
But as a trilingual graduate fresh from four years at Shanghai International Studies University, Zhang belongs to a new generation of Chinese peacekeepers. In Zhang's case, her language abilities are key — the native of Taiyuan, capital of northern China's Shanxi province, is fluent in French and English. This year, the standby peacekeeping force is recruiting a handful of graduates from top universities majoring in Arabic, electronic information engineering, clinical medicine, and accounting.
As the nation's young people grow ever more internationally minded, Beijing has moved to expand its global leadership, from trade to climate change. Though long a proponent of non-intervention, China has become the second-largest financial supporter of UN peacekeeping operations and the 12th-largest contributor of peacekeepers since it began participating in missions in 1990.
China now has some 2,500 peacekeepers deployed across the globe. The increased involvement has its benefits for Beijing, with some experts noting that it gives Chinese armed forces greater training opportunities and can be used to protect national interests in certain parts of the world.
Now based in the coastal city of Dongying, in eastern China's Shandong province, Zhang doesn't know where she'll be sent in the future — but it will likely be to a French-speaking region. Every morning, she and her teammates rise at 5 o'clock for training, which includes physical strength and endurance exercises like long-distance running and the military-style "leopard crawl."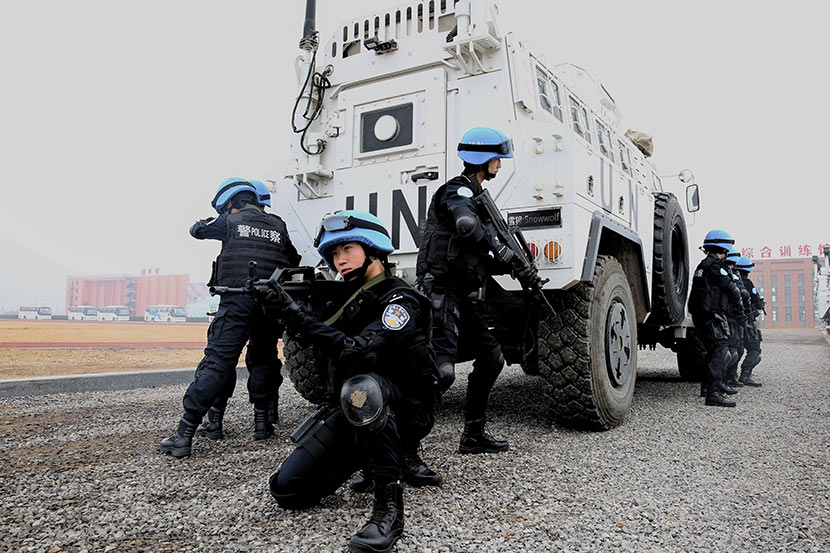 A photo provided by China's UN peacekeeping standby force shows members training in Dongying, Shandong province, Feb. 28, 2018.
Trainees practice carrying field gear — including bulletproof helmets and vests and automatic rifles — that weighs around 20 kilograms in total. The equipment can increase to 45 kilograms when you add emergency supplies like a baton gun, anti-riot ammunition, gas mask, first-aid kit, and water for long stretches in the field.
"Although mentally, I was prepared to work much harder to catch up to the others in the force," Zhang tells Sixth Tone, "the daily field and military skills training have made me realize that the challenge might be greater than I imagined."
Though many peacekeeping troops do not engage in combat, it can be a dangerous job regardless. A total of 13 Chinese soldiers and four police officers have died in UN peacekeeping missions, according to the foreign ministry. Among them was He Zhihong, a female peacekeeper who was killed in a building collapse during the 2010 earthquake in Haiti and who continues to be lauded as a hero. Only around 3 percent of the peacekeepers China has deployed in the past have been women.
Sixth Tone contacted Zhang through her alma mater and asked about her decision to join China's UN peacekeeping force, as well as her experience so far. The interview has been edited for brevity and clarity.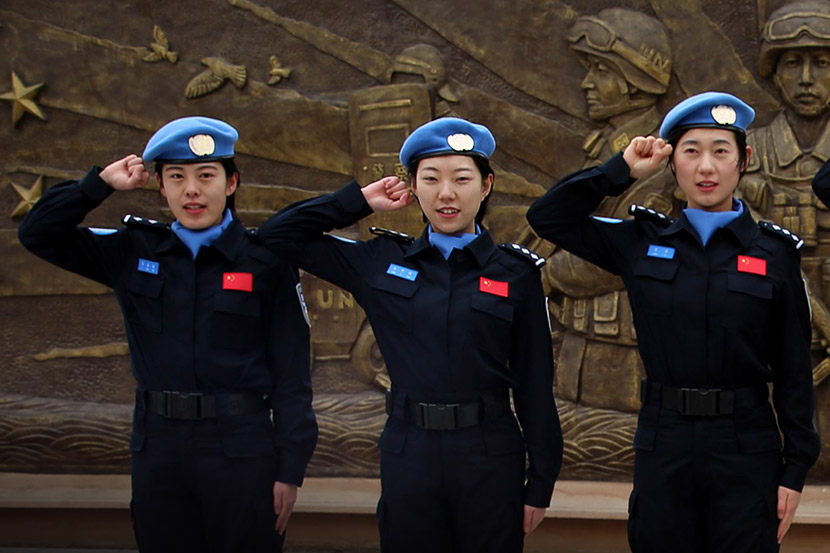 A photo provided by China's UN peacekeeping standby force shows Zhang Zixuan (center) taking an oath with her teammates in Dongying, Shandong province, Feb. 27, 2018.
Sixth Tone: With degrees from one of the top language universities in China, most of your classmates took office jobs or went on to graduate school. What inspired you to make such a different choice?
Zhang Zixuan: I literally grew up in a police station. My mother is a police officer specializing in criminal cases. She often left me with a colleague of hers at the station to chase down suspects at a moment's notice. I didn't understand why the job mattered so much to her, so I dreamed of becoming a member of the police force to understand what my mother felt. I got an offer to join a state-level enterprise, but when I learned I had been recruited by the standby force, I immediately decided to give up that offer.
Sixth Tone: Before you joined the force, did you have any sense of what peacekeeping meant?
Zhang Zixuan: I did have one experience that put me very close to terrorism. As an exchange student at Lumière University Lyon 2, I was there for a 10-month program when the serial terrorist attacks happened in Paris in November 2015, claiming the lives of at least 130 people and wounding hundreds of others. The entire country was shadowed by fear and sorrow. I saw how the city was heavily guarded — officers patrolling the streets appeared extremely cautious and nervous. I realized then how important maintaining world peace is to every citizen of the world.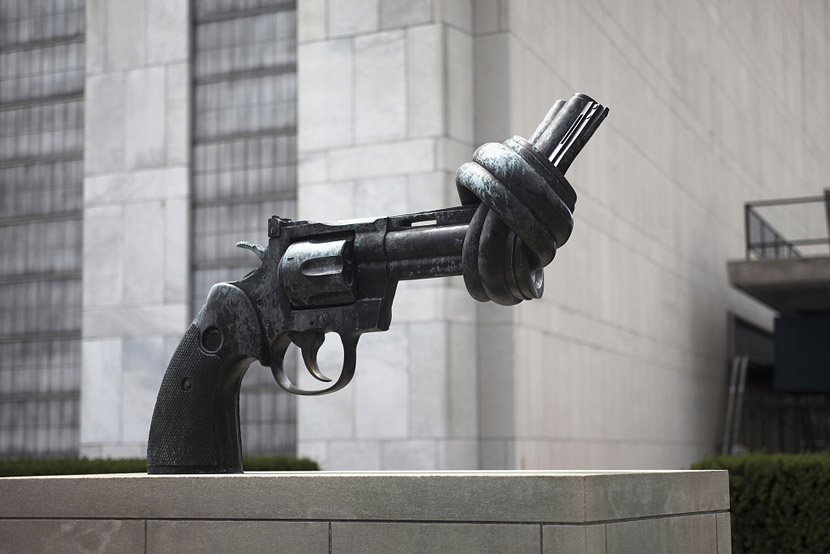 A sculpture of a knotted Colt Python revolver stands at the UN headquarters in New York City. Topic Images/VCG
Sixth Tone: How did your family react to your decision?
Zhang Zixuan: My mother was overjoyed. She always hoped I would become a soldier, but she thought I was too weak — not just physically, but also mentally. I didn't have much self-discipline and didn't set deadlines or targets for my work. Now, she's really happy. But my father and other family members expressed concerns: They are worried about whether I'll be able to physically cope with the work, and they're concerned about potential safety risks.
Sixth Tone: What role will you play in future UN peacekeeping missions?
Zhang Zixuan: We'll be deployed in small units — each comprising a driver, a medical staff member, a communications officer, combat members, and a translator — in the future. At the moment, we're rotating through each role to get a better understanding of the different responsibilities. We can't predict when we'll be sent on a mission, but we're training every day to be ready at any time.
Editor: Jessica Levine.
(Header image: A photo provided by China's UN peacekeeping standby force shows Zhang Zixuan (second from right) posing with her teammates in Dongying, Shandong province, Feb. 28, 2018.)