Evening was drawing in as we arrived in Pannei, a minuscule village near the famous Longsheng Rice Terrace in southern China's Guangxi Zhuang Autonomous Region. Warm sunlight caressed the steep terraced fields around us as we made our way to Zhou Zhaosong's home.
Zhou has been a doctor of Yao medicine for three decades. Although similar in essence to traditional Chinese medicine, Yao medicine — which takes its name from the predominant ethnic group around Pannei — uses herbs that are native only to Guangxi and neighboring provinces. In Pannei, no house is complete without a wooden bathtub, into which all kinds of herbal remedies are poured when local residents feel unwell.
On a hill overlooking the rest of the village stood a handsome property consisting of two houses — an old wooden dwelling and a new one built from bricks— connected by a terrace. We were greeted by Zhou's wife, Yuan Dabei, a shy woman who wore her hair pinned up in the traditional style and which, she told us through an interpreter, had not been cut since she was 18 years old. It is one of the many traditions practiced by members of the Yao ethnic group.
With a population of 2.6 million, the Yao are one of the 55 recognized ethnic minority groups in China. Scattered across the mountainous regions of the country, 70 percent of them live in Guangxi while the rest residing in nearby Hunan, Guangdong, Guizhou, Jiangxi, and Yunnan provinces. They can also be found in northern Laos and Vietnam, as well as northern Thailand.
When the 61-year-old Zhou finally returned from collecting herbs in the mountains, he was somewhat furtive, throwing us an occasional glance. Later, one of Zhou's students, Pan Rongfu, appeared; practically all knowledge of Yao medicine is passed orally from teacher to apprentice, meaning that Pan spends his days shadowing Zhou on his errands.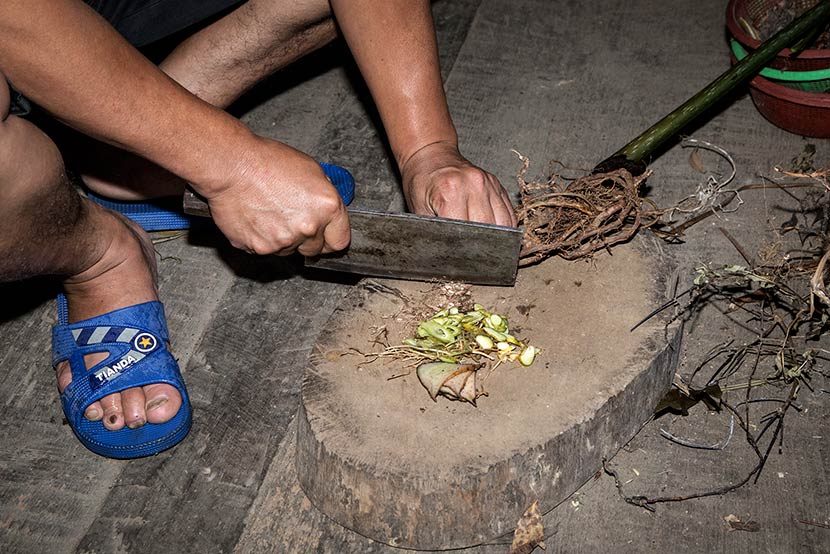 Pan Rongfu, an apprentice of Doctor Zhou, chops herbs in the attic of Zhou's wooden house in Longsheng County, Guangxi Zhuang Autonomous Region, July 27, 2017. Stefanie Schweiger for Sixth Tone
Later that evening, we all ate together. In a room above the family pigsty, smoke filled the air as Yuan whipped up pork, bamboo, and locally grown rice washed down with liberal amounts of strong rice wine. Most of Pannei's residents mix subsistence agriculture with odd jobs; many able-bodied young people leave for several months at a time to work as construction workers in China's largest cities. Average incomes in Pannei hover between 2,000 and 3,000 yuan ($316 and $475) a month.
After a virtually sleepless night, we were up at the crack of dawn to follow Zhou on his errands. He had a packed schedule, with herbs to collect and patients to visit. Off he went, a knife strapped to his back, scrambling up and down the slopes as his basket gradually filled up with greenery. Though I asked him several times to explain the properties of the local plants, Zhou always politely refused to reveal his secrets.
Back at home, the ever-smiling Pan helped his teacher to chop up herbs and divide them into smaller portions for individual patients, as Zhou looked on appreciatively. "The decisive factor in my choice of student is a good heart," the older man said. "It just had to be Pan Rongfu."
Like Chinese medicine, comparatively few of the techniques of Yao medicine are supported by tangible scientific evidence. However, this doesn't prevent Zhou and Pan from assiduously devoting themselves to the study of Yao medicine. Nor does it seem to faze Zhou's patients, who calmly allow the doctor to examine their tongues, pulse rates, and complexion. "I can often see what ails the body just by looking," Zhou claims. "It's a question of experience. I learned it all from my own master."
Zhou takes good care of his patients and often treats them for free, especially if they are poor. He receives red envelopes stuffed with money, each patient deciding how much to give on a case by case basis.
Later in the day, a woman showed up in Pannei complaining of chronic abdominal pains. Over a fire, Zhou tossed stones onto the floor, over and over, murmuring softly and offering shot glasses of tea and alcohol to honor his deceased teachers, asking them for guidance. At the end of the procedure, he prescribed the woman a selection of chopped herbs, promising to visit her in a week.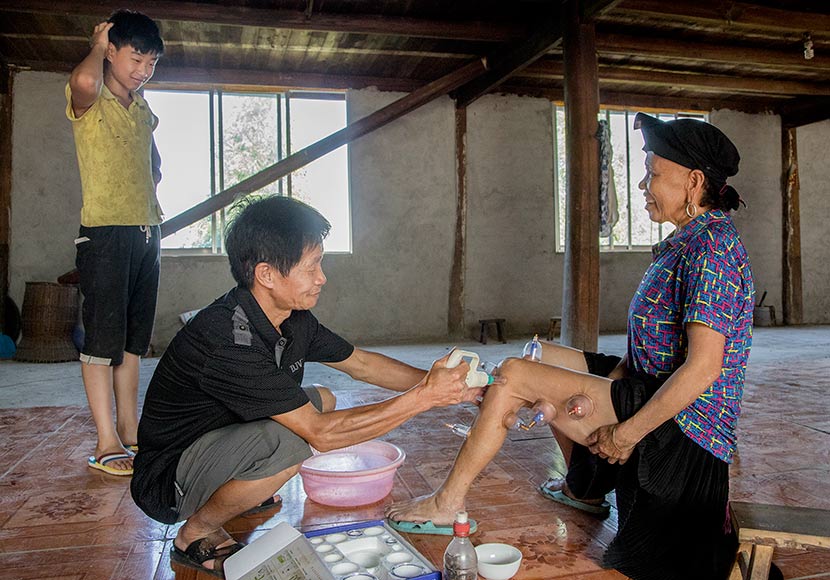 Doctor Zhou Zhaosong treats a patient who lives near Pannei Village, Longsheng County, Guangxi Zhuang Autonomous Region. July 27, 2017. Stefanie Schweiger for Sixth Tone
Afterwards, we followed Zhou's makeshift golf buggy to a nearby village to check on a 60-something woman whose left leg had been numb for days. One of 20 patients in Zhou's care, she had recently visited a hospital a half-hour drive away in Longsheng County but was sent home after a few days when doctors said they were unable to improve her condition. At Zhou's instruction, she had prepared a paste from the herbs the doctor had prescribed and spread it on the affected limb, saying that some feeling had returned.
Zhou's work echoes that of China's barefoot doctors. Although the traveling rural doctors were first raised as a solution to the country's lack of rural health services as early as the 1920s, numbers of barefoot doctors peaked sometime during the Cultural Revolution of 1966 and 1976, when large numbers of urban health workers were deployed to rural areas. Often, barefoot doctors had little training and limited access to medicines.
Although officials take a dim view of the largely unregulated practices of doctors like Zhou, to the residents of Pannei, he is a pillar of the local community. Due to their historical isolation, Guangxi's villages are tight-knit groups; even those who migrate to the cities for work rarely stay away from home for too long. But those who do leave might drop in to see Zhou before they go, knowing that on their way out, the doctor will press a sachet of herbs into their palms to stave off illness while they are away.
Editors: Yang Xiaozhou and Matthew Walsh.

(Header image: Doctor Zhou Zhaosong looks for ingredients for an herbal mixture in the woods near Pannei Village, Longsheng County, Guangxi Zhuang Autonomous Region. July 27, 2017. Stefanie Schweiger for Sixth Tone)