Type in your birthday, find a student in an impoverished province who was born on the same day, and you can donate 1 yuan ($0.15) or more to your birthday twin.
The online fundraising campaign went viral on Chinese social media on Saturday — before drawing accusations of fraud.
A user on microblog platform Weibo pointed out that search results for two different birthdays show a photo of the same girl, who purportedly hails from southwestern China's Yunnan province. In one result, she is described as "A Bi," born on Jan. 3, 2009, while another says her name is "Gui Bi," with a birthday of Nov. 24, 2009, according to screenshots published in Modern Express, a Nanjing-based newspaper. Another screenshot shows that "Xiao Dan," another girl from Yunnan, was born on Feb. 29, 2009 — a date that doesn't exist.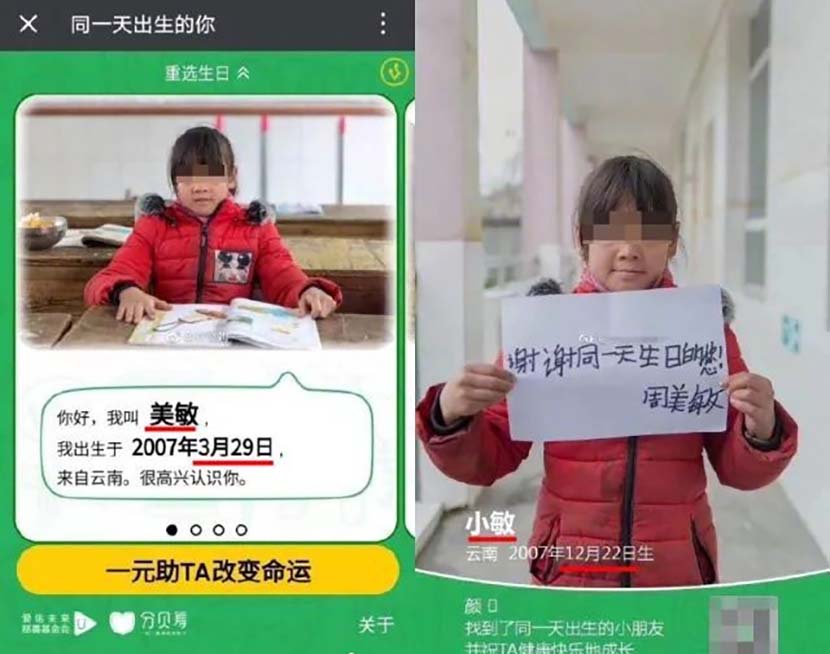 Screenshots from the fundraising platform show two photos of the same girl with different names and birth dates. From Weibo
As users found more suspicious examples, one of the organizers of the fundraising campaign, 0fenbei, issued a statement later the same day.
Wang Li, 0fenbei's founder, apologized for inadequate scrutiny of students' information. "There are six kids whose information is wrong," he admitted, explaining that the publishing process was rushed, and that the organization is now checking everything more thoroughly. All donations went to Ai You Future Foundation, a Shenzhen-based charity that collaborates with 0fenbei, the statement said.
"We never imagined such tremendous support. We won't let you down," Wang wrote, addressing the many donors.
The fundraising campaign is now closed for donations, and a statement on the page inidacates that more than 2.5 million yuan was raised for 2,130 students in Zhenxiong County, Yunnan province.
The Ai You Future Foundation is registered under Shenzhen's civil affairs bureau, which announced on Sunday that it was also investigating the claims of suspicious identities. When Sixth Tone called on Monday, the Ai You Future Foundation confirmed that it was investigating but declined an interview request.
The board members of Ai You Future Foundation include Ma Huateng, co-founder of tech giant Tencent. In August, the foundation was involved in another charity campaign that also drew criticism. The initiative sold paintings by people with autism and intellectual disabilities, but professionals questioned whether the artwork had actually been produced by such people as claimed.
Editor: Qian Jinghua.
(Header image: A girl holds a 10-yuan note donated by a charity at her school, located in a large cave near a remote Miao village in Ziyun County, Guizhou province, March 16, 2007. Chu Cancan/Getty Images/VCG)