A former state-contracted worker has been detained in eastern China for allegedly scamming his victims out of money and lavish meals by assuming the identities of senior government officials, local paper Qianjiang Evening News reported Tuesday.
When Linhai County police arrived in Hangzhou, the capital of Zhejiang province, to apprehend 41-year-old Zhan Chenghua, they were nearly hoodwinked themselves: Zhan reportedly pounded his fist against the table in his luxury hotel room and shouted insults at the officers for harassing a man of his position, causing them to question whether they had indeed got the right man.
Well-groomed, sharply dressed, and confident, Zhan looks every bit the picture of the parts he plays — which police quickly learned were myriad. When the officers frisked Zhan, they found business cards supposedly from a variety of public offices, including the courts, the public prosecutor's office, the sanitation bureau, the environmental protection bureau, the national security bureau, and even state media.
Zhan is accused of defrauding the director of a fabric-dyeing factory in Linhai of 400,000 yuan ($60,000). The factory had been shut down by the local government for environmental violations. The director, surnamed Wang, had been hoping to find a friend in a high place to smooth things over with the authorities and reopen his business. When an accomplice planted the idea of meeting with a "Secretary-General Zhan," Wang requested Zhan's contact details and invited him to dinner.
A retinue of "senior officials" accompanied Zhan to the meeting, one of whom intimated to Wang that Zhan only drank Moutai, a high-end brand of baijiu, or Chinese sorghum liquor. Wang obliged and ordered a bottle — in fact, that Zhan had such refined tastes only made him trust the impostor more, according to Qianjiang's report.
Zhan admitted that he could help the factory director, though it would be costly, since several departments were already involved. Wang took the hint and transferred 300,000 yuan directly to Zhan.
After a few days, Zhan contacted Wang and lamented that the matter had been transferred to other departments, putting it potentially beyond his control. But Wang sent the con artist another 100,000 yuan anyway to help further grease the wheels. That money reportedly padded the pockets of the co-conspirators who dined with Zhan and Wang, masquerading as high officials themselves.
Despite Zhan's assurances of an imminent solution, a month passed with no government inspection teams dropping by to give Wang's factory the green light. Finally suspecting that he had been duped, Wang contacted the Linhai police.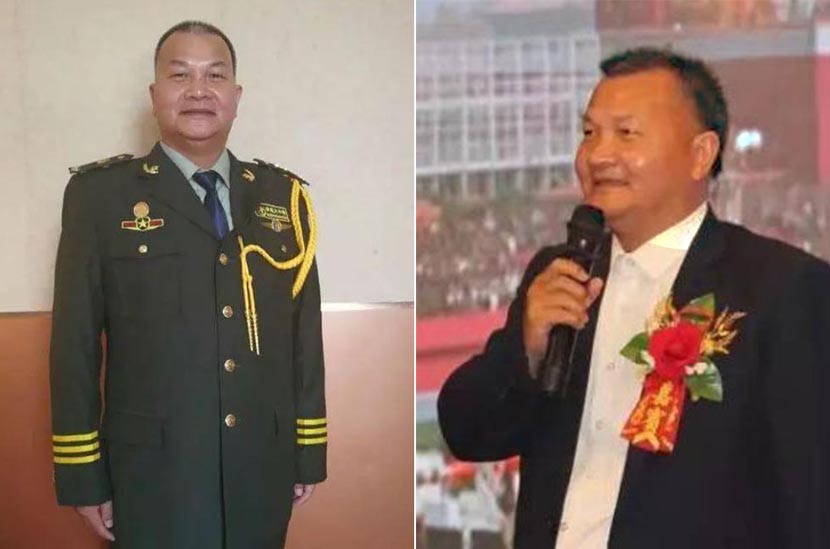 Left: Shangguan Fengli poses in a military uniform; right: Shangguan Fengli gives a speech during a corporate event. From Weibo
In his younger days, Zhan the con man had wanted to be Zhan the civil servant — but he failed the exams time and again. Eventually, he found a job as a state-contracted worker, but, finding little opportunity for advancement, he resigned after three years. But those three years proved critical: He learned by observation how to hobnob with bigwigs and broker deals. He even learned to imitate the mannerisms and postures of those whose positions he coveted.
According to the report, Zhan joined a criminal organization of fraudsters who specialized in impersonating officials and other important figures. They shared their best tips and tricks with each other, and Zhan soon became nearly indistinguishable from those he imitated.
But when police could find no official matching Zhan's name and professed title, his facade began to crack, and he admitted that he had been impersonating senior officials for many years — in fact, Zhan said, he spent so much time in his fantasy world that he often forgot he was merely an actor.
Police verified that the name Zhan had given them was correct, though his dozens of titles were all fraudulent. The case is now pending further investigation.
Despite his prowess, Zhan is not China's most infamous identity fraudster. In June, the Counsellor's Office of the State Council, China's cabinet, declared that a man named Shangguang Fengli was in no way affiliated with the council, and that his crimes of impersonating an advisory officer and a military general with an eye to profit had resulted in a "serious social impact." Since that case, Shangguang's legend and notoriety have only grown in online circles.
Zhang Xibing, a 45-year-old former coal businessman in the northwestern province of Shaanxi, recounted his experience of being scammed under similar circumstances in 2009. "One man posed as a top leader from [Party newspaper] People's Daily, and the other pretended to be from the Central Security Bureau," Zhang told Sixth Tone. "I trusted my friend [who vouched for them], but he hadn't properly vetted their identities." Later realizing he'd been had, Zhang reported the men to Beijing police in April 2010, but not before they had swindled him out of 5 million yuan.
In November of this year, a China Youth Daily commentary suggested that the fact that such cases are not uncommon in China is not a reflection of an ingenuous public, but rather an indictment of official corruption: If there were no sizable profits to be made on the side, after all, there would be considerably fewer copycats.
The piece also pointed to a social and socio-economic gap between officials and laymen. To reduce or eliminate fraud cases, the author argued, the country needs more government transparency, a less insular political environment, and more clarity with regard to what constitutes public rights and official powers.
Editor: David Paulk.
(Header image: Cultura/VCG)