China has seen unmanned supermarkets, gas stations, and even a short-lived noodle shop — and now the country is set to get its first police station without flesh-and-blood officers.
On Tuesday, the Wuhan Traffic Management Bureau in central Hubei province announced that it had partnered with Chinese tech giant Tencent to open the country's first unmanned traffic police station. In separate press releases, both Tencent and the bureau heralded the station as the first of its kind in China, with Wuhan police claiming it would simplify administrative processes and cut labor costs. The station will help people register for drivers' licenses, renew their current licenses, and apply for vehicle license plates — all without the need for any human contact.
The station is due to open by the end of the year, and is currently the only unmanned police station planned for the city, a person familiar with the matter told Sixth Tone.
Tencent is still negotiating with police stations around the country about the possibility of rolling the idea out in other regions, according to the source, who was not authorized to speak on behalf of her organization.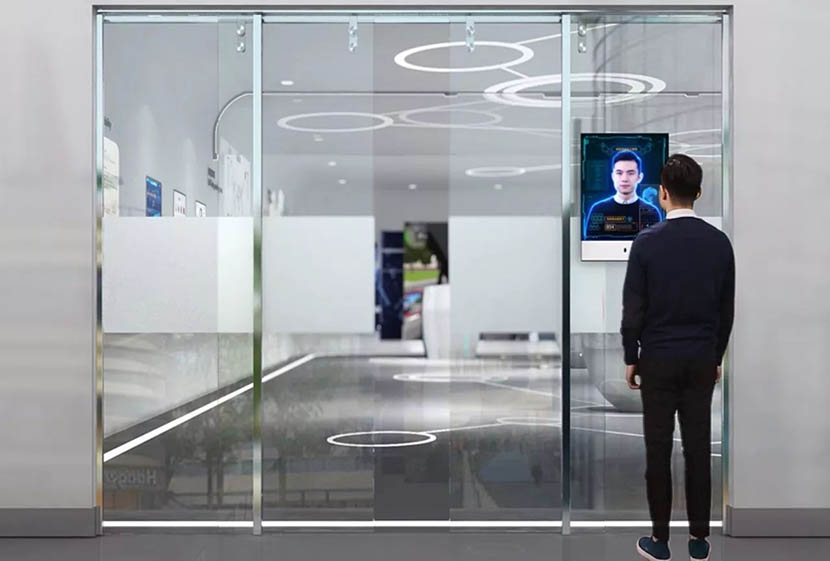 In a digital simulation, a man has his face scanned to enter a police station. From Tencent's Weibo account
Wuhan is among hundreds of cities in China with a "smart city" plan to introduce more high-tech innovation, and in September of this year, the city partnered with several government-backed enterprises to launch an online platform that tracks household gas usage.
Tencent announced that it is also working with the bureau on a mini app within WeChat, the company's wildly popular messaging app, as a tie-in to the unmanned traffic police station plan. The app, called "Wuhan Traffic Police Intelligence," was launched Tuesday.
After registering with their phone numbers, identity cards, and video footage of their faces, users of the app can access over 130 services, including registering for new vehicles and vehicle plates, checking the progress of accident reports, and completing online tests for driver's licenses. Around 70 percent of those services can be done without the user physically going into the station, according to the bureau's press release.
In addition, users can request alerts before their licenses expire, renew them over the app, and get deliverymen to pick up documents and drop their new licenses off, all within 24 hours, and all without needing to go into the station.
But despite the bureau's claims about their station being futuristic, the public seemed largely indifferent.
"The thinking is good, but it might have little effect," Liu Bei, a teacher in Wuhan, told Sixth Tone. "Although it may provide convenience to some extent, the target user base for a traffic police station is limited to car owners," she said, explaining why she thought the project could be a waste of money.
China's netizens, meanwhile, seem similarly underwhelmed. "Another batch of people are set to retire," wrote one user on microblog platform Weibo. "[I] don't really understand advocating for second children if they won't be able to get a job in the future!"
Editor: Julia Hollingsworth.
(Header image: A woman scans her face to enter a subway station in Wuhan, Hubei province, Aug. 28, 2017. Zhong Yubin/IC)