China's red-hot real estate industry has become a new battleground for e-commerce giants, with JD.com now splashing into the market.
The Nasdaq-listed company — and China's second-largest online bazaar after Alibaba — unveiled a new service for homebuyers and renters on its app Tuesday. JD.com will neither build nor sell properties; instead, its new service will connect the company's quarter-billion users with real estate developers and agents.
Xin Lijun, the president of JD.com's apparel and home furnishings business unit, said in a press release sent to Sixth Tone that China's real estate industry is "at an inflection point," beyond which property developers in the future will have to provide better services in order to compete.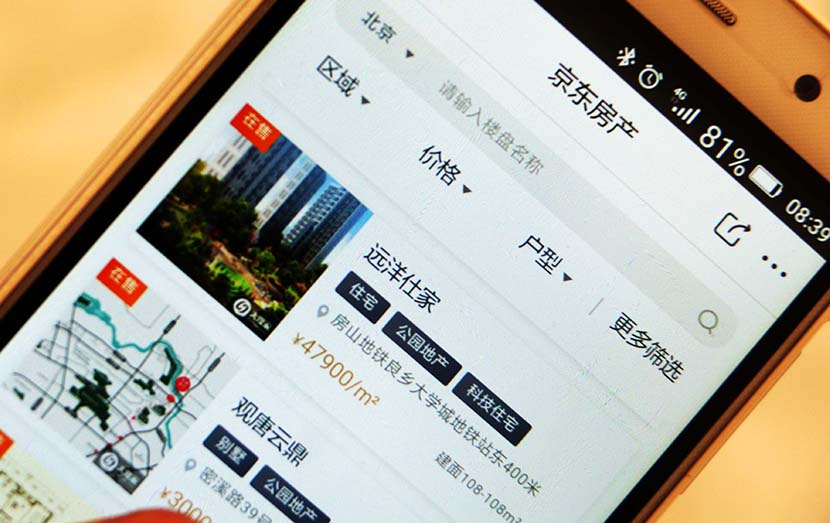 A cellphone displays the real estate section of JD.com's mobile app, Oct. 25, 2017. Jin Wen/IC
Companies opting to use the new service, dubbed "Jingdong Property," will receive access to JD.com's user data and benefit from its traffic, Zeng Fuhu, the general manager of JD.com's property department, said during a news conference in Beijing on Tuesday. In return, JD.com will charge advertising and commission fees, as well as claim a share of operational income from developers and agents, Zeng added.
Around 80 property developers and more than 30 agents have already posted housing information on the platform, according to the press release.
China's internet giants have been testing the waters of China's real estate market after home prices in major cities skyrocketed last year — although local markets have cooled down in the wake of a slew of measures imposed by city governments.
"It doesn't seem new for e-commerce companies to get involved in the property sector," Yan Yuejin, the director of Shanghai-based real estate think tank E-House China R&D Institute, told Sixth Tone. "But companies like JD.com are acting so quick that they have brought new challenges to existing players in the industry, and indicated the emergence of a new business model."
Last week, the Beijing municipal government selected a subsidiary of JD.com to operate the city's home rental platform. And in August, Hangzhou, capital of eastern China's Zhejiang province, signed a deal with Alibaba and its affiliate, Ant Financial, to develop a similar website.
Editor: Kevin Schoenmakers.
(Header image: Two men install model buildings in preparation for a real estate exhibition in Shanghai, March 14, 2013. Aly Song/Reuters)