When the leader of a team of trekkers making their way down from Mabeigang Mountain in central China's Hubei province stopped to rest against a tree, it suddenly snapped in two. The man fell dozens of meters, vomited blood, and lost consciousness. He was carried to an ambulance, but later died at the hospital.
Two others in the group who fell along with the leader suffered broken bones. After the accident, which happened Sunday at 6 p.m., another five got lost in the dark and had to get rescued by police and firefighters, reported local newspaper Chutian Metropolis Daily.
With the rise of hiking's popularity in China, such accidents are on the rise. According to the Chinese Mountaineering Association, the total number of deceased and missing hikers increased from 4 in 2001 to 67 in 2016.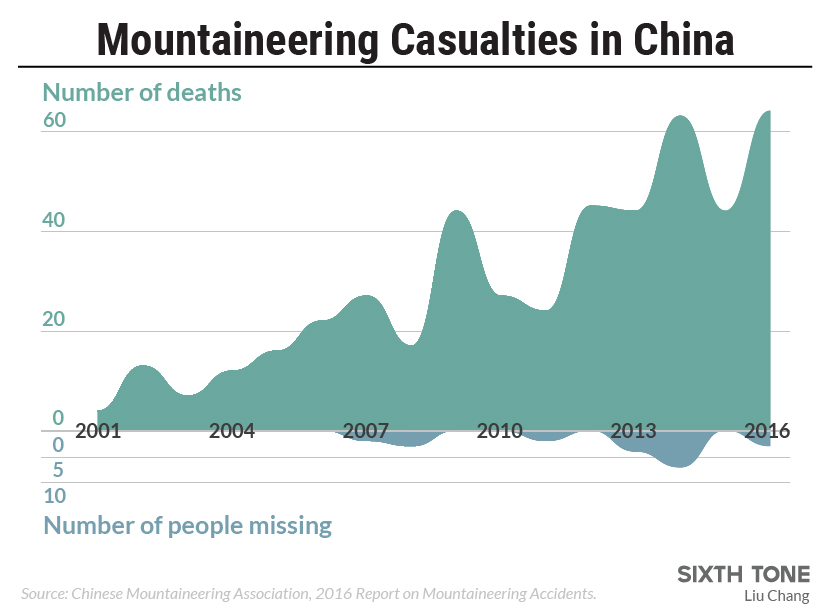 Some 130 million Chinese — about 10 percent of the country's population — do outdoor activities such as hiking, camping, and mountaineering, according to the China Volkssport Association, the Chinese branch of the International Federation of Popular Sports. Across the country, there are around a thousand hiking clubs and 18 million frequent hikers, who call each other "donkey buddies," a homophone for "traveling" in Chinese.
This boom in outdoor sports means many first-time hikers now climb mountains — some of which, like Mabeigang, can be steep and require special equipment. Moreover, rescue services don't always have experience when it comes to dealing with hikers in danger.
According to the Chinese Mountaineering Association's annual accident report, Sunday's fatality was typical. In 2016, 57 percent of all deadly mountaineering and outdoor sports accidents were from falls.
In total, 311 accidents happened last year, 45 percent of which involved hikers getting lost. Authorities have started to respond to the increasing incidence of hikers in need by calling in professional rescue teams from nongovernmental organizations. A majority of rescue operations are now undertaken by teams consisting of both government and nongovernment personnel, the report said.
Editor: Kevin Schoenmakers.
(Header image: Police and firefighters search for lost tourists by night in Yingshan County, Hubei province, Oct. 13, 2017. Courtesy of Yingshan police)