QINGHAI, Northwest China — "The antelopes are coming!" a mountain patrol ranger shouted to alert his team. One ranger, an ethnic Mongolian named Mengke, rushed to the road where a group of Tibetan antelopes were about to cross. Standing in the middle of the road, he gestured at the oncoming traffic, signaling drivers to be patient and let the animals go first. That day in Hoh Xil — a remote region on the Qinghai-Tibet Plateau, the world's largest and highest plateau — some 300 Tibetan antelopes plodded across the road, their brown fur matching the surrounding grasslands.
Hoh Xil sits at the intersection of three of China's largest, least populous, westernmost areas: the Xinjiang Uyghur Autonomous Region, Tibet Autonomous Region, and Qinghai province. The name "Hoh Xil" means "beautiful girl" in Mongolian, and in July, the area was designated a UNESCO World Heritage site. Hoh Xil is known for its stunning landscape, home to unique ecosystems, geographical features, climate conditions, and biodiversity.
Yaks, deer, and brown bears roam Hoh Xil, but one of the largest animal populations is that of the Tibetan antelope, a protected species in China. Patrol rangers like Mengke guard their slowly growing numbers from poachers and other dangers on the plateau.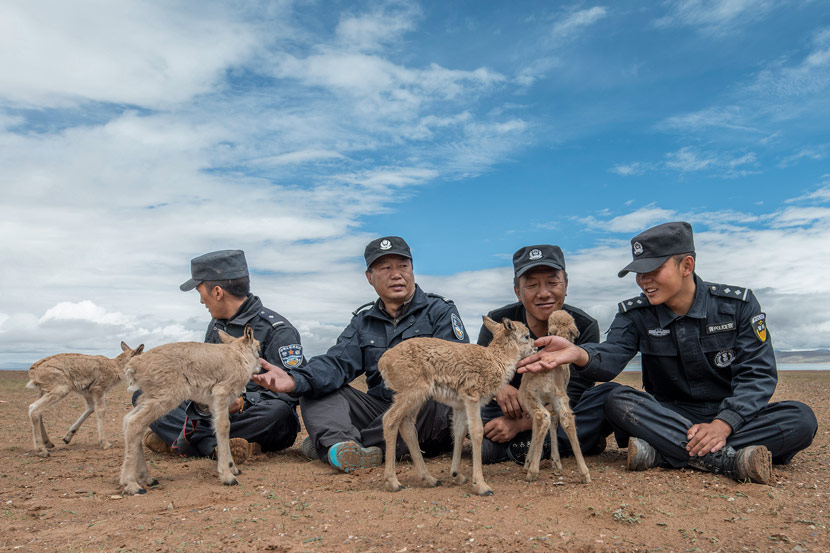 Patrol rangers play with Tibetan antelope calves in Hoh Xil, Qinghai province, July 1, 2017. Courtesy of Hoh Xil National Nature Reserve Management Bureau
In the 1980s, poachers hunted the antelopes to sell their pelts, causing their numbers to plummet from several hundred thousand to 20,000 in Hoh Xil alone. The first civilian group to combat poaching was formed in 1992, five years before a national nature reserve was established in the region. In 1999, the civilian brigade merged with the reserve's management bureau, whose rangers assumed responsibility for anti-poaching efforts. They also monitor and protect Tibetan antelopes, wild yaks, and other animals.
Mengke, 37, became a mountain patrol ranger nine years ago. Most of the management bureau's 85 staff members are much older than him — attracting young people is hard, as the job only pays between 3,000 and 5,000 yuan ($450 to $760) a month. The freezing temperatures and thin air of Hoh Xil, which sits 4,600 meters above sea level, make it uninhabitable for most humans, but Mengke spends half the year living at the wildlife conservation station.
Thanks to the rangers, the number of Tibetan antelopes in the Hoh Xil nature reserve and the surrounding region is once again growing and stands at more than 60,000 today. In May each year, Tibetan antelopes from Xinjiang, Tibet, and Qinghai form herds and travel hundreds of kilometers to their traditional calving grounds in Hoh Xil. In August, they return to their wintering grounds. Along these migration paths, they become prey, drown in treacherous rivers, get hit by cars, or succumb to the harsh climate or lack of food. Only 30 to 40 percent survive to return the following spring.
Some newborns haven't grown strong enough in time for the big migration and get left behind. Mengke and his team raise the young antelopes they find, bottle-feeding them every morning. Mengke makes sure the bottles are properly disinfected, and that the milk is neither too hot nor too cold. Sometimes, he teases the calves by taking the bottle away without warning, leaving the little antelopes with their mouths agape, eager for more milk.
Days spent protecting plateau wildlife are often so lonely that Mengke starts chatting with the antelopes. "I know they don't understand, but I'm still going to talk," he said. "If I didn't talk to them, who would I talk to?"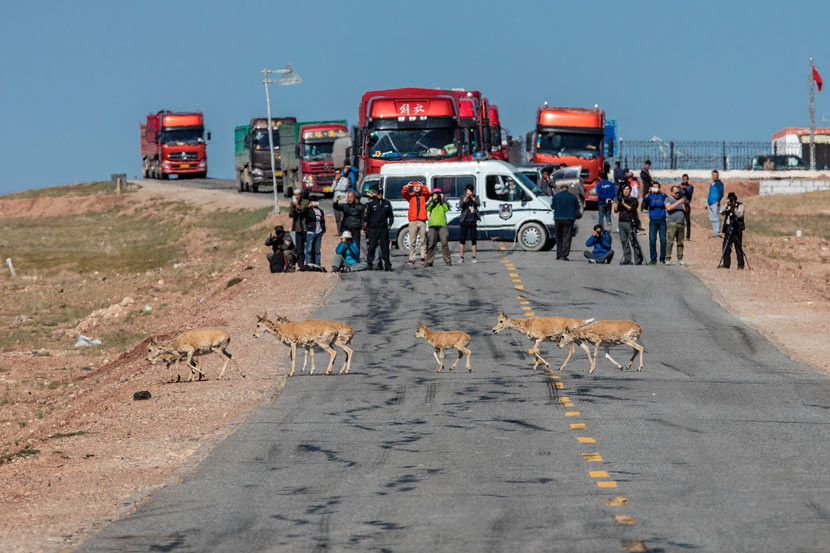 Vehicles stop to let Tibetan antelopes cross the road in Hoh Xil, Qinghai province, July 1, 2017. Courtesy of Bu Qiong/Hoh Xil National Nature Reserve Management Bureau
Mengke once saved a Tibetan antelope that was hit by a car, but there have been other times when animals struck by vehicles were beyond help, he said, recalling one tragic incident. "[The antelope] wanted to stand but could not get up, and it kept looking at me," he said. "I left and wandered around for a long time, feeling deeply heartbroken. When I returned, it was still looking at me." After the young antelope died, Mengke held a small ceremony and buried it behind the station. Then, he lit a stick of incense. "Go in peace, brother," he said.
Between May and October, the patrol rangers undertake four to five missions in the mountains, each lasting around 25 days, while their families remain in nearby cities. Around two big lakes in the area, they work with a grassroots unit before launching multiple small-scale patrols in the wilderness. Over the past six years, the Hoh Xil mountain patrol has traveled more than 300,000 kilometers and uncovered nearly 20 cases of "damage to wildlife resources and the ecosystem," including poaching.
Lü Changzheng has worked as the mountain patrol's driver for 22 years. No roads cross through this wilderness of lakes and glaciers. On the 54-year-old's first drive into Hoh Xil, Lü couldn't locate the cardinal directions, so he identified the mountain peaks by their shapes to get his bearings.
The oxygen levels in Hoh Xil are half those at sea level. Temperatures can drop as low as minus 40 degrees Celsius, and even in special tents made to withstand the cold, the rangers shiver through the night. When it rains heavily, vehicles repeatedly get stuck in the mud.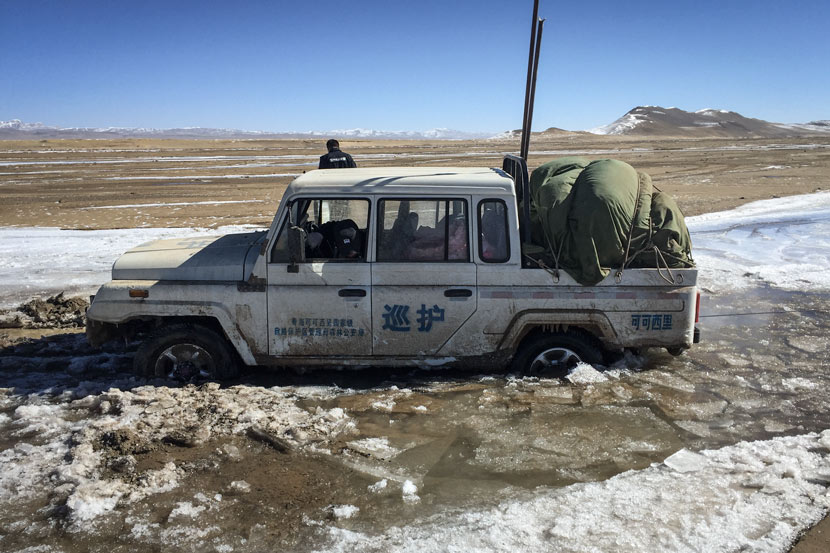 A patrol vehicle is seen sunk in the icy ground during a mission in the wilderness of Hoh Xil, Qinghai province, Oct. 15, 2016. Courtesy of Xie Ancheng
Even people who have grown up on the plateau can suffer from altitude sickness in Hoh Xil. During one patrol mission, Lü — who is from northern China's Inner Mongolia Autonomous Region — ran a fever but decided to stay in the mountains. By the third day, he was unable to breathe. He had developed pulmonary edema — a condition in which fluid fills the lungs — and was taken to the hospital, where he spent three days in a coma.
But the cold isn't the only danger that lurks in the mountains. Sometimes the rangers find bear or wolf tracks around their tents. Other times, they are forced to shoot at predators drawn by the smell of their canned meat soup. But perhaps the biggest danger comes in the form of poachers and gold prospectors. The founder of the area's first civilian anti-poaching team was killed in 1994 when he confronted a group of poachers on his own.
Karma Tseden, office director of the Hoh Xil nature reserve management bureau, remembers a past showdown between rangers and poachers right around when the Tibetan antelopes had returned to the area to give birth. Having received reports that a group intended to poach antelopes in Hoh Xil, Karma Tseden led his team in three vehicles, driving around in circles in pursuit of the poachers. They located the group in the middle of the night after a six-day search effort.
"The lights on their three cars were like will-o'-the-wisps and looked like ghosts from the depths of the desert. When we got close, I started to block off the first car, but the scene was very chaotic," he recalled. Guns went off, and the patrol rangers' bullets pierced through a tire and a fuel tank on the poachers' vehicles.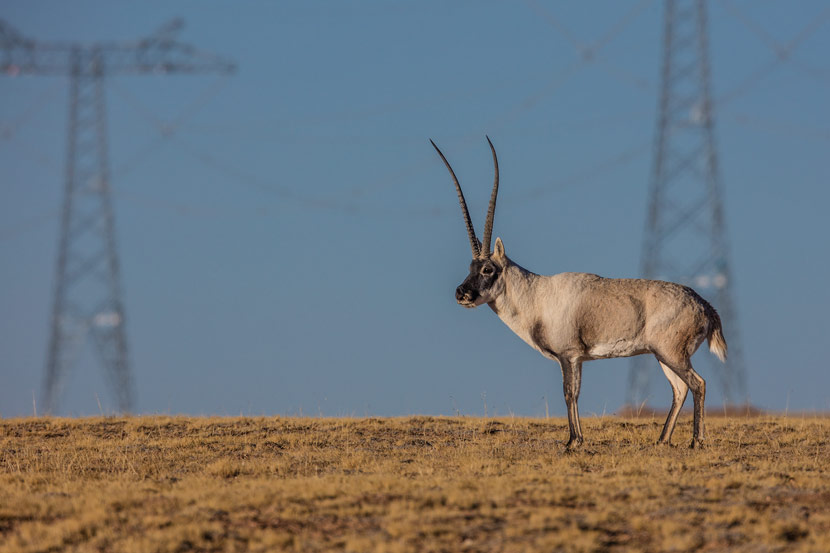 A Tibetan antelope in Hoh Xil, Qinghai province, Dec. 21, 2017. Courtesy of Bu Qiong/Hoh Xil National Nature Reserve Management Bureau
They caught six people that night, while two escaped. The next morning, Karma Tseden returned to the scene and found a poacher's semi-automatic rifle that had jammed. The wildlife of Hoh Xil, he said, had blessed and protected them.
The Hoh Xil reserve's management bureau is trying to recruit young herdsmen from the area, hoping they'll be invested in protecting the land on which they so depend. The child of Qinghai herdsmen himself, Mengke recalls elders telling him from a young age not to wash his feet in the nearby river, urinate in it, throw trash in it, or damage the grasslands. Mengke now sees Hoh Xil as his second home. He calls the Tibetan antelopes "our family's antelopes" and the grass "our family's grass."
"To me, Hoh Xil is half of my life," Mengke said. "My spirit resides here, and I will die here."
A Chinese version of this article first appeared in Sixth Tone's sister publication, The Paper.
Additional reporting: Wen Xiaoxiao and Liu Ji; translator: Katherine Tse; editors: Cai Yiwen and Denise Hruby.
(Header image: A patrol ranger kisses a Tibetan antelope in Hoh Xil, Qinghai province, July 1, 2017. Courtesy of Bu Qiong/Hoh Xil National Nature Reserve Management Bureau)