The popularity of their cuisine around the world is a source of great pride for many Chinese — but who would have imagined "Szechuan Sauce" could stir up such a controversy?
Fallout from a recent McDonald's marketing campaign in the U.S. that went spectacularly wrong has reached Chinese shores, leaving many online commentators bemused and confused.
The contentious condiment — called "Mulan Szechuan Teriyaki Dipping Sauce" when it was first released in 1998 — took one part of its name from the same year's Disney film, another part from a Chinese province known for its spicy dishes, and yet another part from the thick brown Japanese sauce commonly paired with chicken dishes.
Nearly two decades later, the sauce has returned to public attention after being referenced in April by a character on the popular adult animated sitcom "Rick and Morty." In the ensuing wave of hype, fans called on McDonald's to reintroduce the tangy sauce, and one old sachet even fetched over $14,000 on eBay, to the utter befuddlement of Chinese netizens.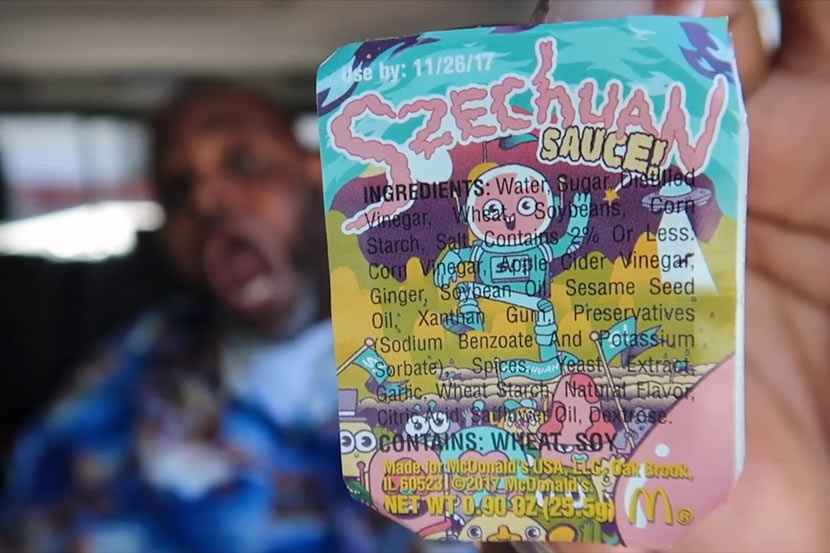 A screenshot from an online video shows a man holding a pack of Szechuan Sauce from McDonald's.
Earlier this month, McDonald's announced that in response to consumer demand, it would relaunch the sauce in the U.S. on Oct. 7, albeit on a limited basis. However, when the widely anticipated day arrived, hordes of fans — many of whom had waited in long lines or traveled great distances to participating locations — were infuriated when the limited stocks proved unable to meet demand. Videos posted online even show slighted consumers chanting in protest inside McDonald's locations.
Chinese often take a keen interest in how China and Chinese products — such as Lao Gan Ma black bean chili sauce and Shanghai-based Feiyue shoes — are received by the West. It's hardly surprising, then, that news of the condiment chaos was soon widely circulated on Chinese social media, with one post on microblog platform Weibo describing the protests, the sauce, and its cartoon affiliations garnering over 5,000 likes.
In response to a video from Sixth Tone's sister publication, The Paper, one commentator summarized the general sentiment of the Chinese masses by writing, "I'm Sichuanese — what is this 'Szechuan spicy sauce?'"
Some Weibo users wondered whether exporting spicy sauce might be a lucrative business opportunity, while others saw military applications, joking that such a sauce could be exported on a "limited basis" to cause the U.S. to spiral further into chaos.
Some excitedly commented that the incident points to the rising popularity of Chinese culture globally, while others rebutted that the story was little more than a botched marketing stunt. Still others scoffed at the notion that McDonald's Szechuan sauce was even spicy.
Weibo user "Dimpled Chieftain" suggested that for a real Sichuan kick, only latiao — a spice-covered dough stick similar in appearance to a Spanish churro — would "truly conquer all foreigners."
Editor: Colum Murphy.
(Header image: A sign bearing the chain's iconic Golden Arches stands outside a McDonald's restaurant in Chicago, Nov. 8, 2013. IC)