A new feature on the smartphone apps of Chinese internet giant Alibaba that evaluates a customer's skin to recommend care products was plagiarized, the CEO of a start-up has said.
Wu Liang, CEO of Hangzhou C2H4 Internet Technology Co. Ltd., wrote a long post on question-and-answer platform Zhihu on Thursday explaining how the apps of Alibaba's e-commerce platforms Taobao and Tmall had allegedly stolen his company's technology.
In August 2016, Wu's company launched "You Look Amazing Today," an app that analyzes users' selfies to calculate skin age, type, and smoothness and identify problems such as acne or blackheads. The app then recommends skincare products accordingly. Earlier this month, Wu wrote, he discovered Tmall shops that offered the same feature, which bore a striking resemblance to "You Look Amazing Today."
"We were astonished when we discovered it," Wu told Sixth Tone on Friday morning.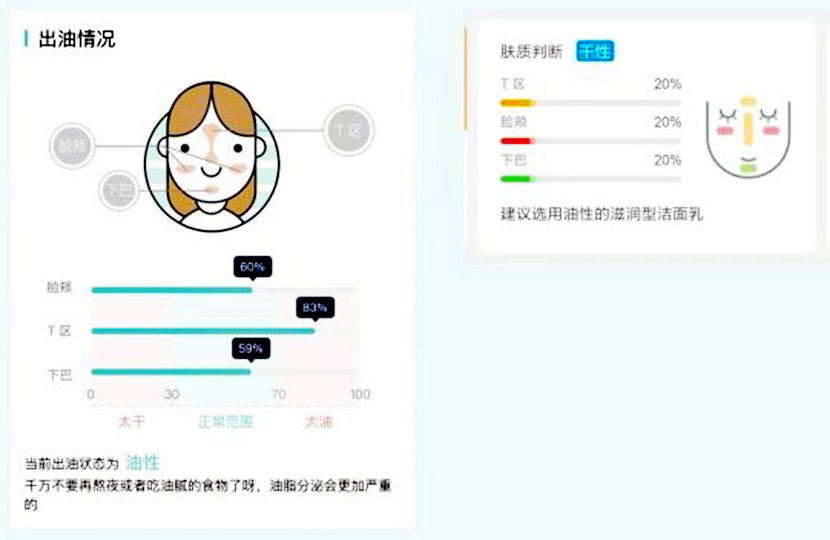 Skin test results as shown on two apps, 'You Look Amazing Today' (left) and Alibaba's Tmall app (right).
C2H4 were approached on May 17 by Ali Health, Alibaba's medical arm, when both companies agreed to cooperate for the skin testing feature to appear in Taobao's and Tmall's apps, Wu wrote. In June, C2H4 provided demo versions to Alibaba, after which, according to Wu, contact between the two companies decreased and Wu was told to wait. A contract was never signed.
Wu said that it was possible to deduce how his company's app works from the demos they supplied. When Wu contacted Ali Health, he was informed that the skin test feature was developed by Tmall's cosmetics team, he said.
"Under the guise of cooperation, Alibaba has stolen our technology and totally plagiarized our app," wrote Wu.
According to an article on Iwangshang, an online business media platform co-developed by Alibaba, Tmall developed the function to "improve online shoppers' purchasing experience." The article also said that 3,000 users had tested their skin via the feature through the e-store of South Korean skin care brand Whoo, and that this had increased the shop's average value of each order by 30 percent.
Later on Thursday, Tmall announced on Zhihu that they were investigating the case and that the skin testing feature would be suspended temporarily. It said Tmall's "smart skin test" program was established in March, and that Ali Health had indeed contacted "You Look Amazing Today" in May. The announcement said Tmall "sincerely invites" both teams to review the two products from design to core codes, to see "whether it was plagiarized."
"The announcement didn't really solve the problem," Wu said, adding that C2H4 hopes a third-party institution will investigate the case. "We have consulted lawyers, and now we are collecting evidence and preparing to take legal action."
Li Junhui, a legal scholar at the China University of Political Science and Law, told Sixth Tone that Wu's company was in a difficult position because it had not patented its technology. The only way to tell whether Alibaba's feature constitutes plagiarism is by a comparison of its code, Li said. He recommended that startups learn from this case in order to better protect their products by registering for patents and copyrights.
Last month, Alipay, a mobile payment app produced by Alibaba's affiliate Ant Financial, apologized to WeChat, China's most popular messaging app, for plagiarism. Alipay's source code for a new feature called "mini apps" — programs that run within the app — had in part been copied from its rival.
Editor: Kevin Schoenmakers.
(Header image: A screenshot from the promotion video for Alibaba's Tmall app shows a woman photographing herself in order to have her skin evaluated.)