JIANGSU, East China — For China's small but growing circle of meteorite enthusiasts, last weekend was as rare and exciting as seeing a shooting star.
Duke Kunshan University in Suzhou hosted the country's first-ever international meteorite conference, Meteorite China, on Friday. Over 80 scientists, enthusiasts, and collectors from China, the U.S., the U.K., Australia, and Russia met at the three-day event.
"The purpose [of the conference] is to make connections with Western scholars and Eastern scholars, who can share interests and research work," Nicholas Gessler, a Duke Kunshan professor who co-organized the event, told Sixth Tone.
Meteorites are rocks from outer space that didn't entirely burn up during their descent through the Earth's atmosphere. Most meteorites come from the asteroid belt between Mars and Jupiter, though some rare exceptions originate from volcanic activity on Mars and the moon. Studying the rocks can give scientists insights on the origins of the solar system, as well as on how planets and moons formed, Gessler explained.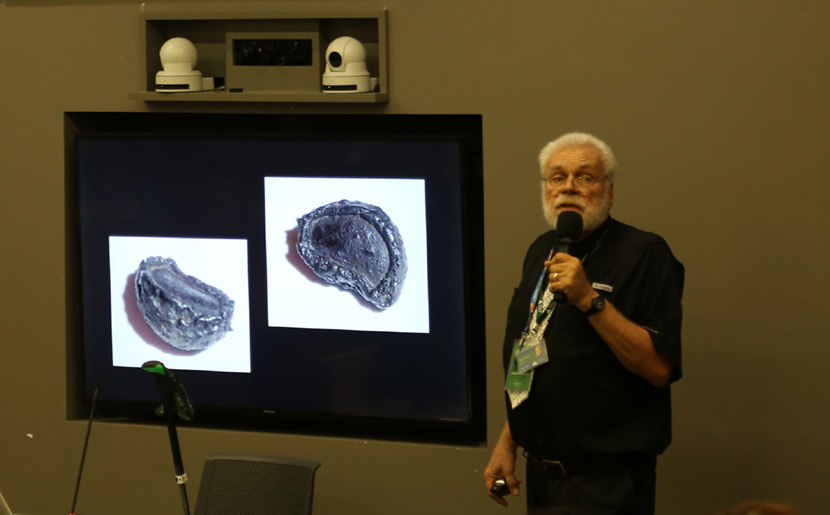 Nicholas Gessler, the Duke Kunshan University professor who co-organized Meteorite China, gives a talk during the conference in Suzhou, Jiangsu province, Sept. 15, 2017. From the university's Weibo account
Participants at the conference said that there should be a wealth of undiscovered meteorites in China.
Worldwide, more than 60,000 meteorites have been registered and named in the Meteoritical Bulletin Database, an authoritative record kept by The Meteoritical Society, a nonprofit dedicated to the study of extraterrestrial materials that also co-organized the conference. But only 248 of those rocks were found in China — a relatively paltry number compared with the more than 2,000 meteorites found in the United States, a country of similar size.
Xu Weibiao, cohost of the event and director of astrochemistry and planetary science at the Purple Mountain Observatory in Nanjing, the provincial capital, said research on meteorites and their impact craters is still inadequate in China, partly due to a lack of research staff. "A conference like this will accelerate the healthy development of the domestic meteorite society," he told Sixth Tone.
One way Chinese scientists can do more research is to have so-called meteorite hunters do the legwork for them. Xu and his team's discovery of a meteor shower that fell over a distance of 425 kilometers — the greatest range ever recorded — in Xinjiang Uyghur Autonomous Region's Altay prefecture was based on specimens provided by space rock enthusiasts.
One of them, Zhang Bo, gave one of the most rousing speeches during the weekend. An investor and part-time meteorite hunter, Zhang explained that finding fallen space rocks can be done based on international databases, witness accounts, or historical records of showers that may have happened a thousand years ago.
To laughter and applause, Zhang shared some of his experiences, including a recent 1,200-kilometer trip to Qinghai province, in northwestern China, during which he collected 11 fragments of a valuable witnessed meteorite while traversing snowy mountains.
Gessler said the conference is a chance to educate more Chinese hobbyists about how to tell meteorites apart from more pedestrian rocks. "In organizing this conference, many people asked to bring their meteorites or sent photos in emails [to be checked]," he said, adding that most were not the real deal. "There's public interests in China, and we want to make sure all these people cooperate to do good science, to make sure that [what they found] is a meteorite, not a 'meteowrong.'"
Some meteorites can be extremely valuable, depending on their origin and age. Rocks from Mars, for example, are exceedingly rare, and large pieces of witnessed meteorites can be priced at millions of yuan. The lure of sky-high prices has encouraged enthusiasts and opportunists alike to search for, sell, and even fake these precious rocks.
The market for meteorites is fueled by a lack of relevant legislation in China — as is the case in many parts of the world — meaning the usual rule is finders keepers. Sometimes, in cases where a meteorite is hard to move but of enormous value, people who discovered have their claims challenged by local governments.
Xu said that many meteorite hunters have visited his lab asking for their rocks to be examined, but that it is too time-consuming to always say yes. "The domestic meteorite market is chaotic, and the appraisal business has a varied quality," he told Sixth Tone. "The popularization of meteoritical science is urgent, as people have very little knowledge in this field."
The conference is only a beginning. Zhang Wei, the deputy director at the Jilin Meteorite Museum in northeastern China, told Sixth Tone that the museum is looking into the possibility of holding a similar conference next April in Jilin province, where a massive meteor shower hit in 1976, from which a 1,770-kilogram rock — said to be the world's heaviest stone meteorite — was recovered. "The event will include an exhibition, an expedition into the field, and some courses," said Zhang.
The hope is that these stirrings will inspire more research into rocks from outer space.
So far, only one impact crater has been detected in China. Confirmed eight years ago in Liaoning, also in northeastern China, it is one of 190 such craters known to exist in the world. But China's size gives scientists hope that there are others yet to be discovered.
"There should be more," said Gessler.
This article has been updated to clarify the value of meteorites.
Editor: Kevin Schoenmakers.
(Header image: Visitors observe meteorites on display at Duke Kunshan University in Suzhou, Jiangsu province, Sept. 15, 2017. Wang Yiwei/Sixth Tone)